| Index of all listed buildings |


Listed Buildings in Stoke-on-Trent and area
Longton Cemetery Chapels
---
Area
Longton
Street
Spring Gardens Road
Heritage No.
88 A
Grade
II
Date Listed
15 March 1993
Building: Longton Cemetery Chapels
Location:

STOKE ON TRENT SJ94SW SPRING GARDENS ROAD, Longton

Description:

Cemetery chapels. 1868. Timber-framed with Welsh slate roofs.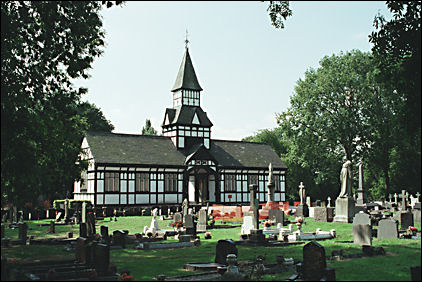 Longton Cemetery Chapels
photo: © Donald Pittman August 2003
---

Cemetery Chapels. 1868.

Timber framed with Welsh slate roofs.

Chapels each of 3 bays either side of the entrance arch with tower over. This tower has a wide base, and tapering stage with gablets below narrower upper stage with ornate timber panels and small spire with wrought iron weather vane. Main entrance has segmental archway with gable over, containing small stained glass quatrefoil windows and decorative timber panelling.

Chapels are entered from main entrance arch, and have a range of 3 windows with leaded lower lights and quatrefoil panels over. Coved eaves cornice. Tongue and groove panelling inside.
---


Views of Longton Cemetery, Stoke-on-Trent, 1900 - 1940 (c.)

© The Potteries Museum & Art Gallery
William Blake


the cemetery gates are also listed

the Registrars office is also listed





next: Entrance Gates to Longton Cemetery
previous: Cottages at Short Street, Longton

| Index of all listed buildings |
| Tunstall | Burslem | Hanley | Stoke | Fenton | Longton | Other areas |
---