Packhorses were heavily used in the transport of goods in England in the period up until the coming of the first turnpike roads and canals in the 18th century. Away from main routes, their use persisted into the 19th century.

This usage has left a history of old paths across wilderness areas called packhorse roads, and distinctive narrow and low sided stone arched packhorse bridges at various locations.

For similar reasons, names such as The Packhorse are common public house names throughout England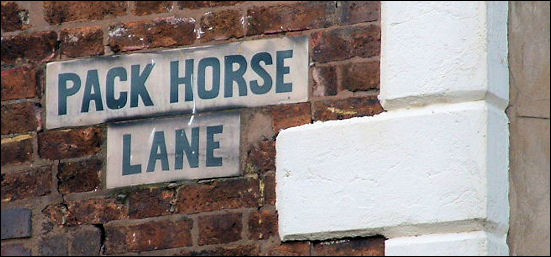 Pack Horse Lane - Burslem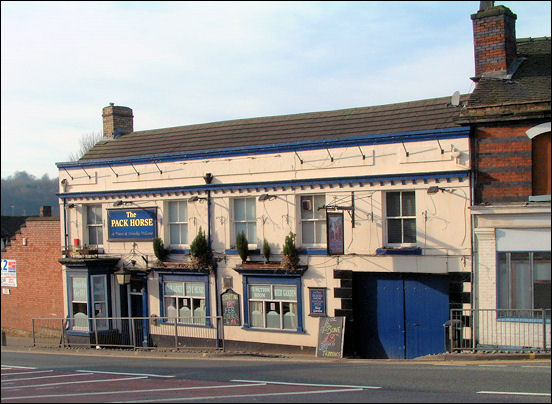 The Pack Horse - Longport
evidence of the route of the packhorse lane from Burslem to Newcastle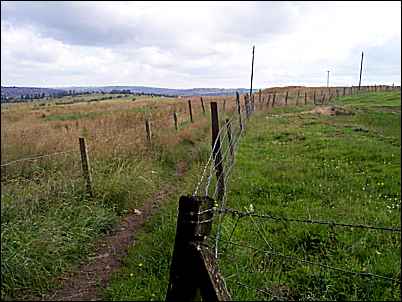 old walkways and ancient paths in Berryhill / Fenton area

old walkways and ancient paths in Berryhill / Fenton area

The packhorse lanes through Burslem:
"One of the main pack-horse roads, which left Hanley by Woodisun (Marsh Street), Brook Street (off Marsh Street North), connected with the lane from Newcastle and wound through Cobridge and the lower end of Hot Lane, Burslem, where it branched; one route going approximately via the present Nile Street, Burslem, and the other, a narrow lane behind, and to the west of what is now Waterloo Road, but which was then a portion of the adjacent fields.
Passing Cross Hill and in front of the church yard, it ran by Bournes Bank, a steep incline, to Swan Square. From here the road probably traversed the slope by way of St. John's Square, or through the Market Square, on to Hill Top. From thence it went down the narrow steep passage of the Back Sytch, past the Sytch Water Mill on the Brownhills Hall estate and past the hall, where it would join the road from Newcastle and Longport, into Tunstall and the north.
From Burslem, the Mother Town of the Potteries, an important pack-horse road ran from the Market Square, as already mentioned, via Pack-Horse Lane, winding by St. Paul's Church, Dalehall, via Trubshaw Cross, fording the stream at Longbridge (Longport), by the present road past a group of houses called Longbridge Hayes. From thence it went round the Bradwell side of what is now Longport Station and up the hill, now traversed by the road (made about 1875) and so on to Wolstanton and Newcastle."
A Sociological History of Stoke-on-Trent, E J D Warrillow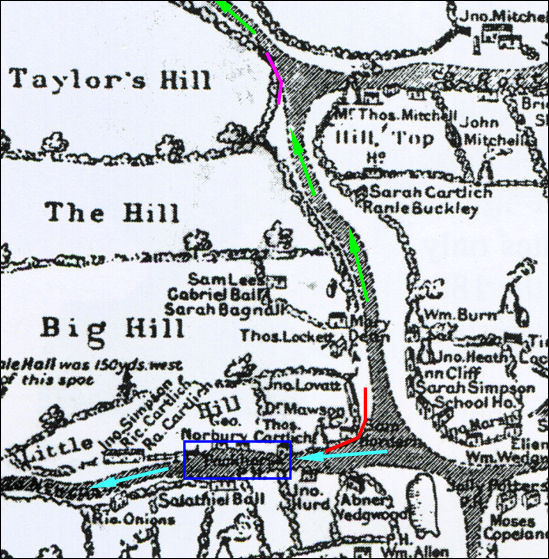 Burslem in 1750 - based on a plan by Enoch Wood
Blue box says "Packhorse PH" - the light blue arrows show Packhorse lane leading to Longport and Newcastle. The red line indicates the location of the frontage of Woods Fountain Place works.
The green arrows show Hill Street (later Liverpool Road and now Westport Road) which led through Church Lawton to Winsford and then to Liverpool. The purple line indicates the frontage of the Hill Works of Wades potteries.