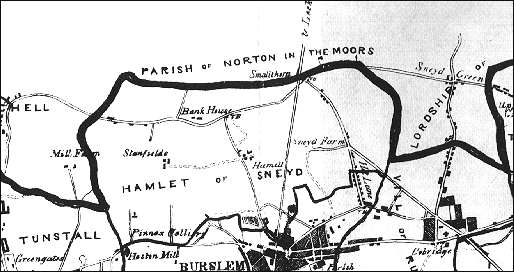 1842 map showing the "Hamlet of Sneyd"
Bank Top is located at the edge of the old Hamlet of Sneyd - Stanfields, Bank House, Hamil and Sneyd Farm can be seen in the centre of the map.
"...the principle messuage in the hamlet in "Bank House," a showy mansion on the summit of the ridge, erected by the Late Mr. Richard Riley, just before his decease in 1828, and is now occupied by Mr. Joseph Twigg."
Ward 'The borough of Stoke-on-Trent' 1842

on the history of the Hamil of Sneyd
---


Twigg, Joseph (1780-1861), colour manufacturer, Burslem
"Joseph Twigg, born in 1780, inherited a colour works at Velvet Croft, Burslem, started by his father, William, on land bought from William Adams.
Joseph Twigg attended Burslem church. He was elected chairman of the improvement commissioners in 1825. He married Ann, daughter of William Adams, on 15 September 1817. They had three sons, William Edward, Joseph and Francis.
The family lived at Bank House, Burslem.
Joseph Twigg died in 1861, his son Joseph continuing the business."
William Edward Twigg was born on 27 Oct 1820 at the Bank House. He was articled to John Ward, the local historian.
Source: 'People of the Potteries', Adams, VCH viii.
---
Why the name Riley occurs so often in this area?
In the district of Bank Top we have 'Riley Terrace', 'Rileys' public house and Riley Avenue.
John Ward in his 'The Borough of Stoke-upon-Trent' (1843) records the among the chief proprietors of the land and mixed property .... The Misses Riley..' also '"Bank House,' a showy mansion on the summit of the ridge, erected by the late Mr. Richard Riley, just before his decease in, in 1828.'
---