Bentilee and the area before 1851
Before development as a housing estate in the early 1950's, the area known as 'Brook Houses', 'Ubbeley' and 'Bentteley' was largely undeveloped, being coal mines and farm land.
The name Bentilee is said to derive from Old English - meaning open land growing with rushes and coarse grass.

---
Bucknall was the most developed area - it was recorded in the 1087 Domesday Book as 'Land of the King' -
In BUCKNALL [BVCHENOLE] the third part of a hide.
Ketel held it. Land for 3 ploughs.
Hide was a measurement of land for tax assessment. Approximately 120 acres, depending on local variations in the acre.
Plough the word implies a plough team with its eight oxen and the plough itself.

---
In 1223 Henry of Audley built and endowed the nearby Abbey of Hulton. He gave them some land in Bucknall, Normacot, Carmount...

more on Hulton Abbey
---
White's History, Gazetteer and Directory of Staffordshire - 1851 .........
"BOTTESLOW is a small liberty, in Stoke-upon-Trent parish, about 2 miles S.E. of Hanley; including only 80 souls, and 593 acres of land. It has a number of scattered farm-houses, &c., and three collieries.
The principal occupants are -
Wm. Taylor Copeland, Esq., coal owner;
Hawley and Carey, Bentilee Colliery;
Geo. Knox, mining agent, &c., Botteslow Cottage;
Thos. Smith, Brookhouse Colliery, house, Cheadle ;

and the following FARMERS -
Thomas Badkin, Wm. Bowers, Wm. Brunt, Chas. Deville, Geo. Latham, Bichd. Bobinson, Pool Dole; and Joshua Parlby, farm bailiff to "W. T. Copeland, Esq., Berry Hill. Messrs. Meigh and Sons have flint mill here."
"BUCKNALL-CUM-BAGNALL, with the EAVES and UBBERLEY, form a district rectory, ....., though they maintain their poor jointly with the rest of the parish of Stoke-upon-Trent. They comprise about 4200 acres of land, extending from 1 to 4 miles E. and N.E. of Hanley, bounded by the Trent and the Cauldon canal.
In 1841, they had 1608 inhabitants, of whom 638 were in Bucknall village, 1
½ mile from Hanley; 374 in Bagnall; 382 in the Eaves, 3 miles E. of Hanley; and 214 in Ubberley.

Sir George Chetwynd, Ralph Sneyd, Esq., and Miss Sparrow own a great part of the soil. BUCKNALL CHURCH, on the hill 1½ mile E. of Hanley, is a small edifice, which was rebuilt in 1718, and the living is a rectory, with Bagnall curacy annexed to it, valued at about £530 per annum, and in the patronage and incumbency of the Rev. Edward Powys, of Cheddleton. ..... Bucknall School was founded about 1719, when Wm. Shalcross, left £5 a year for schooling 12 poor children. The New Connexion Methodists have a chapel at Bucknall, built in 1824."
---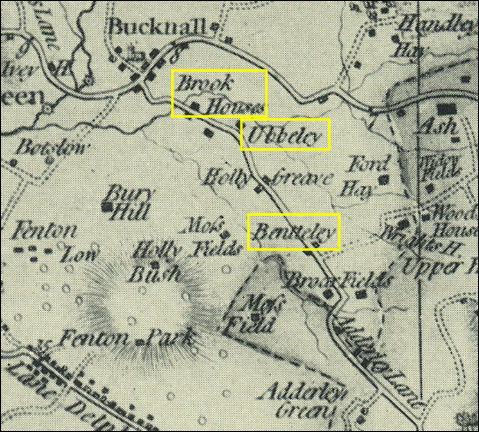 Yates 1775 map of the Bentilee area
This 1775 map shows a church (Mary Church) and a small collection of houses at Bucknall. Marked in yellow are Brook Houses, Ubbeley and Bentteley - there is only a couple of dwellings at these locations.
Small streams cross this area and are marked on the map - they come from the higher ground of Hanley Hay, Ash and Wood House and flow to the River Trent at the top left of the map.
The road which passes Brook Houses, Ubbeley and Bentteley is not the present day Dividy Road (it was not built until sometime after 1860) - it is the present day Ubberley Road.
There was an "ancient stone mansion" called Ubbeley Hall which was owned (in the 1840's) by the Rev. W. Clarke; it was "once a gentleman's seat".