Cobridge Churches:
Christ Church, Cobridge
A parish consisting of Cobridge, Sneyd Green, and Abbey Hulton was created out of St John's parish in 1844. The church is built of yellow brick in simple Gothic style and was designed by Lewis Vulliamy according to the Victoria County History (Vol VIII, p.124) and by L G Hales, a local brass founder, according to Pevsner. The church was enlarged and 'beautified' in 1845-6, and the chancel was extended in 1900.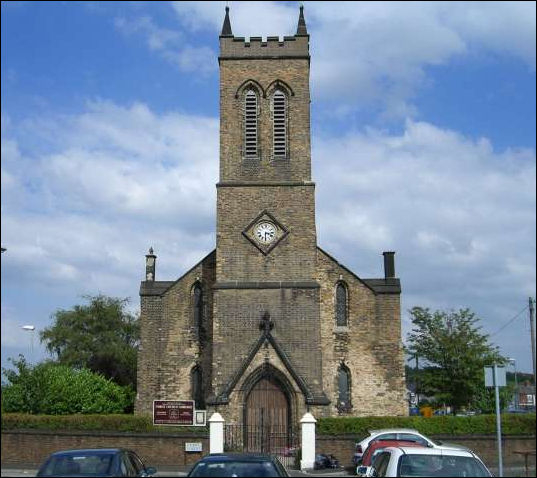 Christ Church, Cobridge
Built in 1839-40, this Grade 2 listed building was extensively renovated in 2001
- photo 2006 Steve Lewin -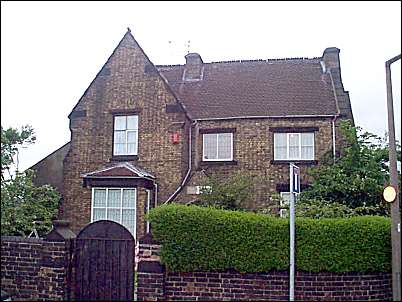 The vicarage was built in 1851 at a cost of £900.

---
Roman Catholics in Cobridge
the Warburton family:
In 1766 members of the Warburton family were prominent among the list of trustees of the Cobridge school.
They were a Catholic family and originality were tenants of the Biddulph family on part of the Grange estate. They bought a large part of the land sold by the Biddulph family on the east side of the estate. Here in the early 18th century John Warburton built a Potworks for the manufacture of white stoneware with a considerable export trade to Holland.
By the time he died in 1752 he had amassed a considerable property which included an estate in Cheshire for which he paid £1,000 as well as land in Cobridge. His two sons operated two separate potteries. John Warburton, the eldest, ran a works in Hot Lane until his death at the age of 40 in 1760. The younger son, Joseph Warburton, had a Potworks in Cobridge which he worked until his death in 1769.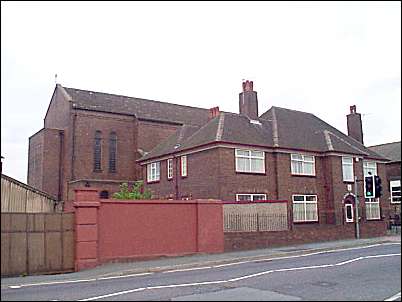 St Peters Church and in front the Presbyters home
The red wall is part of the original Soho potworks of John and George Alcock
the Blackwell family:
The other important Catholic family in Cobridge was the Blackwell family.
They had arrived in the area by the early 1770s and John and Joseph Blackwell were listed as manufacturers of blue and white stone ware, cream and painted wares in Bailey's Directory in 1784.
By the end of the 18th century John Blackwell ran one of the largest pottery factories in Cobridge and was the owner of two other Potworks in the vicinity. He built a large house in front of the works at the junction of Elder Road and Waterloo Road. Behind the factory he built a row of 19 cottages to house some of his employees. His house, factory and the cottages have all been demolished but the road at the back of the site is still called Blackwells Row today.
The Warburton and the Blackwell families were the principal supporters of the Roman Catholic community in the area. In 1780 they helped to finance the construction of a small Catholic chapel at the end of what is now Grange Street then the lane leading to Rushton Grange Farm.
John Ward in his book The Borough of Stoke-upon-Trent (1843) recorded that:
"the walls of this chapel had just been raised above the ground when the Protestant riots in London, with which the name of Lord George Gordon is associated, took place, and the alarmed Catholics of Cobridge suspended their building for several months... The chapel was enlarged in 1816; it is calculated to accommodate about 150 persons, is an unassuming building, almost concealed by the Priest's dwelling-house, and an adjoining school-house erected in 1822."