Pottery Works in the Foley Area
There were five 'Foley' pottery works:-
1) The Foley China Co. These works - on the north side of King Street - were operated by Wileman & Co. (later Shelley Potteries)

2) Foley Works - On the north side of King Street, next to the Wileman factory, situated alongside Foley Street and opposite the houses in Foley Place. Operated by Goodwin, Stoddard & Co.

3) Foley Pottery - On the south side of King Street between Foley Place and Sidings Place (was Foley Road) where Wedgwood Retail Ltd is. Operated by Barkers & Kent.

4)Foley China Works of E Brain & Co - On the south side of King Street, on the other side of Sidings Place and right next to the Railway Hotel (now the Potters Pub).

3) The Old Foley Pottery of James Kent Ltd - On the south side of King Street, towards Longton and alongside the Foley China Works.

all these works are now demolished with the exception of some of the buildings from the Shelley factory which still remain (2013)
---
The Foley China Works of E Brain & Co


The Foley China Works of E Brain & Co
Pottery factory exterior taken at the Foley China Works, Fenton
Photo - pre 1978 © Staffordshire Past Track

There had been a pottery at Foley in the eighteenth century, owned by Joseph Myatt, who made wares somewhat in the style of Wedgwood. These works were established C. 1850, when the works were owned by Robinson and Son.
In the year 1885 they were purchased by E. Brain.

---
The Foley Works

The Foley Potteries
Built around 1827 by landowner John Smith
Photo - 1961 © Potworks -the Industrial Architecture of the Staffordshire Potteries
Demolished in 1983

---
The Old Foley Pottery of James Kent Ltd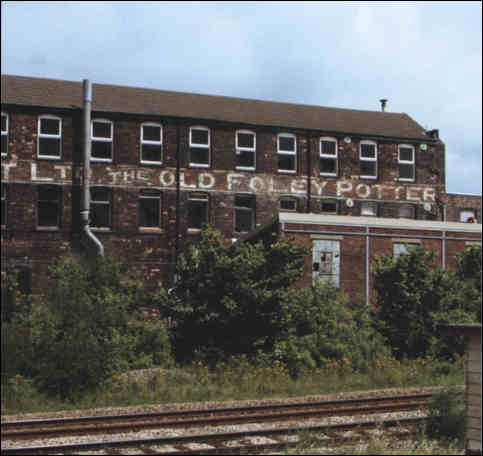 The Old Foley Pottery of James Kent Ltd
James Kent: "This firm of general domestic potters, Old Foley, Longton, Was founded by James Aloysius Kent (born 1864 died 1953) with five workmen from the firm of Barker & Kent (including Arnold Bennett's brother Septimus Bennett, modeller) in 1897."
---
Pottery works between The Foley and Longton:-
Side by side were the Boundary Works and the Phoenix Works, the boundary works being next to the Foley Potteries.

Both of these buildings are still existent (2013)
The Boundary Works
The Boundary or California Works - "Pottery works. Dated 1819, with later additions and modifications. Brick with plain tiled roofs. Entrance range of 3 storeys, 5 bays with central projecting bay with segmentally arched way to rear with Palladian style window over, and Diocletian window above. Pediment with heavy modillion cornice and date stone."
On the other side of King Street, opposite the Boundary Works was the Clarence Works.

---
The Phoenix Works
Built 1879 by Thomas Forester


---