Mear Lane End and the development of Lane End
"......... has long been one of the main ways of access into North Staffordshire from Derbyshire. It was on this road, roughly at the point where the Anchor Brook and the stream from Goldenhill meet, that the hamlet of Lane End or Meare Lane End grew up in the late 17th century under the influence of coal and ironstone mining and ironworking.
In 1666 13 houses in Longton were chargeable to Hearth Tax and 12 in Meare Lane End.
Meare Lane End was mentioned c. 1680 by Gregory King who noted that there were 5 or 6 houses in Longton itself.
Tracks led south-eastward from Meare Lane End to Stone and northward over Sandford Hill to Hanley, Adderley Green, Leek, and the north-east of the county by the 18th century. The turnpiking of the Newcastle to Uttoxeter road under an Act of 1759, of the road to Stone under an Act of 1771, and of the road to Adderley Green under an Act of 1813 greatly facilitated the growth of Lane End.
By 1775 there was a nucleus of houses at the junction of the roads and for a short distance along these three roads and along the road to Longton Hall which joined the Stone road just south of the centre of the village.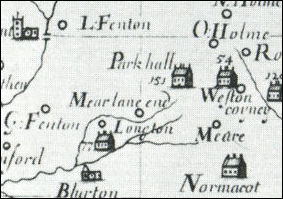 Plot's map of North Staffordshire c.1670
showing Mearlane end
- clip map for large view -
There were in addition a number of scattered houses and numerous coal pits between the Uttoxeter road (then called Meer Lane) and the Stone road. In 1784 Lane End was still small enough to be called a village, although it was fast developing as a community. The first school was built c. 1763 and the first church in 1762, and in 1789 the market-square (now Times Square) was laid out at the junction of the Uttoxeter and the Stone roads. By the end of the century there was a network of streets in the centre of the town forming a built-up area bounded by Market Lane (now Transport Lane), the Stone road, the Uttoxeter road, and Commerce Street; the streets in this central area are now called Cornhill Passage, St. Martin's Lane, Cyples Lane, Kingcross Street, and Chancery Lane. By then, also, both sides of the Uttoxeter road had been built up for about half a mile from the town centre. In 1794 a second market-square (later Union Square) was laid out at the north end of Commerce Street."
From: 'Longton', A History of the County of Stafford: Volume 8 (1963), pp. 224-246.

---