Church Lawton



Church Lawton is a small village (sometimes known as Lawton) located in the Borough of Congleton, Cheshire. Its location is such that its eastern boundary forms part of the county boundary between Cheshire and Staffordshire, and, because of its close proximity to Stoke-on-Trent, the parish has a Stoke-on-Trent postcode. The parish also contains the hamlet of Lawton Gate. According to the 2001 census, the population of the entire parish was 2,201.
A township and parish in Northwich Hundred.
Includes the hamlets of Hall Green (part), Lawton, Lawton Gate, Lawton Heath, Lawton Springs, Little Moss (part), Moss Pit and Red Bull.
The population was 445 in 1801, 693 in 1851, 850 in 1901 and 971 in 1951.
The name Lawton itself is an indication of the parish's ancient origin. The word has a Saxon meaning, namely "Farm by a mound", and it is assumed that the mound is e hillock upon which the present parish church (All Saints) stands, but whether or not the mound was a barrow (an archaeological burial tumulus) is not known. A dig on the field, some 3/4 mile away, between Crewe Road and Knutsford Road has in recent years unearthed "Urns" of a prehistoric period
---
In the early 18th century the post road from London to Lichfield, Chester, Liverpool, and the North ran through Newcastle to Talke-on-the-Hill and then crossed the Cheshire border at Lawton. That part of the road between Tittensor and Talke had become so ruinous that in 1714 a Turnpike Act for its repair and maintenance was passed, and among the trustees were many Newcastle burgesses, including the mayor. In 1735 the turnpike trust was renewed for a further term of twenty-one years and the trustees included the mayor, justices, and recorder of Newcastle. When provision was made for further renewal in 1752, the town clerk was added to the list of trustees. In this way Newcastle was strongly represented on the managing body of the road.
Until 1763 the flint and clay used in china manufacture, after being landed at Liverpool or Chester, was brought in via Lawton and the turnpike road to Newcastle, whence it proceeded by way of Wolstanton to Burslem and the other Pottery towns. The manufacturers were obliged to use the same roundabout route in the reverse direction for their finished goods. In that year authority was obtained for the creation of a new road from Lawton to Burslem
A History of the County of Stafford: Volume 8 (1963),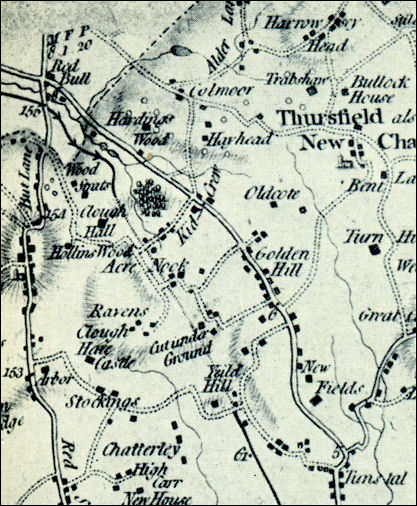 Extract from William Yates 1775 Map of Staffordshire
at the top right hand corner is "Red Bull" which is over the border in Cheshire
the major road shown running from Tunstall to Red Bull is the 1762 turnpike road - now the A50
The Trent and Mersey canal is the black line running from the bottom centre of the map - where the canal goes through the Harecastle tunnel the map states "cut under Ground"