The cemetery chapel & registrars buildings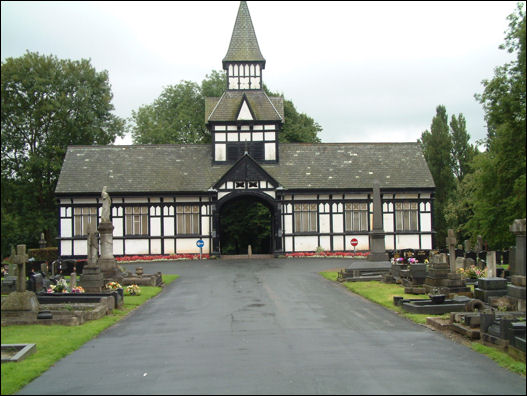 Longton Cemetery - Chapels
listed description...
"Timber framed with Welsh slate roofs.
Chapels (non-conformist and Church of England) each of 3 bays either side of the entrance arch with tower over. This tower has a wide base, and tapering stage with gablets below narrower upper stage with ornate timber panels and small spire with wrought iron weather vane. Main entrance has segmental archway with gable over, containing small stained glass quatrefoil windows and decorative timber panelling.
Chapels are entered from main entrance arch, and have a range of 3 windows with leaded lower lights and quatrefoil panels over. Coved eaves cornice. Tongue and groove panelling inside."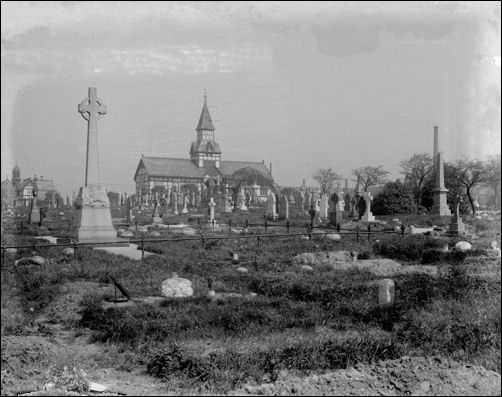 View of Longton Cemetery, Stoke-on-Trent, 1900 - 1940 (c.)
© The Potteries Museum & Art Gallery
William Blake

---

Longton Cemetery - Registrar's office
listed description...
"The Former Registrar's Office to Cemetery.
A Timber frame and brick building with plain tiled roof. Picturesque asymmetry. L-plan. Two storied with advanced gable to the N with casement windows and decorative timber panelling forming arcade between the windows.
Pronounced bargeboards carried on moulded console brackets. Single-storied gabled bay projects parallel to this, with gabled porch and casement window also with arms of Longton over. Side and rear wall stacks."