Queens Gardens
The site was purchased for £750 by public subscription and vested in the old Newcastle Corporation in 1897, the year of Queen Victoria's Diamond Jubilee.
Originally Queens Park - the commemorates this event, although it was not until 1899 that the Gardens were laid out. They were originally enclosed by a brick wall and railings and formed an attractive frontispiece to the Municipal Hall, which stood on the site of the present Library.
By 1935 the wall and railings had been removed and the Gardens opened directly onto the Ironmarket. The current pillars and ornamental chains were installed at this time.
---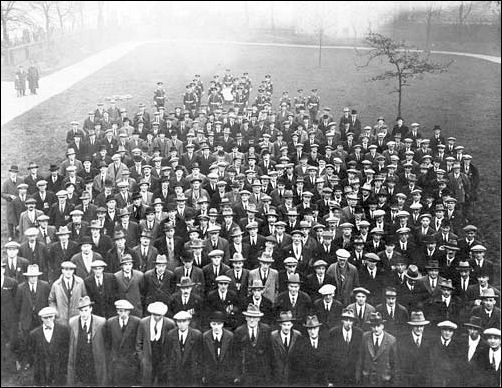 19 February 1927 - a re-union of the 1st and 5th North Staffordshire Regiment (Prince of Wales's) pictured in Queens Park (later named Queens Gardens).
Many of these men had fought in France during the First World War.
on this early photo it can be seen that the Queens Park was simply a grassed are with a few young trees - it was later that it was laid out as a flower garden.
---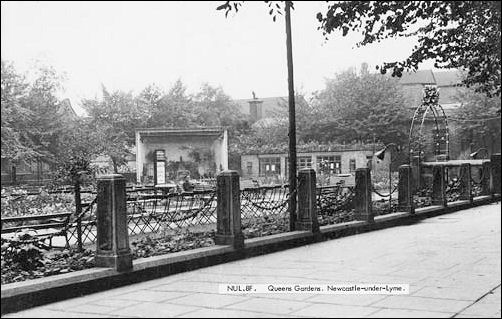 a postcard of the Queens Gardens c.1970
showing the current pillars and ornamental chains

An afternoon's entertainment is pictured here in the Queen's Gardens. The band in the bandstand is that of the Staffordshire Regiment.
© Borough Museum and Art Gallery, Newcastle under Lyme
c.1970's

The original Bandstand and associated buildings which had fallen into a state of disrepair were demolished in 2002 and replaced with a new Bandstand and Terrace.