Stoke Church:
The church defines Stoke and we have seen that that the name derives from the church or preaching point established in the village.
As well as the fragment of the Saxon Cross dating from around 800 AD, we can also find in St. Peters church yard the remains of a medieval altar and the
A Saxon font is still used for the christenings which take place at the church.

Ruins of the late C12 medieval church erected as an arch
The material of the old medieval church was scattered far and wide; many stones found their way to Boothen Mill, where they were used to line the waterway to the millpond. Following their discovery they were returned to the church yard and erected by the architect Charles Lyman in 1887 (1881?) as a reconstruction of the nave's south arcade.
The railed area in front of the arches is
the tomb of Josiah Wedgwood I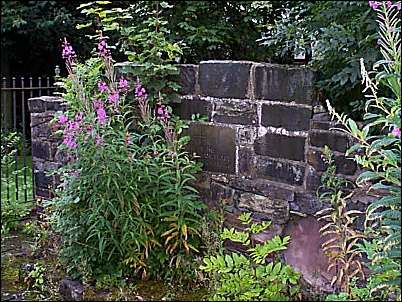 The remains of the late C12 altar of the medieval church
The inscription reads:
"Site of the altar and sanctuary
of the ancient church"
Photos: July 2000
---
St. Peter ad Vincula is closely associated with the ceramic industry for which this city is famous. Josiah Wedgwood and Josiah Spode are both buried in the churchyard and have family memorials in the church.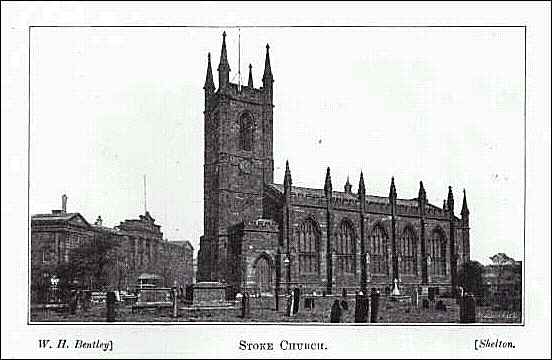 1893 view of St. Peters Church, Stoke
Taken from a 1893 trade journal. Picture taken from St. Peters church yard.
The Town Hall is in the background and Glebe Street runs between the church and Town Hall.
from an 1893 journal on The Potteries: "The old parish church of Stoke was situated in the immediate vicinity of Rykenield Street [the old Roman road]; and the present church, which was rebuilt in 1826-29, stands on glebe land, formerly attached to the old churchyard. It is a very handsome structure in stone, in the Early English style.... In the churchyard are two stones which bear ample testimony to the salubrity of the neighbourhood. They are to the memory of Sibil Clarke, d. 1684, aged 112 years, and Henry Clark, also 112 years old. The registers of the church date back to 1630."