Stoke-on-Trent Districts: Winton's Wood



previous: the importance of the Winton Wood area
Winton's Wood, Shelton, Stoke-on-Trent, Staffordshire.

Manorfield Pool:
The Manorfield pool which lies by the River Trent, on the south east edge of Lower Winton's Field has existed for many 100's of years - it can be seen on the Yates 1775 map through to modern day maps.

looking across Manorfield Pool
the buildings in the background are part of Staffordshire University and are located in Lower Winton's Field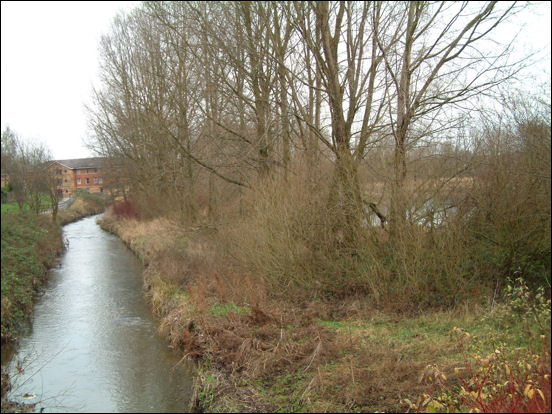 the River Trent, running past Manorfield Pool
This photo taken on the opposite side of Manorfield Pool, which is located to the right of the Trent.
Staffordshire University buildings can be seen to the left of the Trent
photos: Dec 2007


---

Yates 1775 map showing the Manorfield pool
part of the glebe estate, land belonging to the church at Stoke
map c.1800-30
showing the location of Manorfield Pool, by the River Trent at the boundary of Lower Winton's Field.

Sign by the Manorfield Pool
The blue line is the River Trent and the land above it, marked 'University Campus Leek Road' is located in Lower Winton's Field.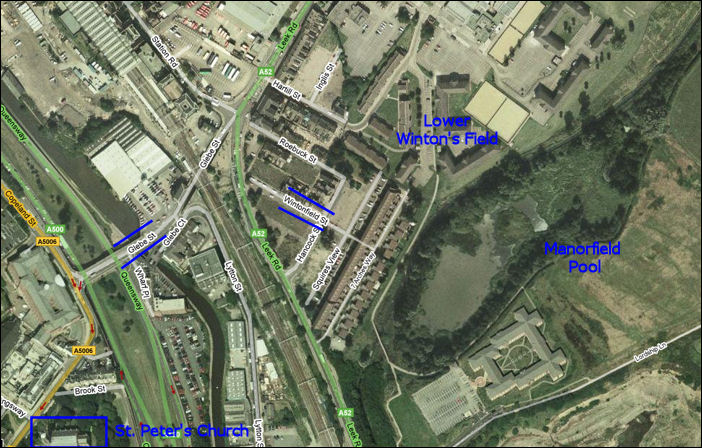 Modern day map showing Lower Winton's Field
Google map Jan 2008
the location of Wintonfield Street and Glebe Street are marked

---



previous: the importance of the Winton Wood area
questions / comments / contributions? email: Steve Birks
1 January 2008