Wolstanton, Newcastle-under-Lyme, Staffordshire.

Old postcard showing views of Wolstanton c.1955
---
WOLSTANTON, a parish in the northern division of the hundred of PIREHILL, county of STAFFORD, comprising the chapelry of Thursfield, the townships of Chatterley, Chell, Chesterton, Knutton, Oldcott, Rainscliff, Stadmerslow, Wedgwood, and Wolstanton, the hamlet of Brerehurst, and the liberty of Tunstall Court, and containing 8572 inhabitants, of which number, 958 are in the township of Wolstanton, 1½ mile (N. by E.) from Newcastle under Line. The living is a rectory, in the archdeaconry of Stafford, and diocese of Lichfield and Coventry, rated in the king's books at £32. 3. 9., and in the patronage of Walter Sneyd, Esq. The church is dedicated to St. Nicholas. There is also a chapel, called New chapel, the living of which is a perpetual curacy, endowed with £200 private benefaction, and £400 royal bounty, and in the same patronage. The Grand Trunk and Sir N. Gresley's canals pass through the parish, and the former is here conducted under a tunnel one mile and a half in length. Six poor children are educated for £2 a year, bequeathed by John Turner, in 1696. Wolstanton is in the honour of Tutbury, duchy of Lancaster, and within the jurisdiction of a court of pleas held at Tutbury every third Tuesday, for the recovery of debts under 40s.
A Topographical Dictionary of England, Samuel Lewis, 1831

"Wolstanton is a large and well-built village, on a lofty eminence, one and a half miles N of Newcastle-under-Lyme, and the same distance SW of Burslem. It has a cotton mill, and is the head of a populous and very extensive parish, which abounds in coal, clay, and ironstone, and includes the large pottery town of Tunstall, and about twenty villages and hamlets, divided into twelve townships or liberties, and comprises about 11,000 acres of land, and more than 18,000 inhabitants.
Wolstanton is in the manor of Newcastle-under-Lyme, which belongs to the Duchy of Lancaster. Chesterton is a separate manor, belonging to T Kinnersly, Esq, and Knutton & Chatterley form a manor, of which L Bennett, Esq, is lord. The other eight townships of this large parish are in the manor of Tunstall Court, of which Ralph Sneyd, Esq, of Keele, is lord, but a great part of the soil belongs to HH & R Williamson Esqrs, Smith Child Esq, Messrs W & A Adams, JH Clive, Thomas Peake, and many smaller owners."
History, Gazetteer and Directory of Staffordshire, William White, Sheffield, 1851

"Wolstanton, a village and a parish in Staffordshire.
The village is l½ mile N of Newcastle-under-Lyme, and 2 miles WSW of Stoke-upon-Trent. It has a post, money order, and telegraph office (T.S.O.) under Stoke-upon-Trent.
The manor belongs to the Duchy of Lancaster. The parish contains twelve townships, and comprises 10,816 acres; population of the civil parish, 50,885; of the ecclesiastical, 6683. The parish includes also the ecclesiastical parishes of Tunstall, Newchapel, Goldenhill, Knuttoa, and part of those of Silverdale, Chesterton, Kidsgrove, and Mowcop.
Most of the area lies within the tract called the Potteries, and there are numerous porcelain and earthenware factories, many brick and tile yards, and several iron and steel works, engine works, and silk and cotton mills.
The living is a vicarage in the diocese of Lichfield; net value, £233 with residence. The church was rebuilt in 1869, and contains a piscina, sedilia, and some ancient monuments to the Sneyd family.
There is a chapel of ease at Porthill. There are two mission churches, and Free, New Connexion, and Primitive Methodist and Wesleyan chapels."
The Comprehensive Gazetteer of England and Wales, ed J.H.F.Brabner, 1895

---
Name Origin: Old English Wlstanetone [Wulfstan's homestead or village]
---
Domesday Book
Wolstanton was included in 1087 Domesday Book as "the Land of the King.....'
WOLSTANTON [WLSTANETONE] ( 14 on the Pirehill map)
WOLSTANTON. Earl Algar held it. 2 hides, with its dependencies
In lordship 2 ploughs;
14 villagers and 2 smallholders with a priest have 8 ploughs.
Woodland 1 league long and 1 furlong wide.
Value before 1066, 100s; now £6

on the Domesday Book

---
Population
The population of Wolstanton parish, including Newchapel chapelry was as follows:
1801 -- 4,667
1831 -- 10,853
1841 -- 16,575
---

Colleries:
Wolstanton Colliery was set up in 1916 by Wolstanton Ltd. to provide ironstone for the local ironworks.
A number of Pottery manufactures put money into create a coal pit in Wolstanton, a shaft was sunk in 1920 to form Wolstanton colliery, they managed the pit until it was nationalised in 1947.

In 1950 major reconstruction occurred, the work took 14 years, and Wolstanton was merged with Hanley deep pit and Sneyd Pit. Modernisation in the early 1960s set up a preparation plant, railway sidings and washing facilities and initially paid off with a peak output of one million tonnes of coal in 1963, but thereafter the rate of output declined.
Work took place to link Wolstanton with Chatterley Whitfied and in 1975 the underground connection was finished. With these underground connections Wolstanton was to be regarded as the Superpit of North Staffordshire, it then had the deepest pit shaft in Western Europe measuring 3759 feet deep.
The Colliery closed in 1985 with the shafts being filled in in 1986.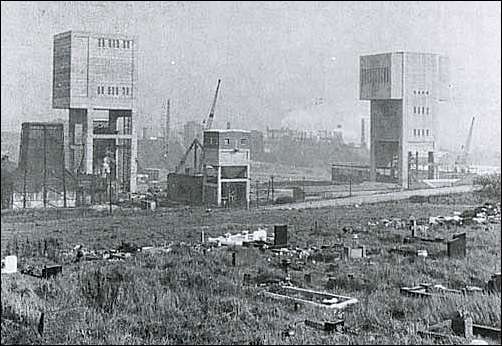 Wolstanton colliery in 1957
© Staffordshire PastTrack

---
Churches:
"Wolstanton Church, St Margaret, is an ancient red freestone edifice, with a lofty spire that may be seen at a large distance. It contains several monuments of the Sneyd family, and a handsome stone pulpit, erected in 1848. The vicarage is in the patronage of R Sneyd, Esq, and incumbency of the Rev John Tyson, BA.
In the parish there are many dissenting chapels. The Wesleyans and Primitive Methodists have chapels in the village of Wolstanton.
[From History, Gazetteer and Directory of Staffordshire, William White, Sheffield, 1851]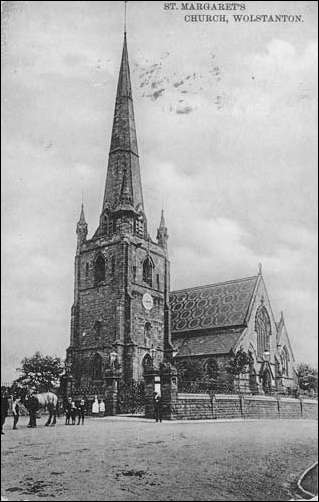 St. Margaret's Church, Wolstanton
Between 1858 and 1860 the church was altered
by Gilbert Scott in the style of the Gothic revival.
photo: Borough Museum and Art Gallery, Newcastle under Lyme
© Staffordshire PastTrack

---
Schools: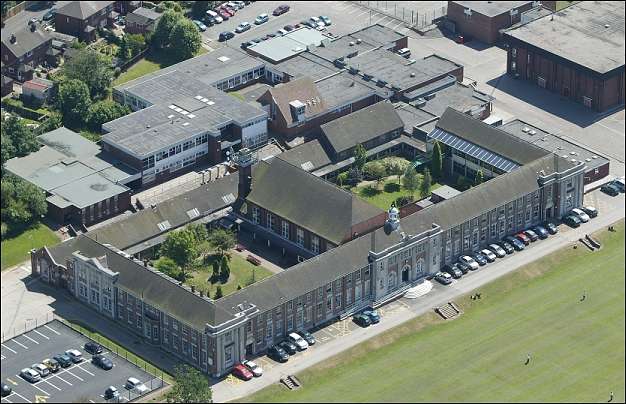 Wolstanton High School, Milehouse Lane, Wolstanton,

Wolstanton County Grammar School was opened in 1928