A unique housing development by Countryside Properties
on the site of the famous Twyfords Pottery in Cliffe Vale

artists impression of the new development from Shelton New Road

---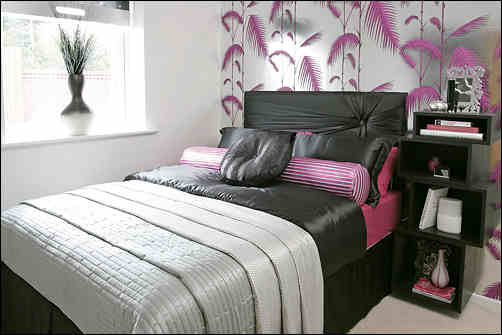 interior shots from Lock 38
---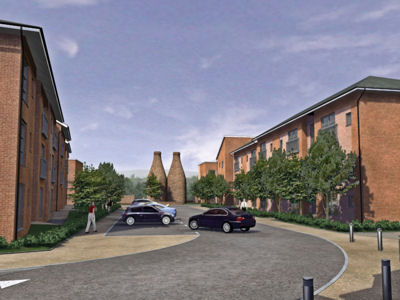 Lock 38 is a contemporary canal side development offering the best in modern apartment living with 1 & 2 bedroom apartments available.
The development also gives a slice of heritage in the shape of two carefully restored Grade II listed bottle kilns and the sympathetically refurbished former ceramic works of the Twyfords Pottery Company.
The history of the Lock 38 site
In the early 1880's Thomas Twyford designed, developed and manufactured the first one piece wash out pedestal closet and called it the UNITAS. This was pioneering work in sanitaryware.

In 1887 Thomas William Twyford opened his "model" factory in Cliffe Vale near Hanley. The factory was described as "model" because it was considered by government inspectors, at the time, as a pattern for all Staffordshire factories. Each workman had his own opening window and fresh air.

The two circular calcining ovens built 1887 on the side of the Trent & Mersey Canal - shown with some of the outbuildings intact.



B

rick with stone dressings and plain tiled roofs. Frontage range of 3 storeys and 22 bays (2-2-4-1-4-9). Entrance bay has stone pilasters and entrance with cast iron lintel over and 3 stilted arched windows above, and ornamented segmental pediment bearing date. Flanking this entrance bay are 2 towers with paired windows with stone aprons in the upper floors, and stone quoins. The outer range to the right has giant arched colonnade with windows with cambered brick heads, and moulded brick eaves cornice. 2 bays to the left in a similar style, then a gabled range with giant brick arches.

An 1893 etching of the Cliffe Vale Pottery and Enamelled Fire Clay Works
On the left can be seen the Trent and Mersey Canal and
the two circular bottle ovens which are retained in
the new housing development

go to Lock 38 web site