Activity had ceased in 1973 Birchenwood Coke and By-Products Ltd (in the midst of an industrial dispute over wages)
A question was asked in Parliament in March 1963 "what schemes for the clearance of derelict sites have been agreed on within the City of Stoke-on-Trent; which are being worked on at present"
.... the answer was that there was reshaping of 112 acres and planting on old tips and slag heaps at Birchenwood Colliery, Kidsgrove to improve appearance.
Again the question was raised in May 1990, which was answered..... "In Kidsgrove we have an area known as Birchenwood, which is reclaimed land; we are pleased to have had Government support, in conjunction with the local council, for reclaiming that land. Of the 37 acres of derelict land that have been reclaimed and are now ready for development, 12 were originally earmarked for council housing, but they have already been sold to the private sector."
---
The development of the site:
The site was sold to a demolition company who took just a few weeks to flatten it and left few traces of over 150 years of its existence.
Much of the land has now been developed as housing and also turned into a country park, homes here mingle with nature trails, sports pitches and bridle paths.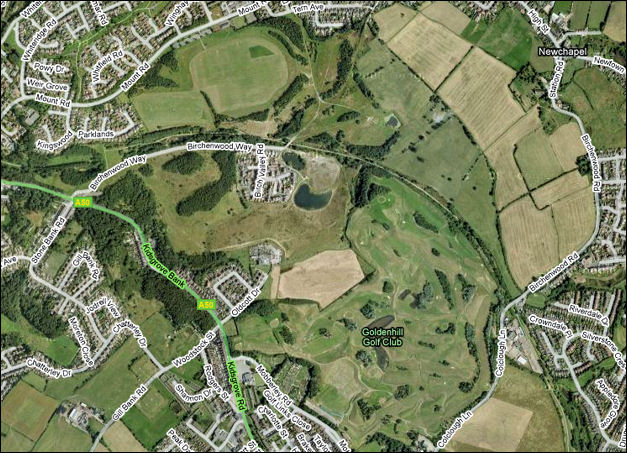 Birchenwood Country Park - Google maps - 2008
the line of the old Loop Line can be seen running alongside Birchenwood Way.