Peckett 2153 was built in 1954 for the Birchenwood Gas and Coke works.
She is a class OX4, with 16 inch cylinders and a wheel diameter of 3 foot 10 inches. She spent her entire industrial career at Birchenwood, numbered as their 'number 5', and carried out her last working there on 19th May 1973.
photo: © Steamport Southport museum

No 2 Avonside 1382 at Birchenwood Gas and Coke, Kidsgrove, 16 May 1972
photo: © Steve Price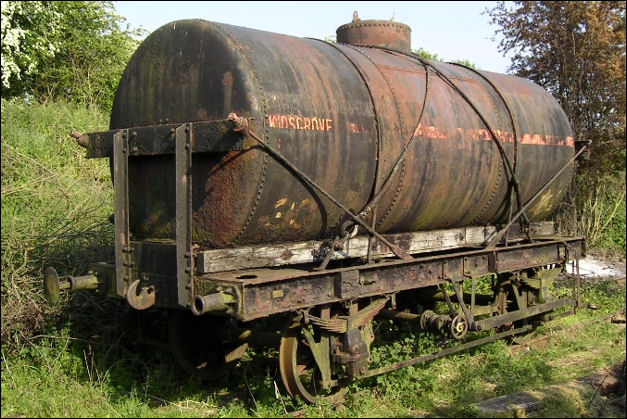 Birchenwood Gas, Coal and Coke Co 14 ton Class B Tank Wagon no 30
Originally built by Charles Roberts of Wakefield and registered by the London & North Eastern Railway in 1927
On 13 June 1947 the Birchenwood Gas, Coal and Coke Co of Kidsgrove bought it and renumbered it 30 in their fleet. Birchenwood had a fleet of thirty four tank wagons to transport various by-products all over the country. Last used for this duty in 1968, by which time this wagon had seen over forty years of mainline use, most were broken up for scrap. An assortment of four were retained at the Birchenwood plant for internal use, and when it closed in 1973 No 30 was purchased from a local scrap merchant for preservation at Foxfield.
photographed at Blythe Bridge sidings in 2006 © Foxfield Steam Railway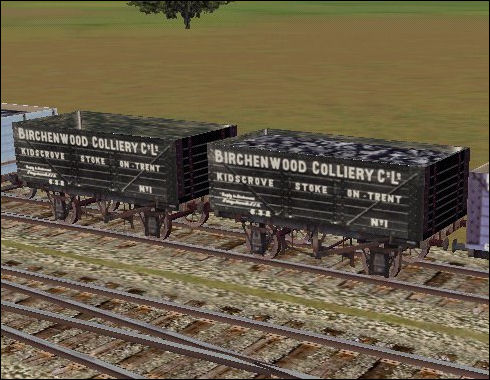 PO 8 Plank Wagon - Birchenwood
computer model by UKTrainSim

Birchenwood Gas & Coke Co, Kidsgrove, three of the four Saddletanks
photo: © Renown
"Less than five minutes walk from where I'm sitting now was the aromatic Birchenwood Gas & Coke Company. The sulphurous sprawling plant was the last vestige of a complex which used to include coal mines, and associated iron works. The location had a sizeable internal rail network which was steam shunted to the end in 1973. It was linked to the national network by the steep last remaining section of the NSR 'Potteries Loop Line' from Kidsgrove Liverpool Road.
Close to the end of production... a demise hastened by North Sea Gas, the residents of the locomotive shed were temporarily evicted to make available some 'undercover' (funny if you'd seen the edifice) accommodation for some newly developed type of Coke which the powers that be didn't want wet, or so I was told by the loco crews.
The 0-4-0ST at the front was a 1922 Bagnall, 'Alexander' which I as a teenager attempted to get plinthed but to no avail. The centre 0-6-0ST was a Bagnall re-build of an 1897 Avonside, both of which were cut up on site shortly afterwards. The more modern 0-6-0ST at the rear was the Bagnall prototype for a class which was to become a Staffordshire colliery favourite and was serviceable but spare on this occasion to a 'modern' 1953 Peckett which was working. I did take a shot of all four, but sadly it came out too blurred to post.
The building on the extreme left contained an AEC industrial engine complete with a Mk III type radiator which ran full bore all day long up to it's sump in crusty and bubbling smelly tar."