Cobridge and Bennett
"A house stood on a hill. And that hill was Bleakridge, the summit of the little billow of land between Bursley and Hanbridge. Trafalgar Road passed over the crest of the billow."
Arnold Bennett was very familiar with Cobridge and the little station there -because he lived there from 1880 to 1888 ....
Bennett's father Enoch, had bought a building site on Henry Meakin's estate for £200 in 1879 where he built a house at a cost of £900, No 205 Waterloo Road. This is a large three-storey red brick house with a façade much embellished with terra cotta. It has two bay windows at the front and six bedrooms.

There is no information about the architect but there is a good possibility that it was designed by George Ford, who was living on the other side of Waterloo Road, he designed other streets and houses on the Meakin estate and was likely the model for Osmond Orgreave, the architect in Bennett's novel 'Clayhanger'
In Clayhanger the Orgreave family, of which the head (Osmond, the architect) is essential to the development of Edwin's maturity.

1898 map showing where Arnold Bennett lived
The red circle on Waterloo Road was Bennett's home from 1880 to 1888, the blue line was originally to be named Station Road - because the footpath at the end lead to Cobridge Station. It became Rushton Road acknowledging the ancient 'Rushton Grange' estate.
The green square opposite Bennett's house was the home of George Ford the architect who designed many local houses - he was likely the model for Osmond Orgreave, the architect in Bennett's novel 'Clayhanger'.
The Cobridge Territorial Army Centre now occupies this ground.
Marked in light blue is Bleak Street and in purple the location of Bleak Hill House - these are the names Bennett took when he named Cobridge as Bleakridge.
In the mid 1950's Bleak Street was renamed Orgreave Street after the architect in Bennett's Clayhanger.
Bleak Hill House has since been demolished and a Mosque now occupies this ground.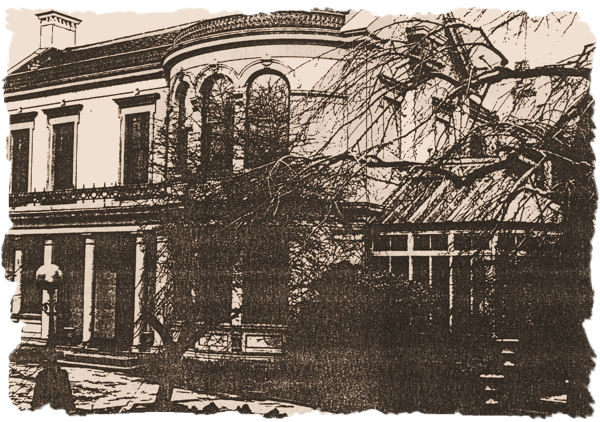 Bleak Hill House in 1955
Warrillow Collection - Keele University Library