Shelton Works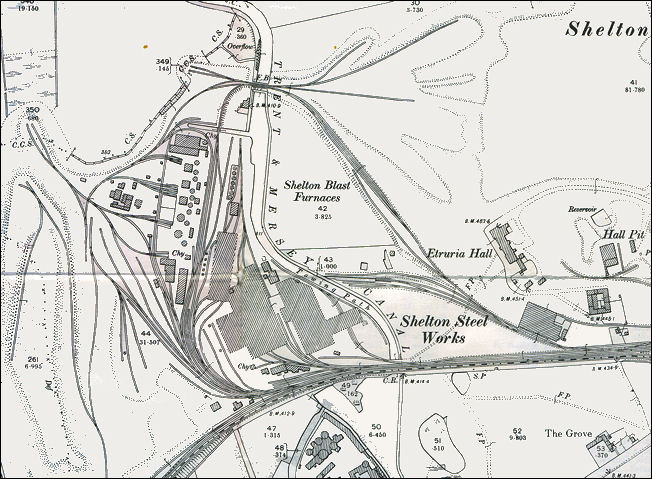 map of Shelton Steel Works and the Loop Line in 1898
The loop line separates the Etruria site of Shelton works and Wedgwood pottery works (bottom centre)
the Trent & Mersey canal runs through the site (centre top to bottom)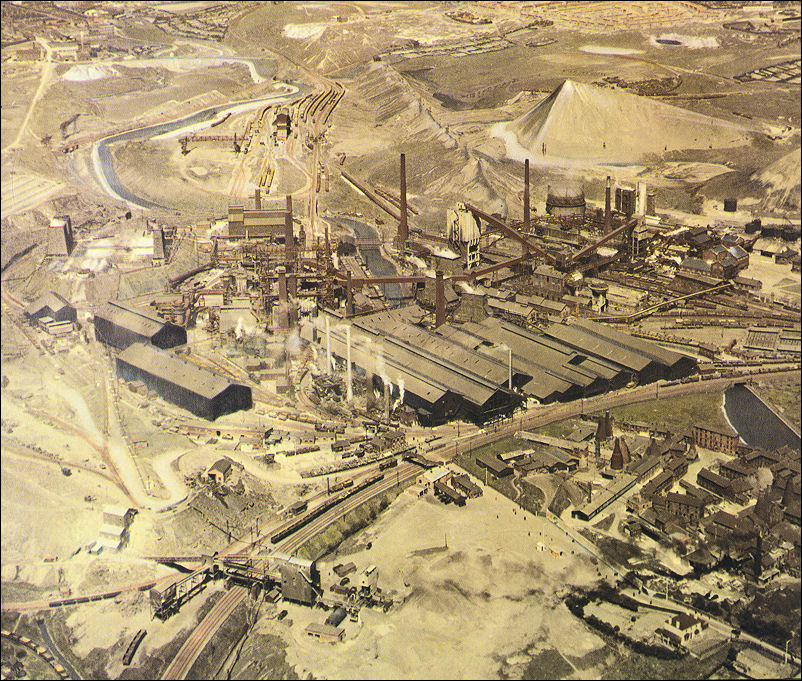 Photo of Shelton Steel Works and the Loop Line c.1950
many of the features in this 1950 photograph can be identified in the 1898 map
The loop line separates the Etruria site of Shelton works and Wedgwood pottery works (bottom left)
the Trent & Mersey canal runs through the site (bottom right to top)
---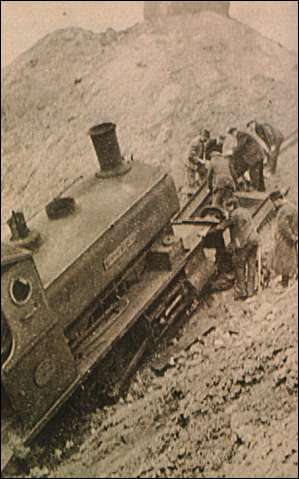 Accidents will happen!
a derailed train on one of the Shelton lines

Connecting the numerous pieces of plant at the Shelton sites was a collection of rail-borne vehicles, made up of slag bogies, pig bogies and wagons drawn by a ten-strong, steam locomotive fleet.

In fact Shelton was the first site to have a rail link; the early loop line. Earl Granville is reported to have been known to take his locomotives on to the main line North Staffordshire Railway lines for personal trips to Sandbach. The rail company on one occasion were alleged to have reprimanded him for his actions.
---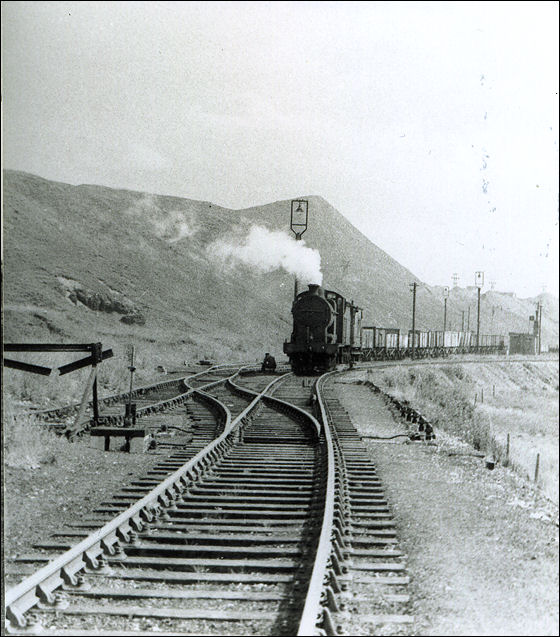 Grange line into Shelton Works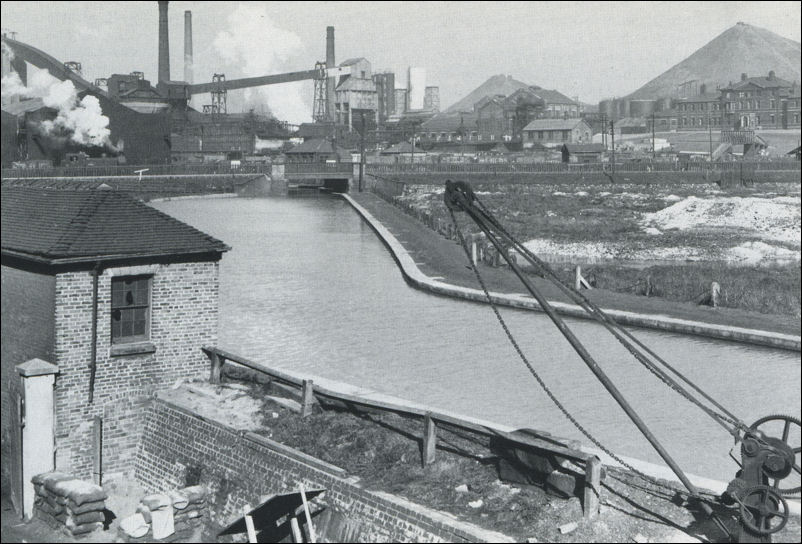 Trent and Mersey Canal at Etruria - 1941
photo: The Warrillow Collection - Keele University Library
Picture taken from Wedgwood pottery works with the Shelton Iron & Steel works spread all across the background of the picture. Etruria Hall to the upper right.

The bridge over the canal carried the loop line.

the old loop line bridge on the Trent & Mersey canal
this photo taken on the opposite side of the bridge shown in
the 1941 photo above.

the Sentinel newspaper works in the distance, these works are
sited where Wedgwood's Etruria works were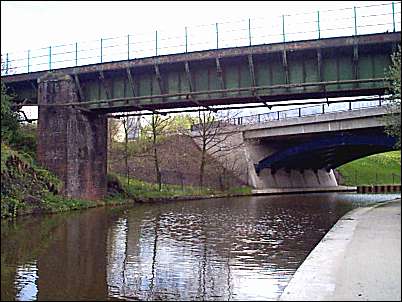 Looking backwards along the canal, in the foreground an old railway bridge
which joined the blast furnace side to the steel converting side
- in the background the new Forge Lane bridge.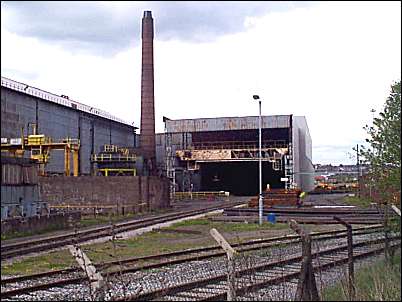 Railway line entering the works, the line to the right now
finished just out of the picture but used to go to the
blast furnaces.

these three photographs around the Shelton Steel Works
were taken on last day 27th April 2000 when the works completely closed
---
coal and iron ore mines
The rich seams of coal and iron ore in the Stoke-on-Trent area were instrumental in the selection of the Shelton site by the first Earl Granville.
There were numerous coal workings on the Shelton site before the Levison Gower family took an interest in it but after the lease was taken up the pits were rapidly developed.

They were all part of the unique industrial fabric of North Staffordshire. Coal pits were peppered around the Shelton site and were connected with a myriad of mineral rail lines.

There was The Grange; the three Racecourse pits; Rowhurst One and Two; Bootham Pit, Tinkersclough and the 'daddy' of them all, Deep Pit.

Deep Pit got its name from the fact that it had the area's deepest shaft, reaching 1,500 feet.

The Racecourse pits, named after a racecourse which saw its last event in 1840, were almost 1,000 feet deep.

The company purchased another three collieries - Florence, Silverdale and Talke - over the next fifteen years, with a further Holdich Colliery being purchased as late as 1930.