Railways of Stoke-on-Trent - Potteries Loop Line


Navigate by the section headings below,
or use the "next" "previous" buttons, or if you get lost use the "index page"

Index page for the Loop Line
Introduction | Etruria to Hanley | Cobridge to Burslem | Tunstall
Pits Hill to Goldenhill | Kidsgrove
Potteries Loop Line


next: Newfields Branch Line
previous: introduction to Tunstall


Tunstall
This map shows the route of the Loop Line through Tunstall.
The area between the main line and the Loop Line was full of mineral lines, branch lines and spurs which connected numerous collieries, pottery factories and tileries to the life giving railway lines.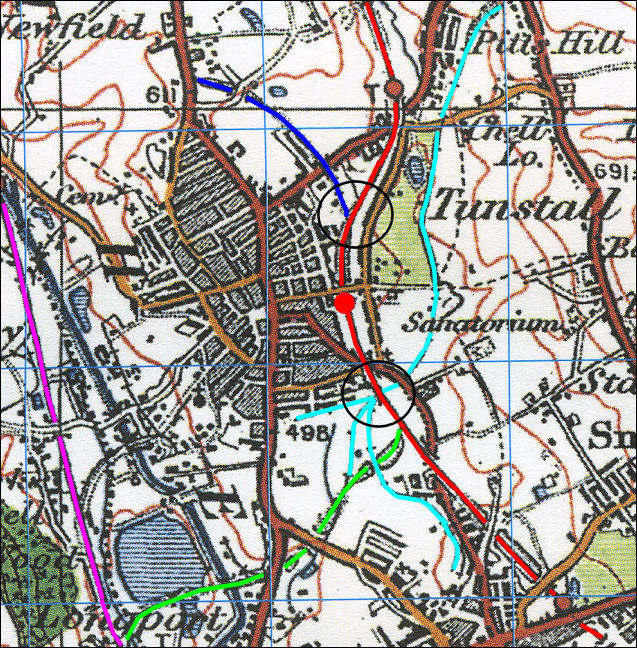 Route of the Loop Line through Tunstall - 1922 map
The loop line is shown in red with Tunstall station shown as the red spot on Station Road (was renamed The Boulevard in the 1950's).

The top black circle is the Newfield Junction with the Newfield's branch (dark blue) which served a number of pits.

The bottom black circle is the location of the busy Pinnox Sidings and the Pinnox mineral railways are shown in light blue.

The Pinnox branch (or sometimes known at the Tunstall Branch) which joined the mainline (on the left hand side in purple) at Longport to the Loop Line at Pinnox is shown in green.




next: Newfields Branch Line
previous: introduction to Tunstall

---