Railways of Stoke-on-Trent - Potteries Loop Line


Navigate by the section headings below,
or use the "next" "previous" buttons, or if you get lost use the "index page"

Index page for the Loop Line
Introduction | Etruria to Hanley | Cobridge to Burslem | Tunstall
Pits Hill to Goldenhill | Kidsgrove
Potteries Loop Line


next: Tunstall Station
previous: the route through Tunstall


[contents: Tunstall, Newfields, Pinnox]

Tunstall - Newfield's Branch Line

Furlong Road (Tunstall) looking from Christ Church at the top of Tunstall High St. towards Pittshill.
The bridge in the picture carries the Newfields branch line used to transport
raw materials (clay, etc) to Newfield Pottery via Tunstall.
The Loop Line bridge is out of sight over the next hill.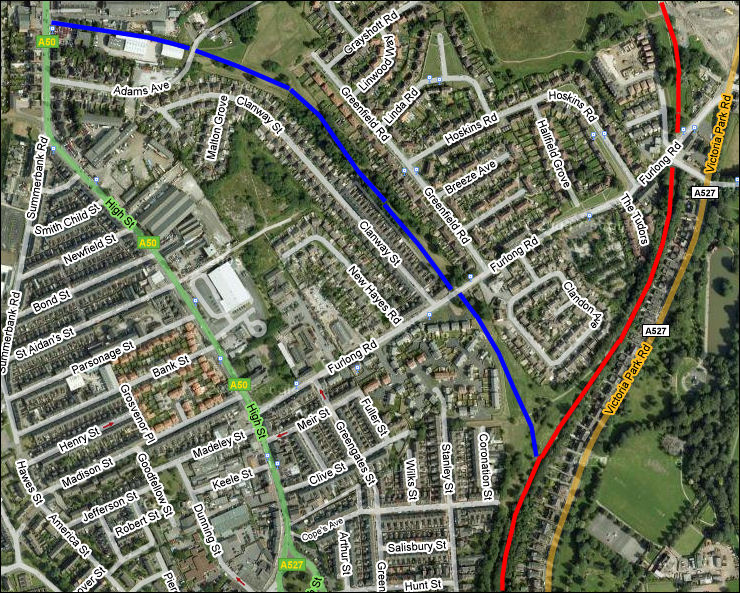 The Newfields Branch Line - 2008 (Google maps)
Newfields line shown in blue and the main Loop Line shown in red

The Newfields Junction off the Loop Line was opposite Tunstall Park and the route can still be followed today - it served Newfields Colliery, Clanway Colliery, Limeheath Pit, Engine Pit and Mostyn Pit. Adams Pottery was also connected to the line.
A spur from the end of the Newfields line ran down and connected the main line at Chatterley Station (near to the Harecastle Tunnel).
Clanway Street, Adams Avenue and Newfield Street are all silent testament to the once thriving industry in this area.


Clanway Greenway - following the route of the Newfields Line
photo: www.tunstall.spaces



next: Tunstall Station
previous: the route through Tunstall


[contents: Tunstall, Newfields, Pinnox]

---