My father, Edwin, was a policeman at Burslem Police Station, my mother, Winnie, worked in a small department store in Burslem. They'd emigrated from Yorkshire in the early 1940s.

We lived at 104 Scotia Road until I was eight in 1953, just after the Coronation.

on the left, the houses in Scotia Road, Burslem where David Teale lived until 1953
picture: Google Street View
---
Occasional trains went along the track at the other side of the road, behind some hoardings carrying large adverts.
I could hear the roar of the Port Vale crowd from the house, so became an avid supporter during their greatest season 1953-54.
I used to walk past the ground to go to Jackfield Street Infants School. We played around Bycars Lake, and walked on it when it was covered in ice (always cracking under the strain).
At the bottom of Scotia Road there was a patch of land behind iron railings owned by the railway where we used to play cricket and have bonfires on 5 November with wood stolen from rival gangs plus any old wooden sleepers lying around.
---
We used to wander as 5 to 7 year olds across the wasteland facing the Bycars end of the Port Vale ground. Playing in marl holes, never quite slipping into the water, otherwise I wouldn't be writing this.
I was playing football there when a strange man approached to say that the Vale were winning 1-0 at half-time in the semi-final of the FA Cup against West Brom at Villa Park.
When I got home and we'd lost 2-1 it was the worst day of my life for many a year.
There was a Tizer depot across Scotia Road and a Territorial Army Depot a couple of hundred yards along the road towards Tunstall (where I went to school from the age of 7 - Forster Street School).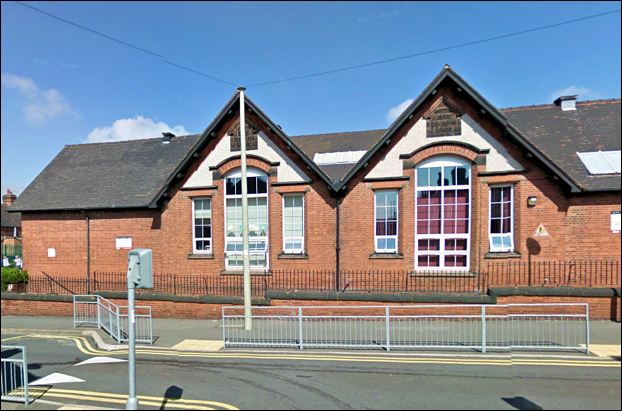 Jackfield Street Infants School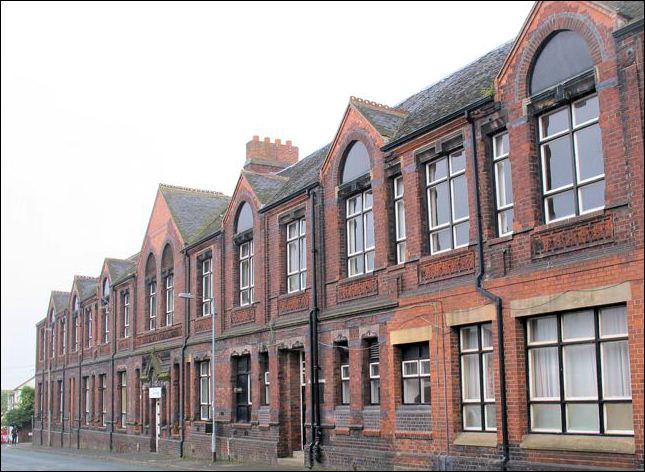 Forster Street School, Tunstall - where David went to school from the age of 7

At the back of Scotia Road was an alleyway used by fruit sellers, rag and bone men, anyone with a horse and cart. We used to collect the horse poos and throw them at each other. I seem to remember that one or two oddballs used to eat them, but maybe my memory is beginning to fantasise.

A neighbour bought some fruit from a seller which my older brother was with her and she gave him a PEACH. I'd never seen a peach (I was only 6) and he'd eaten it before I had the chance to see that one.

When I was five or maybe six I saw a television set for the first time - just saw it sitting there, not switched on or anything exciting like that. That came a couple of years later.
I seem to remember - though again this may be a fantasy - seeing the future Queen Elizabeth come down Scotia Road in a large posh black car - does anyone know whether she came to Stoke-on-Trent around 1951 or 52?

It was raining on 2 June 1953 so we had the Coronation street party in our house, there were lots and lots of children.

I left Stoke-on-Trent when I was 17 to go to university, and hardly went back after that.