How often have you heard the saying, "Those were the days"? As I am the type of person who is likely to make such a remark, I suppose I would be called "the older generation".
My memories and recollections of Cobridge are from the age of two years.
Introduction to Cobridge
My parents came to Cobridge to look at a newsagents which they wanted to rent from a Mr. Barlow, who was about to retire. I was given a clockwork stream roller to play with a to keep me quite while the serious business was discussed. I recall playing with it on the floor of the back room, watching it go backwards and forwards until it ran down. Suddenly, there was a heavy rumbling, clanking and bells ringing. Running outside I was just in time to see the gates of Granville level crossing opening with red lights flashing on top of them. I could also see a man in a signal box, high up turning a large wheel which opened the gates. Then, to my delight, the train started to cross over the road like some snorting, fire breathing monster, with its long tail of coal trucks, returning to its lair at Hanley Deep Pit. To a small child this was an experience that would stay with me for all time.

Hanley Deep Pit
Courtesy of J. Hewitt
The ice cream man
Once you start to reminisce, you get caught up in the trap of not being able to stop yourself from digging up more memories and experiences: Such as the ice cream man who used to come around on a tricycle that had such a large container at the front, full of ice cream with lots of crushed ice to keep the ice cream cool. The man who sold the ice cream went under the name of Hokey Joe. The name was derived from the name of ice cream he sold. There was also a little rhyme that went like this: "Hokey Pokey Penny a lump; that's the stuff that makes you jump".
Of course, at that time, domestic refrigerators were not available, so most homes had a small pantry, often as not located under the stairs. At the back was a shelf called a stillage on which food was put in the summer to keep it cool. For food that was in use daily, there was a small cupboard that had wire mesh around the sides of it and also on the door. This had to functions: to allow the air to circulate and to keep the flies off the partly used food. The cupboard was called a meat safe. This was as near as you could get to what today is called hygiene, which is more than I can say of the ice cream man. In all the years he sold ice cream, I can't ever remember seeing him without a running nose.
Cobridge Shops
But on to a more pleasant memory of the milk man who delivered milk in a pony and trap. I remember fondly the gleaming churns and ladles with which he used to serve his regular customers. His shop I remember was opposite what is now the Five Towns Café in Hope Street, (the birth place of Arnold Bennett) and in the window was a gold coloured cow which for some reason used to fascinate me.
I was said that the area of Cobridge on the Waterloo Road side had a shop for all your needs. There were two Butchers shops, run by a Mr. Travers, and Mr. Clarkson; three Newsagents, served by Mr. & Mrs. Eves, Mr & Mrs. Chell, (my parents) and Mr. & Mrs. Foulkes; two chip shops, with Lousie Chatfield in one, and Mr & Mrs. Tart in the other. The local hardware shop was run by Mr. & Mrs. Simpson.
In those days, such items as tin bonnets, used to draw up the fires to help it kindle quickly, were sold, as well as irons used to scrape soot from the firegrate. The sweet shop was owned by Mr. & Mrs. Butters, whilst next door was a shop that sold tripe, cowheel, hodge, chitterlings, and cow udder, which was eaten by most of the people, certainly enough to make it a profitable venture, today's generation seem to know little or nothing about that kind of food, which was healthy to eat. Tripe, hodge and cowheel can still be purchased, but lots of offal that used to be eaten, is no longer available due to it being taken out of the food chain because of the B.S.E. crisis.

Today's youngsters seem to thrive on junk food, burgers, chips, crisps, kebabs & pop. Below the tripe shop was the gent's hairdressers, with Len Cope in charge. Directly opposite on the other side of Waterloo Road, was the chemists managed by Mr. Nixon, and later by Mr. Gritten.
Lower down Waterloo Road was the surgery of Dr. Dallas, where he dispensed his preparations which usually fell into three categories: white stomach medicine, cough mixture, and brown or white ointment. Dr. Dallas could have been entered in the Guinness Book of records. Any of his patients will tell you that he could examine you while holding a cigarette in his mouth with about two inches of ash on the end and would complete the examination without any of the ash falling off. He was a chain smokers and always relit the next cigarette from the previous one. He was an old man even when I was a boy and was unable to drive, so did his house calls by taxi.

Portland Inn
Corner of Century Street and Portland Street
photo Nov 2000
Two grocer's shops were on either side of Portland Street, with the Morris family in one shop, and Allen Taylor in the other. Further up Waterloo Road, two greengrocers were in business under the watchful eyes of Mr. Palfryman and family, and Mr. Cartlidge and Son. The latter has a horse and cart and travelled the streets selling "fruit and veg" beautifully displayed. A further attraction was the horse Ginger who, on command would tap out a child's age with its hoof, much to the delight of the children. No sales techniques like that today.
Other businesses included oatcakes, tailors, cycles, and electrical, wet fish, wallpaper and paint, dry cleaners, millinery, and a general store looked after by Annie Leyland. This shop was always a favourite with the children as she sold bottles of pop, made while you waited, There were a variety of colours, red, green, blue and yellow, from small effervescent tablets which were placed in a machine similar to today's "Sodastream" where carbon dioxide is injected into the water.
One other service that was available locally was a coal yard that was located in Windermere Street and was owned by Mr. Barcroft. A steady flow of customers could be seen coming from the yard wheeling a variety of homemade trucks, usually made with four pram wheels, two axels, a short plank, a wooden box, and finally a piece of rope with which to steer and pull it. So you see there was very little reason to go outside your own neighbourhood to shop, and if a visit to town was ever required, it was a major event and treated as such.
As children, we made use of the home made trucks for pleasure. We spent a lot of our play time racing each other down Derwent Street, which today would not be possible due to the volume of traffic.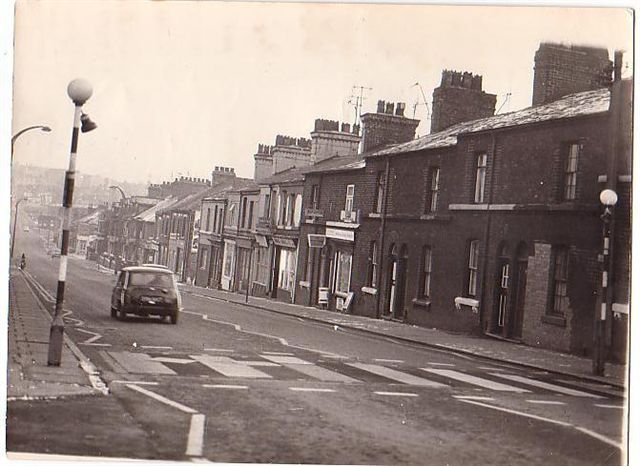 Waterloo Road, looking downwards to Vale Place and Hanley
This picture was taken of Waterloo road, looking towards Vale Place, the shop on the right with the waste bin outside was where I lived with my parent from about 1935-6 until the death of my father Harry Chell 1943, the shop was a news agents. From Portland Street to Cobridge traffic lights there were three newsagents shops, our family then moved to Windermere Street.