Memories of Stoke-on-Trent people - Ken Green


Ken Green
A Life in the Ceramic Tile Industry
section 10




previous: Mr Geoff Corn 1899/1987
next: expansion at Adderley Green

The Glazed and Floor Tile Manufacturers Association:
There were many firms in the UK making ceramic tiles during this period. The Glazed and Floor Tile Manufacturers Association had been formed in 1913.
In 1955 the listed members in the Stoke-on Trent area were:

Barratt.J.H.,
Beresford Tile,
Biltons,
Boote T & R,
Campbell Tile,
Johnson H & R,
Malkin,
Marsden,
Minton Hollins,
Platt & Sons,
Repton Tiles,
Rhodes Tiles,
Richards Tiles,
Smith & Warrilow,
Trent Tiles,
Vernon Tile,
Wade A.J.
Woolliscroft G.& Sons.

Outside Stoke-on-Trent listed members were:

Candy & Co of Newton Abbot,
Carter & Co of Poole,
Gibbons Hinton of Brierley Hill,
Jeffrey Tiles of Hereford,
Maw & Co of Ironbridge,
Pikington Tiles of Clifton Junction,
Thynne H.&G. of Hereford
Wade Ltd of Portadown.

Many of these companies lost their independence during the next ten years.

Boote, Campbell, Cauldon, Maw and Minton Hollins became parts of the Richards Group.
Jeffrey, Malkin, Marsden and Trent became parts of the Johnson Group.
The two Groups merged in 1968.

This is chronicled later in this account.
The G & FTMA, as it was usually referred to, also set selling prices. All members sold at these set prices. This practice was challenged by the Monopolies Commission in the late 50's as being "against the consumers' interest". There was a lengthy case heard in the restrictive trade practices court. Stanley Adams, Richards' Managing Director, played a prominent role in putting forward the G & FTMA's case and ensuring their victory. (The Association presented him with a barrel of oysters to show their appreciation.) Time was to show it to be a hollow victory! When foreign tiles began to sell at lower prices, many in our industry could not understand why? "Why don't they sell at our prices?" It was still a seller's-market and the perception of competition was of something applicable to sport.
Within the G & FTMA there was "The Technical Tile Committee". Technical staff of the various companies met at various factories and, after a tour of the host factory, discussed common technical problems. As the market hardened and competition did begin to occur, this sub-committee died away.
The British Ceramic Research Association:
The British Ceramic Research Association was housed in post war buildings in Queens Road, Penkhull. Individual companies and government funds financed it. Fundamental research and development was carried out and results made available to members by lectures, published papers and factory visits. During the period being related it was not allowed to have foreign members but this changed in later years.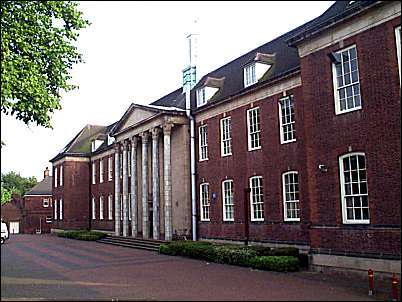 CERAM Research
www.ceramres.co.uk

Company History
In April 1948 the British Ceramic Research Association was created by the fusion of the British Refractories Research Association, which had been in existence since 1920 and the British Pottery Research Association, which was founded in 1937.
The joining together of the two associations resulted from a realization that the ceramic industry might best be served by a single research organization.
The organization has continued to use the site in Queens Road, Penkhull which had been the home of the British Pottery Research Association since 1938.
The main building, shown on this page, was officially opened in December 1951 by H.R.H. the Duke of Edinburgh.
In May 1986 the name was changed to British Ceramic Research Ltd and have since been using the trading name CERAM Research (now CERAM Research Ltd).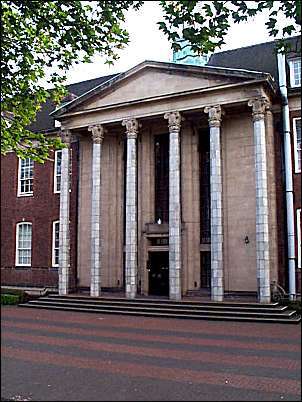 Detail of the imposing main entrance

photos: 2000





previous: Mr Geoff Corn 1899/1987
next: expansion at Adderley Green