Memories of Stoke-on-Trent people - Ken Green


Ken Green
A Life in the Ceramic Tile Industry
section 4




previous: A military interlude
next: The military situation in the Far East
Stoke-on-Trent and the Military College of Science
It is common knowledge that, at the beginning of the war, the major banks moved their clearing operations from London and set them up in the ballroom of Trentham Gardens, Stoke-on-Trent. It is not so well known that parts of the Military College of Science were moved to Stoke-on- Trent. Because of this, in September 1944, I found myself stationed in my hometown for six weeks as part of my training in field army equipment. About twenty of us were billeted in Cobridge barracks, Waterloo Road and trucked around the city to several other locations occupied by Military College of Science. Cross Heath barracks housed the Bofors gun and the six and 17 pounder anti-tank guns. Bucknall barracks, Lime Kiln contained hydraulic recoil mechanisms. Hartshill barracks was used for photographic matters. Boothen barracks, Stoke contained as large a collection of small-arms (handguns, rifles, light, medium and heavy machine guns) as could be assembled. An infants school in Blurton had been commandeered and was used for instruction in lubricants (tribology).
It was of particular interest to me to find myself at a school in Sandon Road, Meir. which housed 25 pounder guns and other artillery pieces. During my time at Longton High School we had been in a very old school building in Trentham Road and we also occupied the major part of the Sutherland Institute above Longton public library. We were told at various Speech Days of a wonderful new school under construction in Sandon Road. Now I was in it! I was certainly the first boy of my year to attend the new school but perhaps other Old Longtonions got there before me.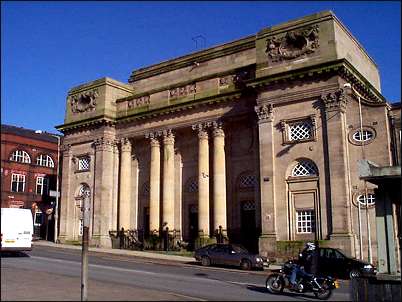 Queens Hall, Burslem ... well frequented for dancing
The main leisure pastime for young people in those days was ballroom dancing. The Arcade Ballroom, Hanley (site of the present day Potteries Shopping Centre) was a popular venue. Queens Hall, Burslem and Kings Hall, Stoke were also well frequented for dancing, as was the Castle Hotel, Newcastle-under-Lyme. Because I was a local I was used as guide and information officer. I remember a major problem arose because our pay went direct to the Glynn Mills bank accounts set up for us by the Army. We could not get to a bank during banking hours and there were no such things as cash machines. The landlord of the Borough Arms Hotel, Hanley (junction of Stafford Street and Trinity Street) solved the problem. We paid for a drink with a cheque for five pounds (a very large sum) and got the change as cash. We got our money and he got the custom. Further down Trinity Street, and opposite to the Grand Hotel, did my cousin, Katie Gallimore, keep a smaller pub. I had always called her "Aunt" because she was many years older than I was. Aunt Kate had a "back room" used for her "guests" who were, in fact, usually American officers not inclined to be observant of British licensing laws and "ten o'clock closing".

During my stay in Stoke I met up again with a school friend from Fenton, Denis Tams. Denis was a bomber pilot and had just been awarded the DFC. He was "resting" after more than his fair share of operational tours and we spent many evenings together. I was to meet up with Denis yet again in the Far East shortly after the re-occupation of Malaya. He was later to become a teacher at Newcastle High School and was Best Man at my wedding.
After my sojourn in Stoke, the Field Army Equipment course was completed by a further three months of study. This included Optics at Bury, Lancashire, Tanks at Bordon, Hampshire, Artillery at Larkhill, Wiltshire and class work at R.E.M.E. headquarters, Arbourfield, Berkshire. Two weeks later we passed through our mobilisation centre at Otley, Yorkshire and a day later we embarked at Glasgow for an unknown destination.
It was not long before we knew. As we sailed through the Irish Sea we were assembled, issued with books for the study of Urdu and our first lesson began. We were on our way to India and, perhaps, the Indian Army. I remember feeling quite elated at the thought! Our teacher of Urdu was a major in the Gurkhas returning to his unit from leave. He talked to us about many things besides Urdu. We were very much more aware of what we were going to face on the day we disembarked in Bombay than we had been at embarkation three weeks earlier.





previous: A military interlude
next: The military situation in the Far East
Ken Green
March 2001