Memories of Stoke-on-Trent people - Ken Green


Ken Green
A Life in the Ceramic Tile Industry
section 6




previous: The military situation in the Far East
next: Fuels and Kilns
Richards Tiles in January 1948
The company was operating on four sites.

1) Burslem Mills Co. Ltd was in Federation Road, Burslem. It supplied calcined and ground flint, ground stone (a fusible material) and ground limestone, all in slurry form, to the tile manufacturing units. Calcination of flint was carried out in coal fired bottle ovens, in which alternating layers of coal and flints were laid down. Bill Washington, who had started at Richards on the same day as me, was later to manage this unit and go on to manage the corresponding units at H & R Johnson.
2) Hallfield Works was at Festing Street, Hanley. It had been purchased from T & R Boote in 1947 and manufactured about three thousand square yards per week of unglazed floor tile. The manager was Len Washington (brother to Bill above). Firing was by coal fueled bottle ovens.

3) Pinnox Works lay between Williamson Street and Woodland Street, Tunstall. It was divided into Bottom Works and Top Works.
Bottom Works produced about six thousand square yards per week of unglazed floor tile and mosaic. Firing was carried out in nine coal fueled bottle ovens. Arthur Lea was works manager
Top Works produced twelve thousand square yards per week of glazed wall tile and about ten thousand pieces per week of bathroom fittings. The biscuit (first) firing was carried out in five coal fueled bottle ovens and the glost (second) firing in four continuous tunnel kilns. The first of these had been laid down in 1925. However, it was not until 1959 that we fired our last coal fueled bottle oven. Ian Munroe was works manager.
Some tiles, made from local clays, were produced specially for the production of tiled fireplaces of which we sold about 250 per week. The fireplaces were "slabbed" at the Brownhills factory. Open coal fires heated most British homes in those days. A large tiled fireplace business was in being, in the Potteries, consisting of several small manufacturers of fireplace tiles supplying dozens of fireplace slabbing companies. The business declined as central heating became the usual form of domestic heating.
4) Brownhills Works, Brownhills Road, Tunstall was the most modern of the units. It was built 1933/34 and manufacture had commenced in the summer of 1934. By January 1948 production had been lifted to twenty five thousand square yards per week. Brownhills factory was considered to be the most efficient tile plant in the world at that time. All firing was by tunnel kilns. The nearly 400 foot long "A" biscuit kiln had been brought to 1170 Centigrade in 1934 and was to maintain that temperature continuously, until repairs were made in 1954. Len Ford was works manager.
Richards Tiles was self sufficient with its own then-very-modern transport fleet. However, there remained a relic of a bye-gone era in the form of horse, cart and Sam Brooks. Sam, clad in sack-bag apron, together with horse and cart was a familiar sight, daily plying his way between Pinnox, Brownhills, Burslem Mills and Tunstall railway station yard. The directorate had decided that this form of transport would continue until either Sam or his horse was no longer fit for service. It was a sad day for Richards and Tunstall when horse Billy had to retire.
This article attempts to give my history of the tile industry since those days. I write with the benefit of nearly sixty years of hindsight, having been fortunate enough to be in continuous touch with the industry. I started at Richards Tiles, Tunstall in August 194I and I have, this February 2001, just returned from a tile plant in China. Mistakes have been made within the UK tile industry and I do not distance myself from them. For many years after the war, there was a sellers' market. It was not difficult to make a profit and that caused many people to be complacent. By the 1960s the markets had tightened and we came up against real foreign competition. The less efficient companies began to go to the wall or be bought by competitors.
Location and Scale of Production
Maws of Ironbridge, Shropshire was the world's largest producer of ceramic tile in the first years of the 20th century and Minton Hollins (their original site now occupied by Caudwell phones) was second to them.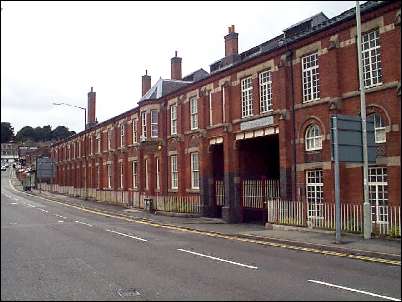 Minton Hollins Tile Works
This 'linear plan' factory was built in 1869
Looking up Shelton Old Road towards
North Street and Stoke Road.
Photo: Oct 1999
Both companies produced a large proportion of decorative encaustic tile. By 1921, UK tile production exceeded one million square yards per year. By the mid1930's it had reached two million square yards per year but, by that time, the nature of the product had changed. Encaustic tiles were no longer in demand, having been replaced by tiles of much plainer appearance for both wall and floor. A significant requirement for fireplace tiles had developed.
Richards Tiles and H & R Johnson were the dominant tile companies in the 30's and during the post war years until their merger in 1968. Before then Richards had acquired T & R Boote and Campbell Tile which included Maws and Minton Hollins. H & R Johnson had acquired the Malkins, Marsdens and Jeffries tile companies. In 1967 the newly formed Johnson Richards group was manufacturing on twelve sites in the UK and on nine sites abroad. UK tile production peaked at about twelve million square yards (ten million square metres) per year in the late 60's
By 1998 world-wide ceramic tile production had risen to more than four hundred times that amount to reach four thousand four hundred million square metres per year. China, with, say, 22% of the world's population, produced 36% of the total, almost entirely for her own domestic market. Exports will surely follow as domestic requirements are satisfied. Italy and Spain were second and third with 14 and 13% respectively. The UK buys about one square metre per year per head of population. The figure rises to about five square metres in affluent areas of warmer climes (the "sun-belt").
The local availability of both clay and coal had enabled the ceramic industry to originally establish itself in North Staffordshire.

Each ton of ware produced needed from four to five tons of coal to fuel a bottle oven firing.

When better clays were discovered in Cornwall, Devon and Dorset it was more economical to transport the clay to the Staffordshire coal than the other way round.

Things stayed that way through to the 1950's when changing world conditions and new national legislation began to bring about radical changes to The Potteries in general and to the ceramic and coal mining industries in particular.

I shall attempt to describe those changes as I saw them from within the tile industry.





previous: The military situation in the Far East
next: Fuels and Kilns