The Black Boy is a late 18th century, two story building with three casement windows and cornice hoods.
Although the shop and cottages have been demolished the Black Boy inn is still standing and is a grade II listed building.
From the photos below the similarity of the door and the window casements between the inn and shop can clearly be seen......

348 Cobridge Road - at the junction with Waterloo Road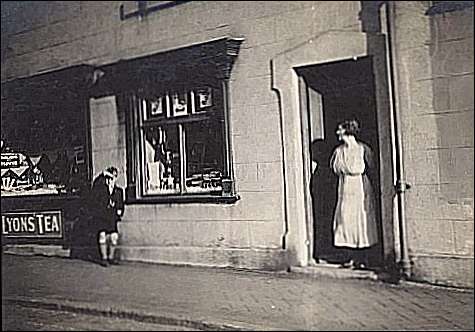 The cottage attached to the shop
to the right is the "Black Boy" inn - note from the photo of the inn above
the similarity between the buildings.
Photos and the following information provided by Anne Adkins:
"The people standing in front of the shop are my husband's father, Denis Adkins and the girl is his sister, Joan. The shop was run by my husband's grandparents, Austin and Mona Adkins. I don't know when they started running the shop, but I do have a letter addressed to Mona Adkins at that address (348 Cobridge Road) in 1921.

Here is the information from my husband's cousin (she remembers working in the shop as a child, which, in her case, would have been in the early fifties):

"The shop was on a corner and the address was 348 Cobridge Rd., Cobridge. It was formed from an original shop plus 2 cottages. Next door on Cobridge Rd. was a pub called The Black Boy. Further up the road towards the town of Cobridge lived my grandmother's mother Annie Whitehead in a house called Prospect House which had been the family house. Opposite the shop was a pottery and a little lower down the road a convent, The Sisters of Mercy." "
the following information provided by Phil Johnson:
"We had a little bit of a sporting association with the area. The pub, The Black Boy, had been kept by my Mum's Uncle, (my grandma's brother) Billy Briscoe, who had been a prolific footballer with Port Vale in the 1920's and 1930's.
Burslem Cricket Club, just across the road by The Little Sisters of the Poor Mission, had been the team my Dad, Tom Johnson, played for along with other relatives. My Dad even represented Staffordshire there against a guest West Indies side which included Gary Sobers. I was only interested in running around the perimeter of the field – totally un-interested in the game itself – even on the day a fast bowler took most of my Dad's teeth out with a particularly lethal delivery !
The smell of the beer and sandwiches in the clubhouse also fascinated me along with the mysterious and enigmatic stretch of derelict land just outside the cricket ground – known as 'The Giant's Bed' – you'll probably now recognise it as Festival Park, the busiest retail park in Staffordshire."