This K6 phone box is one of only three remaining in Stoke-on-Trent (the others are in Jack Haye Lane, Lightoaks and in Hanchurch) - in June 2008 the one in Bemersley Road was threatened with removal as it is very little used.
The red K6 telephone kiosk is clearly a classic of good everyday design, the result of a competition in 1924 to design a kiosk that would be acceptable to the London Metropolitan Boroughs.
A tourist attraction in its own right, it has been a familiar part of the British streetscape since it first appeared in 1936. Designed the previous year by Giles Gilbert Scott (1880-1960), architect of Liverpool's Anglican Cathedral, Waterloo Bridge and Battersea Power Station, the beautifully proportioned K6 is a classically inspired work of architecture in miniature. It even boasts a "pendentive" dome, a happy design reference to the work of Britain's most inventive classical architect, Sir John Soane.
A development of Scott's earlier, and grander, K2 box of 1924, the mass-produced K6 was designed and built to last. Each of the 70,000 kiosks put up on British streets between 1936 and 1968 is made up of three-quarters of a tonne of cast iron, teak (the door frame) and steel (the 200 screws that hold the whole thing together).
Upon the privatisation of Post Office Telephone's successor, British Telecom (BT), the KX100, a more utilitarian design, began to replace most of the existing boxes. Threatened with complete destruction by a churlishly "modernising" British Telecom in the 1980s, the K6 was the object of a high profile and hugely popular conservation campaign. This resulted in the Grade 2 listing of around 2,000 K6s in special locations and several thousand others were left on low-revenue, mostly rural sites. Many boxes were sold off.


photos: Steve Birks June 2008
---

Phone box threatened with removal - near Tongue Lane along Bemersley Road

K6 telephone box at Jack Haye Lane, Lightoaks,
rescued from redundancy and removal in November 2006
It has recently been repaired and repainted
photos: © Cllr Peter Kent-Baguley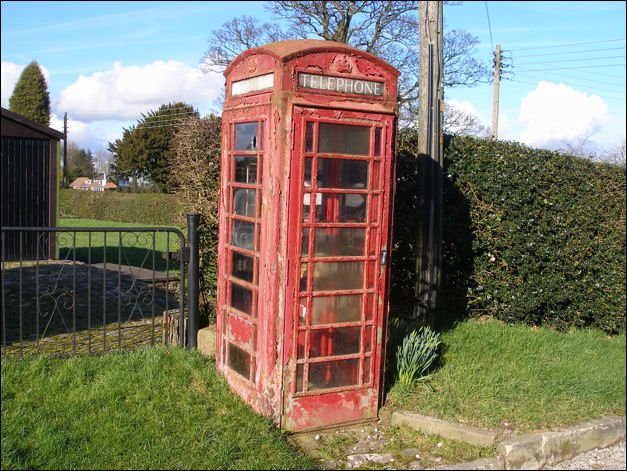 K6 telephone box at Ridding Bank Hanchurch, just inside the city boundary
photo: © Fred Hughes