The Bell Pottery, Bethesda Street, Hanley - 1953
this view is looking along Bethesda Street
(see the arrow and circle on the map below)
the kilns of the Bell Pottery are being demolished to make way for
a new Museum and Art Gallery which opened in 1956
- to the left is part of a group of buildings which were part of the
former Staffordshire Potteries Water Board, and in the more distant left
is the Sunday School of the Bethesda Methodist Chapel
(see the red outline buildings in the map below)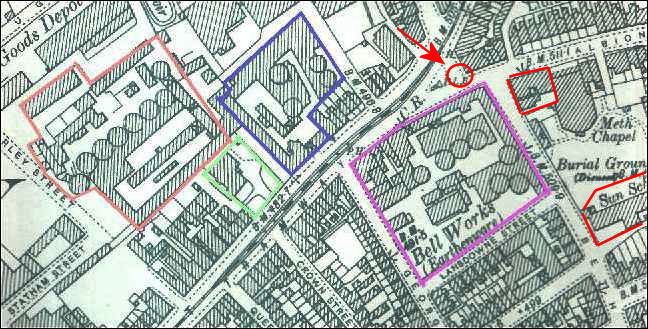 Map showing the Bell Works c.1890

remains of the base of one of seven bottle kilns on this site

Potteries Museum in Bethesda Street, Hanley
opened in 1956 (and now much extended)
and built on the site of the former large Ridgway Pottery, Bell Works.
Ridgway were potters to Queen Victoria.
The Bell Works were originally owned by William Ridgway & Co (c1830-54)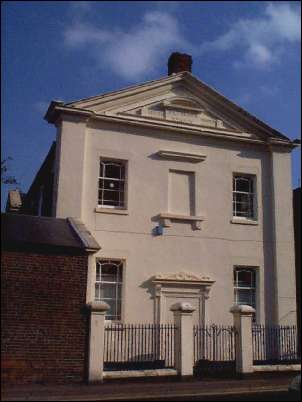 Methodist School from the side (now used as offices)
Former Methodist School. 1819, enlarged 1836.
Inscribed in the pediment is "Bethesda School. Erected MDCCCXIX enlarged MDCCCXXXVI".
Alexander House forms the south wing added to the rear beyond the former pedimented central gable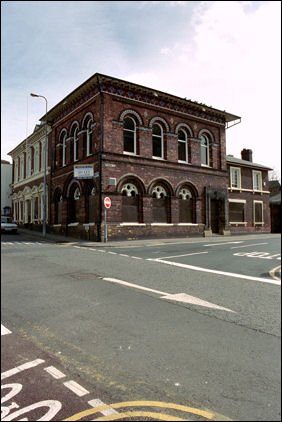 buildings including former premises of Staffs Potteries Water Board

View from Albion Street - looking into Bethesda Street
© Mr Brian Peach - April 2001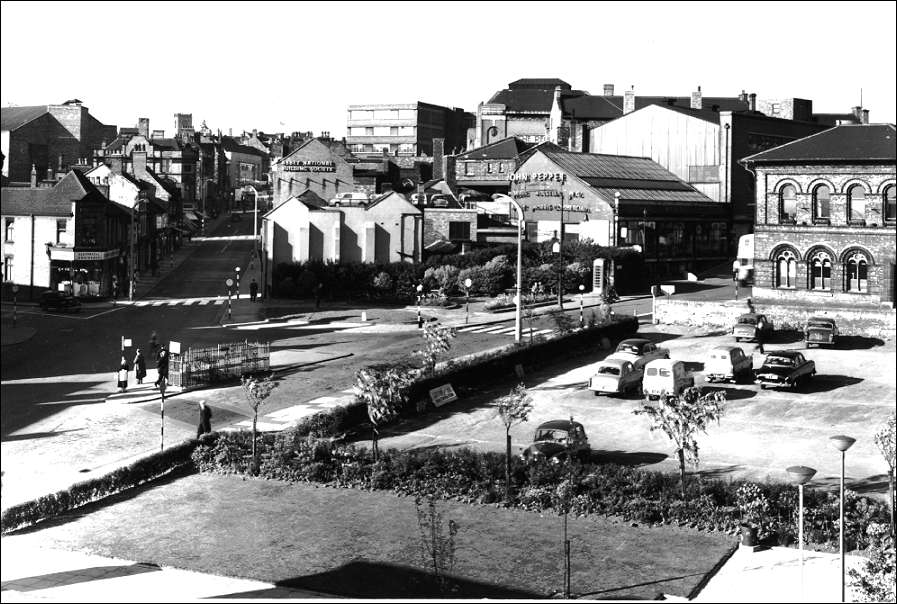 Piccadilly, Albion Street and Bethesda Street

The car park is that belonging to the Potteries Museum (opened 1956), on this site stood the Bell Pottery - see the photo at the top of this page - this area was cleared in the mid 1950's.
The ornate building on the far right is the 'Staffordshire Potteries Water Board Offices' on the junction on Albion and Bethesda Street - this is a listed building.

On Piccadilly can be seen the Abbey National Building Society, just in front cars can be seen on the roof of John Peppers garage which fronted Piccadilly, the workshops extended into Albion Street. Just to the right of centre (behind John Peppers) the top of the Regent Theatre can be seen. On the sky line (middle left) the tower of St. Johns Church on High Street (now Town Road) is visible.
On the corner of Piccadilly and Marsh Street (extreme left) stands the shop of Harris 'Electrical Engineers' the shop is called 'Electricity House'.