| | | |
| --- | --- | --- |
| | Stoke-on-Trent - photo of the week | |

2 downdraught glost ovens with circular hovels
to the east of the Falcon Works site, Stoke
photos: Steve Birks - Oct 2008
The most visible outer part, which is bottle shaped is known as the HOVEL and can be a variety of shapes and sizes, it can be up to seventy feet tall.

The HOVEL acts as a chimney; taking away the smoke, creating air flow and protecting the oven inside from the weather and uneven draughts.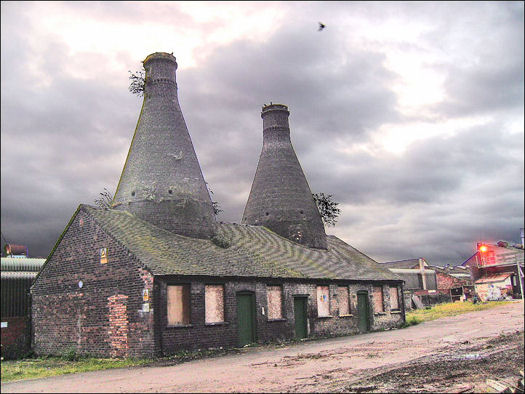 The two kilns at the Falcon Pottery works, Sturgess Street, Stoke
photo: © Chris Oldham 2007
From the 18th century until the 1960s, bottle ovens were the dominating feature of the Staffordshire Potteries. There were over two thousand of them standing at any one time and they could be seen everywhere one looked.

Some small factories had only one bottle oven, other large potbanks had as many as twenty-five.

Within a factory ovens were not situated according to any set plan. They might be grouped around a cobbled yard or placed in a row. Sometimes they were built into the workshops with the upper part of the chimney protruding through the roof.

No two bottle ovens were exactly alike. They were all built according to the whim of the builder or of the potbank owner.
---
Formerly known as the Falcon Works Main Block on NW side of Yard.

Remains of pot bank, 1902-1905. Brick with plain tiled roofs. Surviving buildings comprise the kiln block and 2 workshop and warehouse ranges on opposite sides of a yard. Single storeyed kiln range of 9 bays with 2 downdraught glost ovens with circular hovels to the east of the site, and to the west, a 3-storeyed workshop range of 18 bays with doorways in the end bays, and fixed light windows with double ring cambered heads. Stone plaque of falcon in gable apex.

Further workshop block to south of 3 storeys and 12 bays with similar detailing, built at about the same time. The works were built by Goss as an extension to London Road works established in 1858.

(Stoke-on-Trent Bottle Ovens Survey: Goss Works).


Falcon Pottery Works
Four story pottery works, brick built gable end, slate roof


end of the 3-storeyed workshop range



Stone plaque of falcon in gable apex

click for index page -
Bottle Kilns


Falcon Pottery works, Stoke
photo: © Chris Oldham 2007