The sculpture, is based on a shard of pottery from Roman times, that was found in an underground oven when the Wedgwood site was being redeveloped. And it shows the fingerprint that can be seen on the original shard and which is thought might date back hundreds of years.

The sculpture is 300 times larger than the shard it is based upon. Fabricated in Stainless Steel, it stands 35 ft high by 27ft wide, and weighs 7.5 tons.
The stainless steel sculpture, installed in 2009, contrasts with the terracotta library building of the Victoria Institute built 120 years earlier and also Father Ryan's 1920's - 30's amazing church with its huge copper domes.
On the day of the unveiling a number of local children from Mill Hill School placed Memory Capsules with data about Tunstall regarding, time, history, and the future, in a special chamber adjacent to the sculpture.

more on "Tunstall Shard"

Tunstall Public Library, formerly Victoria Institute, and public baths, 1889



more on the Victoria Institute
---
"Libraries gave us power" was the opening line from the Manic Street Preachers' first major hit 'A Design for Life', and reflected their pride in their working-class upbringing in industrial South Wales, the line being inspired by the main entrance to the Central Library in Newport which contains an inscription of the said legend. The library was built for the poor of the town around the turn of the 20th century, a first class public facility to enable those less fortunate to better themselves, the provision of the building driven forward by the local Labour movement, hence the inscription: "libraries gave us power".
In Tunstall we have the magnificent Victoria Institute.
Built in 1889 by the prolific A. R. Wood, whose practice was based on Butterfield Place in the town, the Victoria Institute forms part of what is left of the Jubilee Buildings (which included a free library, art and science schools, Public Baths on Greengate Street, and also a Fire Station that was closed in 1926): a fine example of Victorian-era provision of municipal facilities, and one from which modern local authorities could learn great lessons from.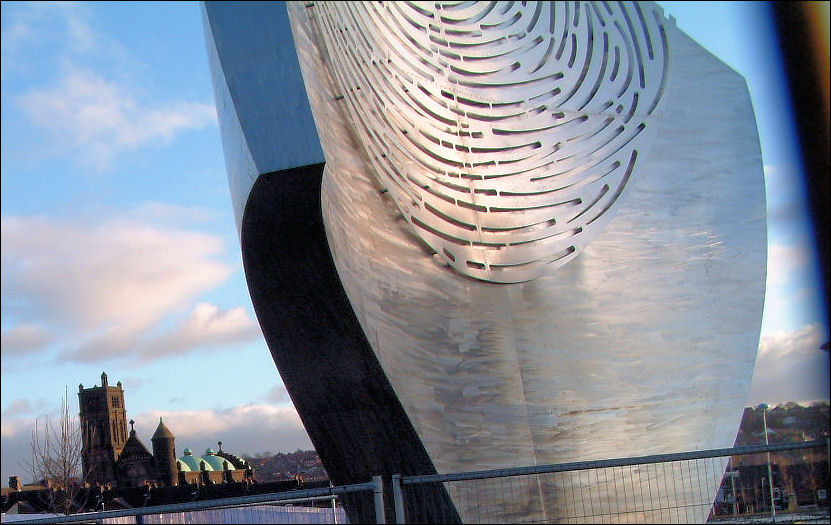 In the background is the Church of the Sacred Heart


Sacred Heart (R.C.), Queen's Avenue - 1925-30
taken from Tunstall Park

Rusticated stone with copper domed roofs.

more on the Sacred Heart Church

The Roman Catholic Church of the Sacred Heart on Queens Avenue, Tunstall, with its stunning copper domed roofs visible for miles around, is one of North Staffordshire's major architectural statements, and was the vision of one man – Father P. J. Ryan.

In 1925 Father Ryan appointed a prominent architect – J. S. Brocklesby – and gave him a challenging brief: to trump the local Protestants and build the biggest, most imposing, and beautiful church in the area.
Brocklesby took up the challenge, but the trouble was, Father Ryan had absolutely no intention of implementing his architect's plans. In fact he dragged Brocklesby all over Europe to draw inspiration from continental places of worship, and his ideas grew and grew.

---