The founder of Mintons of Stoke-on-Trent, was Thomas Minton - Somewhere about 1788 or 1789 he made up his mind to quit London and settle at Stoke, where for a time he continued to work as an engraver, at one of the Bridge houses which had been built by Thomas Whieldon, the first partner of Wedgwood.

Before 1799, Thomas Minton produced a superior earthenware body which he described variously as stone china, opaque china, and feldspar china, and before the end of the 18th century bone china had been produced.
Meanwhile Minton's two sons, Thomas Webb and Herbert, had entered the firm, the former staying only for a few years, since he later took Holy Orders. But Herbert, a young man of energetic disposition and keen concentration showed the qualities of an astute and enthusiastic business man. Even as a youth, when he travelled extensively for the firm, he doubtless contributed materially to its growth.
Herbert Minton's active participation in the firms affairs over a period of fifty years resulted in raising it to prosperity and fame, as we may judge from the fact that the number of employees grew from 50 to 1,500 and the volume of exports from 1840 to 1858 increased nearly five-hundred per cent. His American trade was much augmented after his visit in 1853 to the New York Exhibition. Two years later his exhibits of 'Majolica' ware at Paris won for him the Legion d'Honneur at the hands of Napoleon III. But by this time he was getting old and he retired in 1856. With his departure the direct Minton line was broken and he died in 1858.
Hollins and Campbell carried on in partnership for another ten years, when they split up, Hollins devoting himself to the making of tiles, as Minton, Hollins and Co., while Campbell carried on the china works.
Under Colin Minton Campbell, who was a man of great ability and wide interests, the fortunes of the firm rose and expanded. At the same time the wares rose in quality and splendour. Among the firm's patrons were Emperors, Kings, Princes and Ambassadors, to say nothing of other great personages.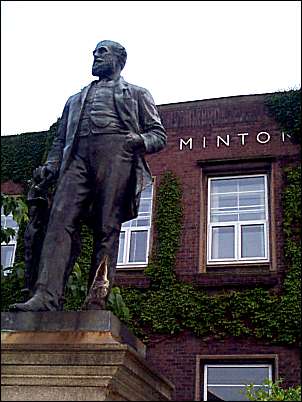 Statue of Colin Minton Campbell which
previously stood outside the Minton offices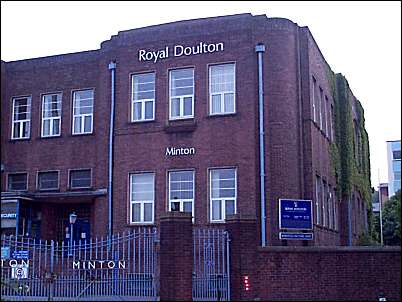 Minton effectively merged with Royal Doulton in 1968
in turn in Jan 2005 Royal Doulton became part of the Waterford Wedgwood Group.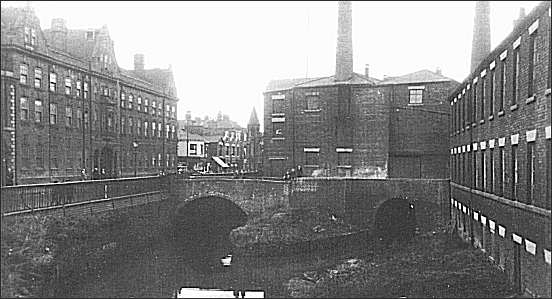 Above the canal tunnels was a flint mill - to the left are the imposing industrial buildings of Minton, with a long three-storyed building, rising to four storeys in the centre.
- all now demolished and the canal filled in -