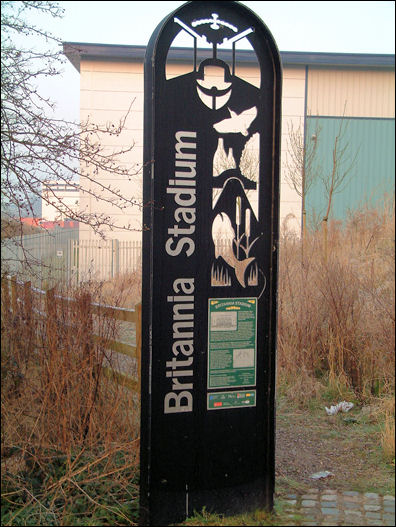 Britannia Stadium marker on the Trent and Mersey canal
---
Britannia Stadium
Britannia Stadium, with a crowd capacity for over 28,000 fans is the home of Stoke City Football Club. It was officially opened in 30th August 1997.
The Club originated in the 1860's when Henry John Almond, and old Carthusian, formed a team called the Stoke Ramblers, to play against other apprentices at North Staffordshire Railway Works. The name Stoke Football Club was subsequently adopted in 1870. When the team merged with Stoke Victoria Athletics Club in 1978, they moved from playing at Sweeting's Field Ground, to the Victoria Ground on Boothen Road, Stoke. The name was taken from the nearby Victoria Hotel. This ground remained their home for 118 years, achieving a British records for a League Club located at one ground.
Stoke F.C. turned professional in 1885 and were one of twelve founder members of the Football League in 1888, being second oldest after Nottingham County. When Stoke-on-Trent was granted city status in 1925, they became officially known as the Stoke City Football Club.