---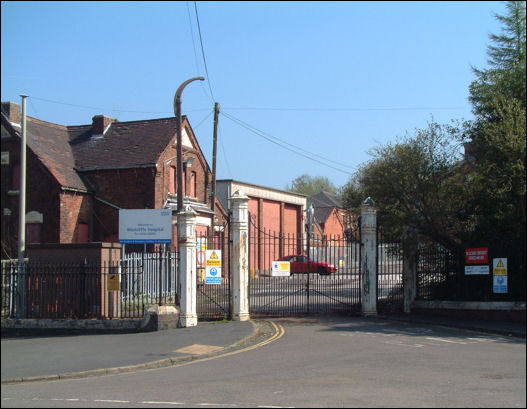 Entrance to the Westcliffe hospital complex
"it brings back memories, I got married from Westcliffe in 1962. My fiancée was a auxiliary nurse, and lived in the nurses home. She came over from Ireland. the matron was Miss O'Hagan, she very strict but nice. Westcliffe was self supporting it had its own farm, and piggery, gardens, even its own fire station, and fire engine. When the nurses went out they had to be in before 10pm, that's when the gates were locked, they had to get a pass from matron, and tell the reason they were staying out after 10pm"
Graham Allbutt

the lodge
Proposals for the site include retaining, refurbishing and fitting out the existing lodge building, retaining boundary walls and access gates and incorporating central gable features of the 1894 hospital wing.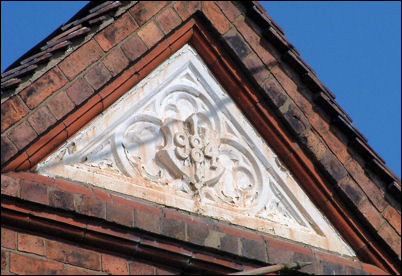 1894 date stone on the pediment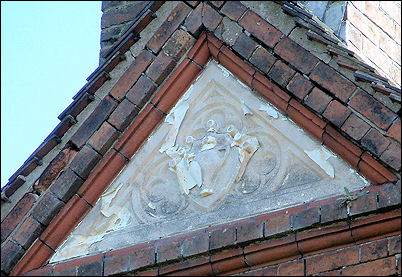 decoration on the pediment
---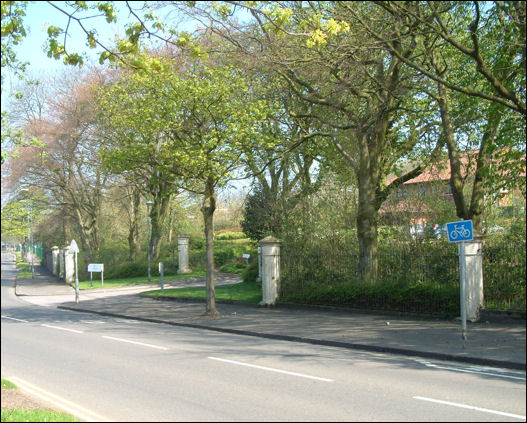 Next to Westcliffe hospital -
the remains of the perimeter pillars of the Victorian workhouse at Chell
Grim Workhouse became a haven for the destitute
Although Arnold Bennett described the Victorian workhouse at Chell as the Bastille, its grim reputation wasn't deserved in later years.
Life under the strict regime at Chell might have been hard, but for destitute families it was a good deal better than living on the streets.
Mavis Shufflebottom, former administrator at Westcliffe Hospital, maintains that the old Wolstanton and Burslem Union Workhouse adjoining the hospital was a refuge which undoubtedly saved some peoples lives.
"There was no social security or family allowance in those days," she says, "so the inmates of the workhouse were thankful to get three cooked meals a day."
Between the wars it became known as the Turnhurst Institution but continued to perform the same role. it accommodated up to 350 people, including many children who were given lessons in a schoolroom. Tramps were still admitted, provided they were deloused.
Mrs. Shufflebottom explains that in the 1940's the name was changed to Westcliffe residential home. Tramps were barred and the last burial took place in a paupers cemetery on the opposite side of the road.
The old building continued to operate as a home for poor people until 1975 when the 300 residents were moved into five purpose built homes in other parts of the city. It was demolished in 1993.
The Sentinel Newspaper, December 1997

see more on Poverty and the Poor Law in Stoke-on-Trent