"Great Industria" - "Let Industry be made"
Longton was incorporated as a borough in 1865
On the left of the shield a potter and on the right a miner.
The Boar's head is from the Arms of the Copeland Family and was also included in the Stoke-upon-Trent (Stoke Town) and the City Arms.
The eagle is from the crest of James Glover (and is also included on the City Arms)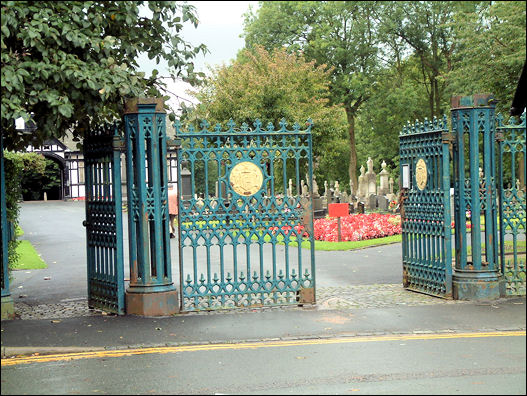 The gates to Longton cemetery
manufactured by the Coalbrook dale Iron Company.

It was in 1865 that Longton and Lane End were incorporated as the borough of Longton. The Charter of Incorporation was granted on April 3rd 1865 with James Glover as the first Mayor.
---
Description of the Longton Arms:
The shield contains elements taken from the arms of four families:
Heathcote,
Edensor,
Gresley,
Sandford.
Sir John Edensor Heathcote was a local industrialist and owner of Longton Hall. He was High Sheriff of Staffordshire in 1784.
He married Ann Gresley (a descendant of Sir Nigel Gresley) and they had ten children.
One of their children, also named John Edensor Heathcote, married Marianna Sandford.


Heathcote

From the Heathcote arms the three 'pomeis vert' [green roundels] with a gold cross superimposed.

Edensor

From the Edensor arms a chevron between three black horse-shoes.

Gresley

From the Gresley arms 'vairy ermine and gules', a 'canton chequy'


'vairy ermine and gules'
[an ermine and red pattern]

'canton chequy' is the square pattern in the top left corner.



Sandford
From the Sandford arms a blue background with 'indented ermine' and two golden boars' heads 'couped' (in profile).
The crest is an eagle displayed in silver taken from the arms of James Glover - the first Mayor. Glover owned a brewery and a colliery.
On the left side is a potter holding a vase and on the right side a miner holding a pickaxe.
---