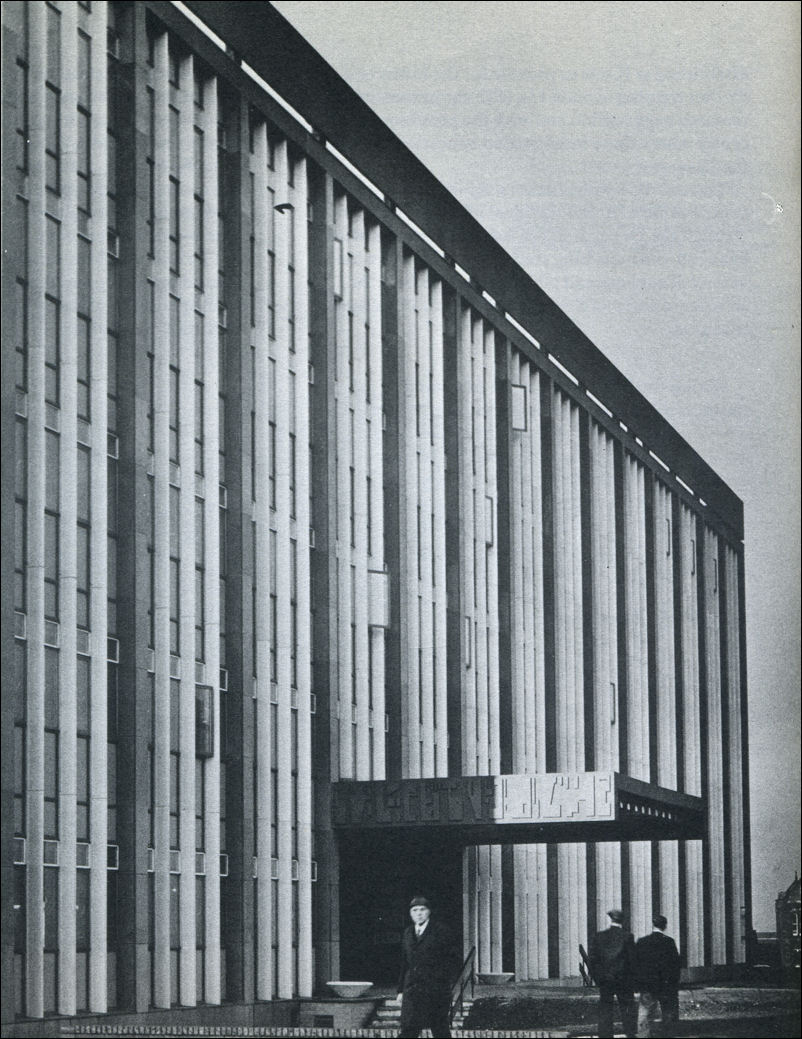 'The impressive central library in Hanley'
1974
"The city's now flourishing library service has had a rather chequered history since the time of amalgamation and it was as late as 1949 that all the books in the Hanley Library became available on an open-shelf basis. In 1910 there were six full-time libraries in the city, one in each of the six towns.
For a time these libraries were run on semi-independent lines until the first city librarian was appointed in 1915 although with shades of the past still lingering on, he found himself having to report to each of the six district library sub-committees as well as to the main city library committee.
By 1921, the district sub-committees had been abolished to make way for an integrated centralised service. The principle of open access was approved in 1929 and adopted by Tunstall, Burslem, Fenton and Stoke libraries in the early thirties, although, as already mentioned, it was not until 1949 that Hanley followed suit.
Generally, since the war, the library service in the city has made momentous progress and is now second to none in the country. In 1958 all the reference facilities were centralised in Hanley; new libraries were opened at Meir and Bentilee in 1961 and 1965 as the council extended its lending services to the fast-growing housing estates. More recently these have been backed up by part-time libraries so that the City Librarian now controls eight full-time and 16 part-time libraries offering a total of over 400,000 books.
Most notable of all the achievements, however, was unquestionably the opening of the City Central Library, in Bethesda Street, Hanley, on September 28,1970. This splendid building houses the central adult and children's lending libraries on the ground floor with shelving for 30,000 and 5,000 volumes respectively, and the reference library on the second floor which has 15,000 volumes on open shelves and seating for over 150 students. There is also a lecture and exhibition hall seating 120, a small conference room capable of holding 24 people and further study seats for 35 on other floors. The non-public areas contain storage space for over 200,000 books as well as documents, maps and photographs and a floor devoted to administrative offices.
The reference library is linked to the national Telex network which gives it access to major sources of information including the National Lending Library for Science and Technology of which it is a local agent. There are photo-copying and microfilm facilities. The North Staffs. Field Club Daltry Memorial Library and the North Staffs. Law Society Library are available for consultation in the reference section.
Libraries in the city now issue over two million books a year which must make Stoke-on-Trent one of the best-read cities in the country."
From: Stoke-on-Trent County Borough Council 1910-1974