| | | |
| --- | --- | --- |
| | Stoke-on-Trent - photo of the week | |
Advert of the Week
Potworks of the Week
Barracks and Public Gymnasium, Newcastle Street, Dalehall, Burslem
Built in 1902 as a barracks for the 1st Volunteer Battalion - The Prince of Wales's (North Staffordshire) Regiment.

Also doubled as a public gymnasium.

In 1907 there was a public meeting held here - 3,000 ratepayers attended - the Duke of Sutherland offered to give Trentham Hall and Trentham Park to the Potteries if the federation of the six towns happened - federation did take place in 1911 but the council officials decided not to take up the Duke's offer.

The building is still (2011) used as a Gymnastics Centre.

Burslem Barracks and Public Gymnasium - opened in 1902
- now the City Gymnastics Centre -
photos: Aug 2008
---
MILITARY ORGANISATIONS.
1st VOLUNTEER BATTALION NORTH STAFFORDSHIRE REGIMENT (C COMPANY).
Barracks, Newcastle-street.
Colonel Commanding, Colonel W. W. Dobson.
Captain of C. Company,
Captain J. Russell. Sergeant- Instructor, J. Curry.
from:
1907 Staffordshire Sentinel
'Business Reference Guide to The Potteries, Newcastle & District'
---
"Stoke-on-Trent Gymnastics Centre is North Staffordshire's premier gymnastics venue catering for everyone from Pre School upwards. Home to the successful Stoke Gymnastics Club, the centre caters solely for gymnastics and boasts a range of fixed equipment.
Children showing enhanced ability and potential are guided into one of the two squads. Gymnasts are trained with the goal of competing at regional, national and even international levels. Normally children enter squads through recreational classes, but in special circumstances, we allow existing gymnasts from other clubs to enter squads directly."
from:
Stoke-on-Trent City Council web site - 2011

date stone 1902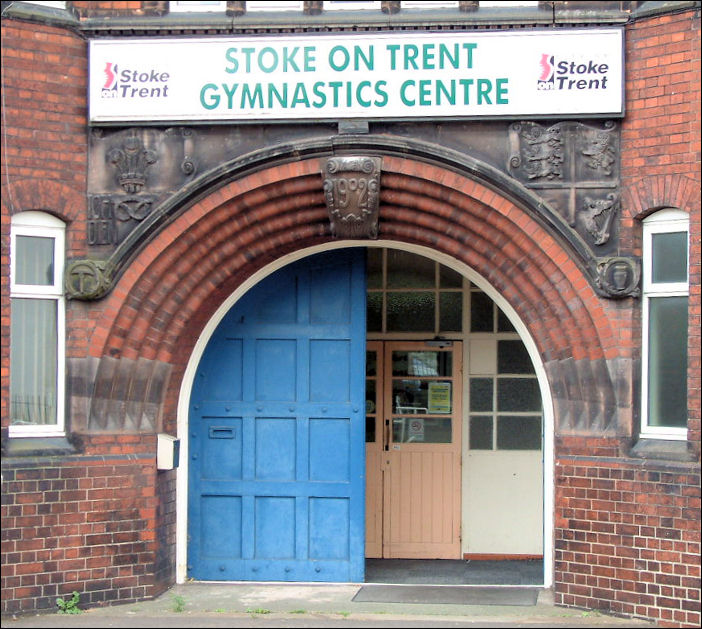 entrance with the date stone and crests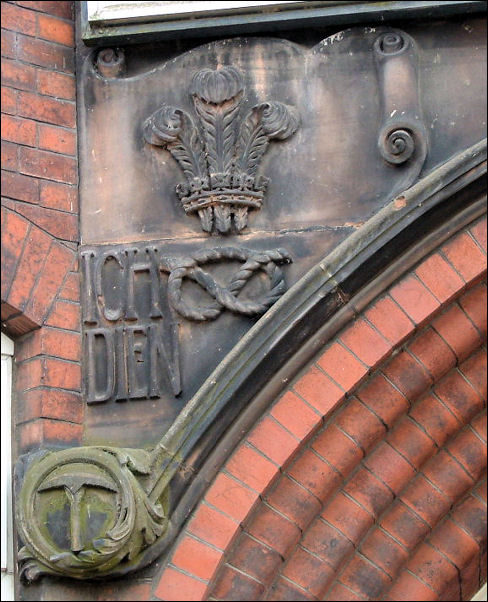 to the left of the entrance
the Prince of Wales feathers - the badge of the Prince of Wales - three feathers emerging from a coronet
ICH DIEN - "I Serve"
The Stafford Knot
In the roundel is a coal miners pick axe
The Prince of Wales's (North Staffordshire) Regiment was formed in July 1881-

- the 1st Volunteer Battalion and the 2nd Staffordshire (Staffordshire Rangers) Rifle Volunteer Corps, based in Stoke-on-Trent were two of the battalions that formed part of the original regiment.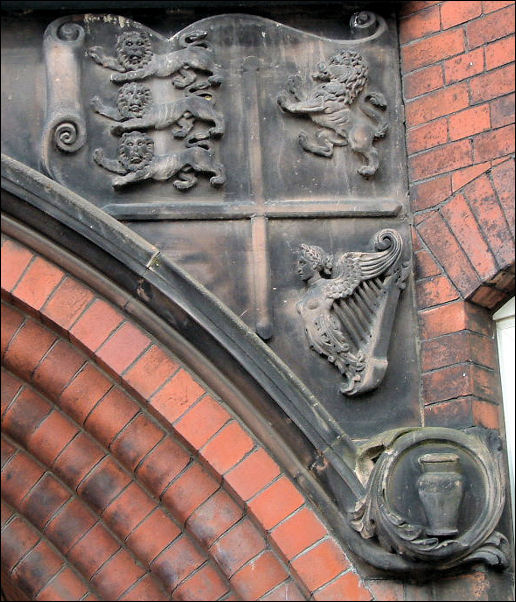 to the right of the entrance
three lions passant - from the Royal Arms of England
lion rampant - from the Royal Standard of Scotland
harp - from the Arms of Ireland
In the roundel is a potters vase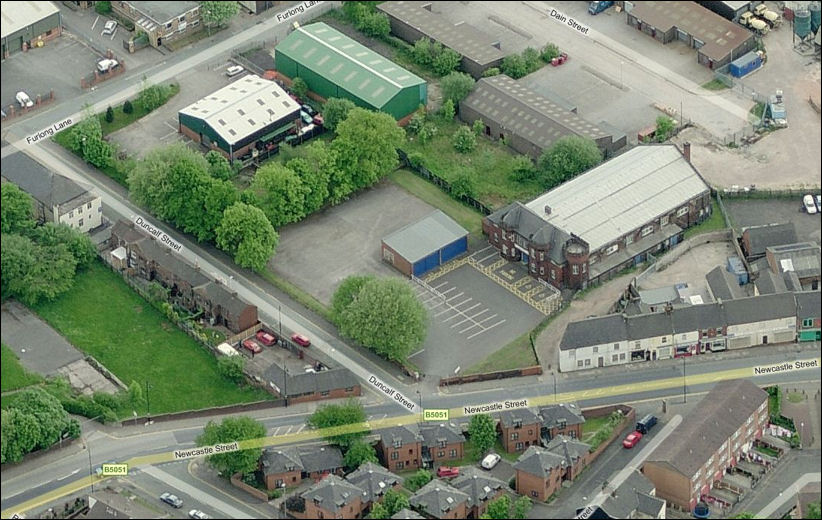 the City Gymnastics Centre, Newcastle Street, Burslem
Bing Maps - 2011

---