| | | |
| --- | --- | --- |
| | Stoke-on-Trent - photo of the week | |
Advert of the Week
Potworks of the Week
Stoke-on-trent Workshops for the Blind, High Street East, Fenton
Built on the site of the former Rialto Pottery Works and operated by Stoke-on-Trent City Council.

Designed in the Art Deco style.

The Workshops for the Blind were opened in October 1934 at a cost of of £30,000.

For many years they supplied products to the pottery industry.

In 2009 there were 44 employees.

After a number of loss making years - the works were transfered in 2009 from the City Council to a new owner and renamed 'Stoke Workshop for the Blind and Disabled'.

In 2011 the business was closed, half of the workforce was made redundent and the a new business relaunched at the same premises as 'Stoke Disabled Employment Ltd'.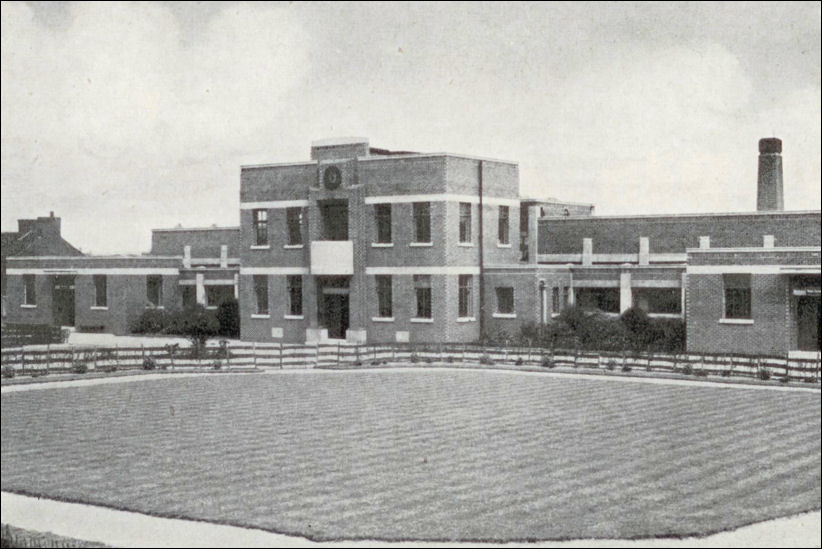 Stoke-on-trent Workshops for the Blind, High Street East, Fenton
built in 1934 on the site of the former Rialto pottery works
- in the 1950's High Street East & West was renamed to City Road -
photo: 1947 City of Stoke-on-Trent Official Handbook

to the left of the workshop is the 'Blind Crafts Shop'
photo: 1957 City of Stoke-on-Trent Official Handbook

---
1922 map showing the location of the Rialto pottery works where the Worshops for the Blind was built
Google maps 2010 - Stoke-on-Trent Workshop for the Blind
some of the street names have changed but the layout remains the same

---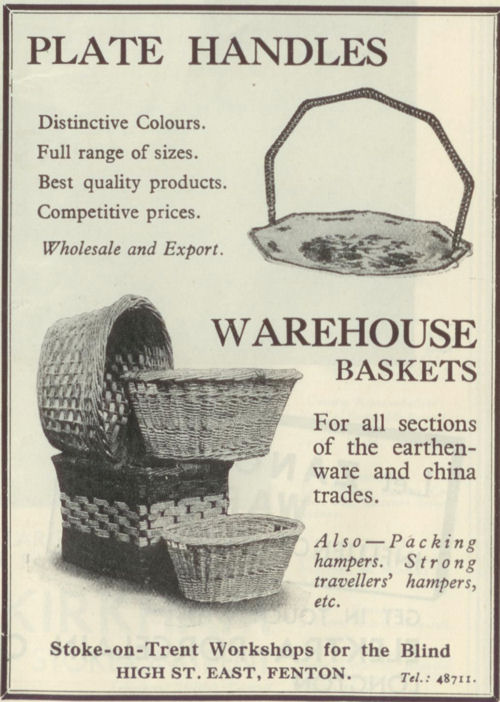 Stoke-on-trent Workshops for the Blind, High Street East, Fenton
1937 advert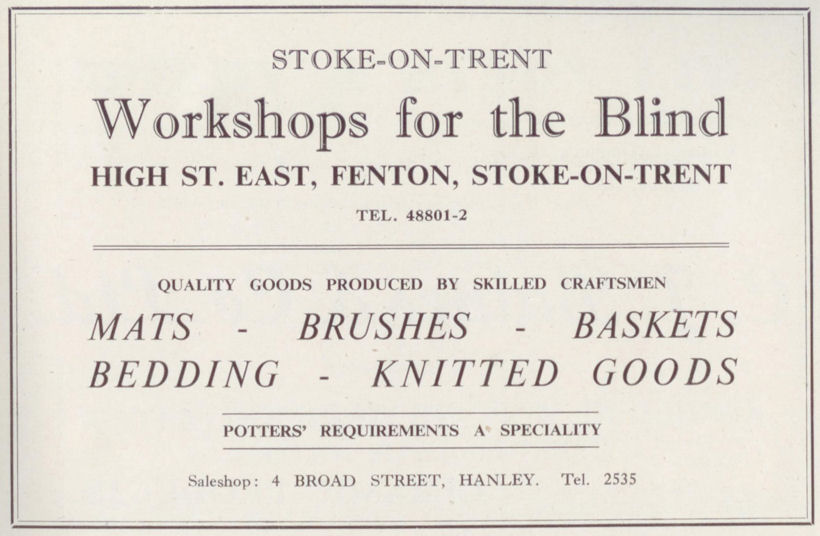 Stoke-on-trent Workshops for the Blind, High Street East, Fenton
1947 advert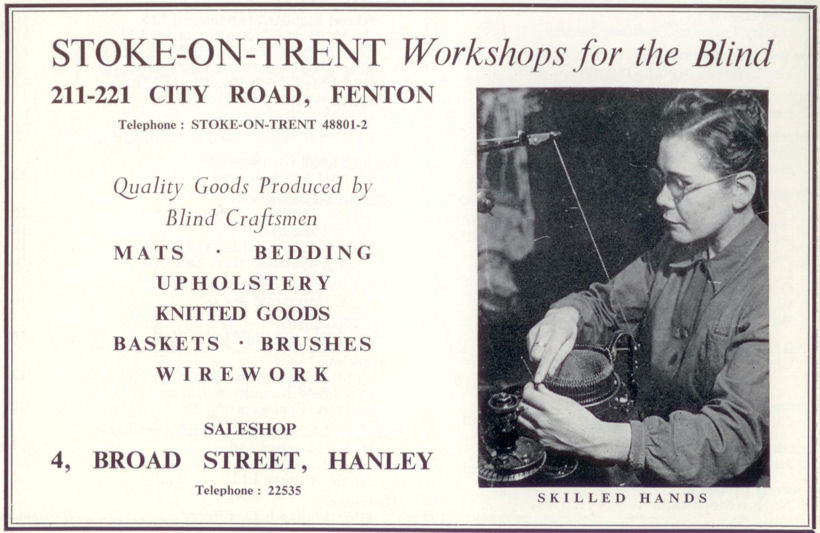 Stoke-on-trent Workshops for the Blind, 211-221 City Road, Fenton
- in the 1950's High Street East & West was renamed to City Road -
1957 advert

---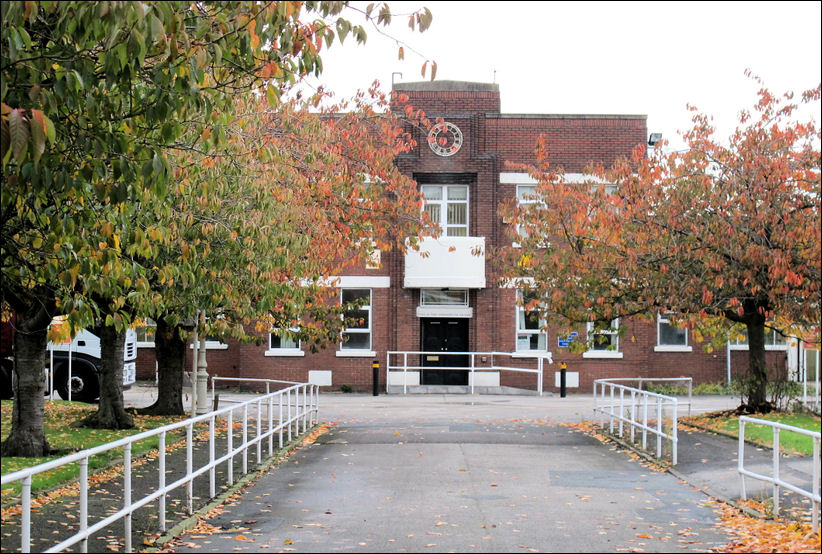 photos: November 2011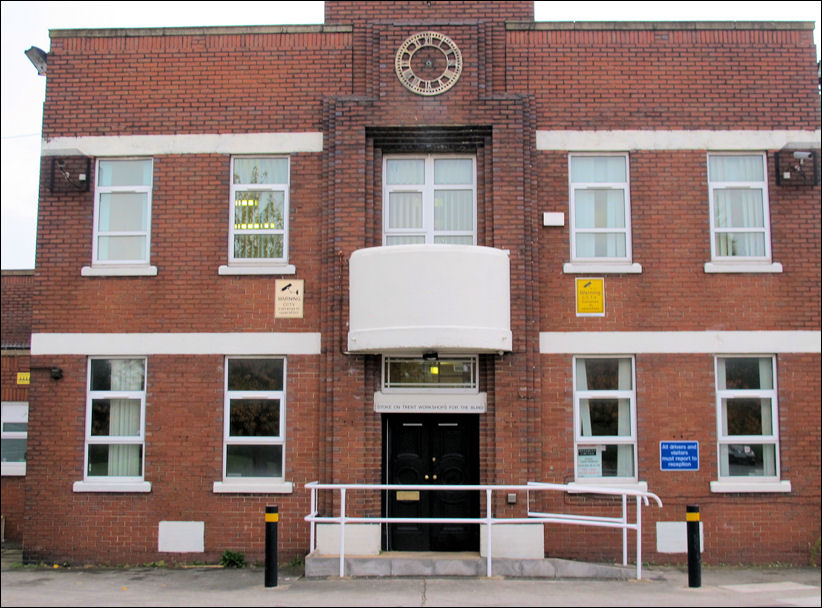 Art Deco frontage to the Workshops
details of the geometric Art Deco features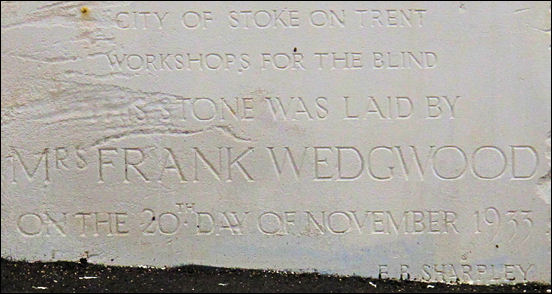 City of Stoke-on-Trent
Workshops for the Blind
This Stone was Laid by
Mrs. Frank Wedgwood
on the 20th Day of November 1933
E. B. Sharpley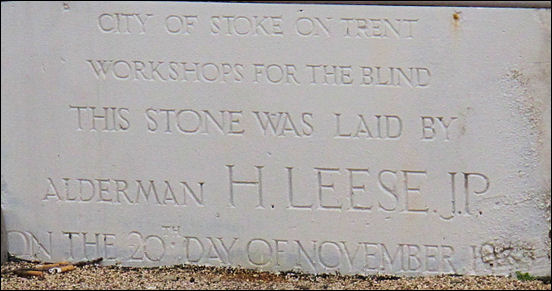 City of Stoke-on-Trent
Workshops for the Blind
This Stone was Laid by
Alderman H. Leese J.P.
on the 20th Day of November 1933
This Stone was Laid by
a Blind Employee
Gertrude E. Lambert
on the 20th Day of November 1933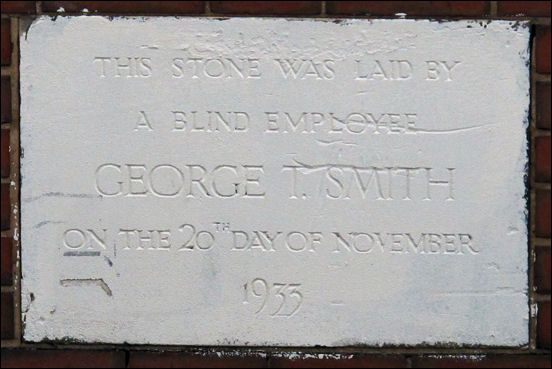 This Stone was Laid by
a Blind Employee
George T. Smith
on the 20th Day of November 1933