| | | |
| --- | --- | --- |
| | Stoke-on-Trent - photo of the week | |
Tbe Bennett Tavern, Cobridge
The pub stands on the corner of Sudlow Street and North Road.

Sudlow Street was originally called Moss Street - it was renamed in the mid 1950's.

It once was a Bass pub and was called North Road Hotel.

On the wall is a plaque to the memory of men of the district who died in the First World War.

The pub was closed and sold by auction in February 2012.

Bennetts
Once call the North Road Hotel - it is thought that the pub was renamed after the
landlord Freddy Bennett and his wife Trixy who in the 1970's came to the North Road Hotel from the Railway Hotel.
Later on, after the couple left, a sign with Arnold Bennetts picture was installed.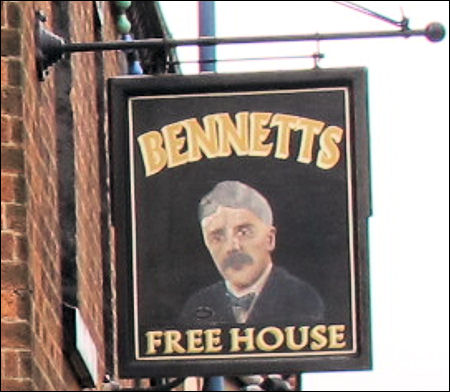 a picture of Arnold Bennett serves as the pub sign

Bennetts pub on the corner of Sudlow Street (originally Moss Street) and North Road
---

Bennetts Tavern - once a Bass pub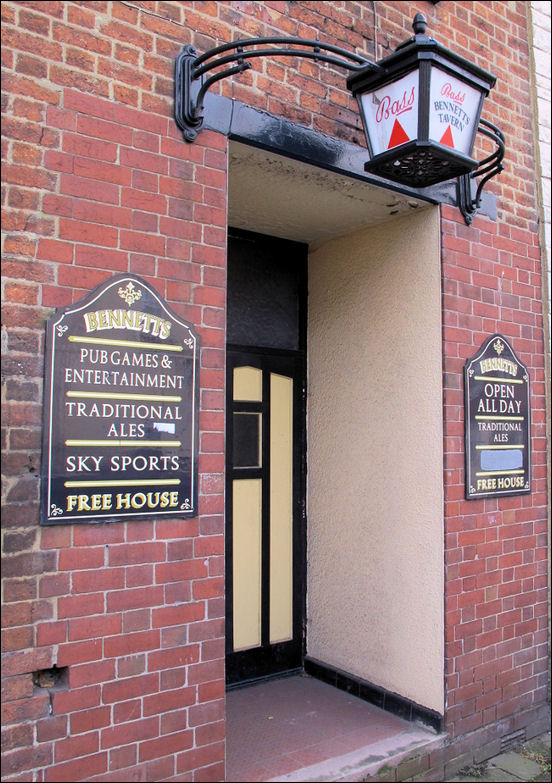 ---

War Memorial Plaque on the wall of the Bennett pub
"In Loving and Grateful Memory of
The Men of
North Road and District
whose Names are Inscribed below
Who During the Great War
Paid the Supreme Sacrifice"

"Their Duty Nobly Done
1914 1919
This Tablet
was erected by the
Residents of North Road & District"
J W Artaud

P Boulton

E Boulton

J Boulton

J T Boulton

T Bromley

A Brammer

W Bamford

A E Boult

W Brooks

T Bourne

J Bambury

H Braddock

J Barber

E Boardman

G Bloor

R Clarke

W Coates

H Cooper

R Dawson

C W Davies

F Evans

H Finney

A W Holdcroft

F H Heald

J Hammersley

H Hulme

J Hyde

E Hancock

T Hancock

J Hamlett

G Himil

J Kerrigan

T Lovatt

F Lovatt

E McCann

GH Mountford

E Millward

O Mahon

J Mahon

J Muldoon

A F Nash

F O'Toole

A O'Toole

C W Osborne

M Oates

W H Prichard

J A Pointon

F Pankhurst

R Rowley

A J Smalewood

T Smith

A H Starkey

G Shufflebotham

D Steele

I Stevenson

J Sutton

J Standeven

J Tunnicliffe

A Wright

W Whalley

J Wellings

S Wellings

H Wood

H Whitehall

A Wardles

T Yates
Derek, aged 83, a former demolition worker, said: "I remember there were two other pubs along the stretch, The Globe and The Railway, but Bennetts was always my favourite."

Historians have also noted the importance of the memorial at the front of the pub which pays tribute to local soldiers killed in combat.

Mervyn Edwards, spokesman for the Potteries Pub Preservation Group, said: "The war memorial is dedicated to the men from North Road and district and was restored by the pub licensee Andrew Dudley as recently as 2002. The Potteries Pub Preservation Group believe it is essential this plaque is retained and re-sited locally as a permanent reminder of these men's ultimate sacrifice."

This is Staffordshire
Feb 28th 2012
---
in 1907 there were three pubs in North Road:
The Lord Raglan
The Railway Hotel
The North Road Inn

---