| | | |
| --- | --- | --- |
| | Stoke-on-Trent - photo of the week | |
Bridge Inn, Etruria

the Bridge Inn in Lord Street, Etruria was alongside the bridge which took the road over the Trent and Mersey canal next to Wedgwood's pottery works.

The land on which the Wedgwood factory and Bridge Inn stood sank well below the level of the canal because of the mine workings which riddled the ground underneath.

"For over a century, this popular canalside pub in Etruria provided refreshment and a venue for conversation for a variety of people. Although it no longer exists, I am sure its memory will linger on for a great many years. With the old Hanley-Newcastle packhorse road at the front, the canal running alongside and the famous Wedgwood factory at the rear, it must have been a welcome retreat for drivers, bargees and bottle-kiln workers alike." - Neville Malkin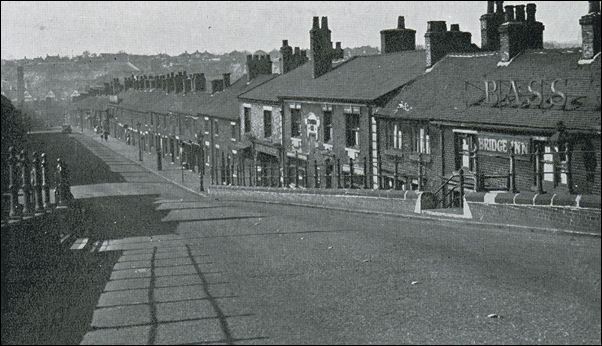 photo of Lord Street taken from the Etruria Bridge - the Bridge Inn and Etruria Inn
are on the right with the first of the Wedgwood workers cottages.
photo: Warrillow Collection
---
"My friends and I were frequent customers of the Bridge Inn during the late 1960's and early 1970's. I thought you might be interested in these photos (almost identical but for exposure) of the inside of that excellent pub. The first is a photo along the bar showing the beer engines, the clock and the picture of smoke pollution."
photos: Andy Waye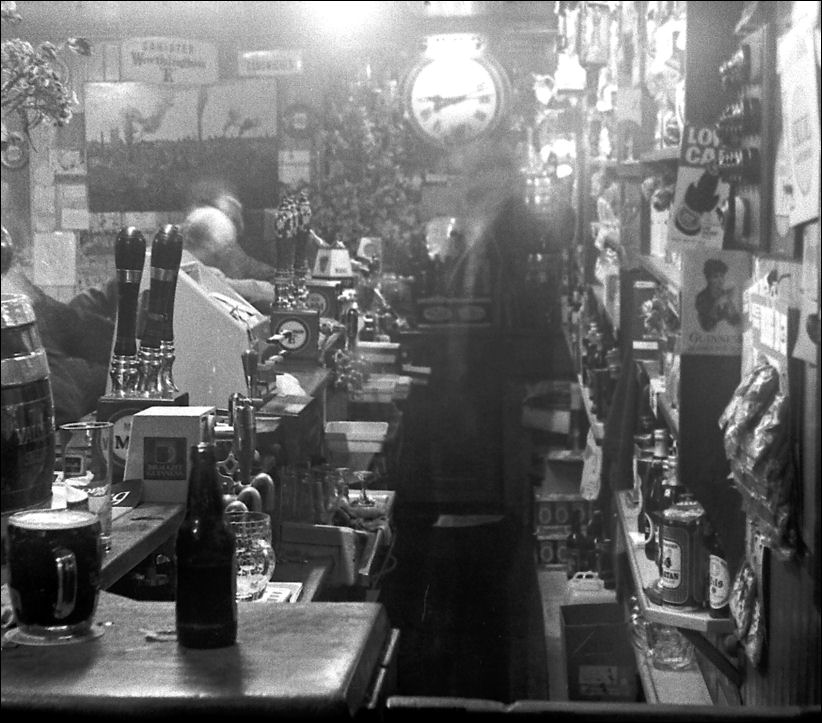 the bar of the Bridge Inn, Etruria, during the late 1960's

The landlord Colin Garnett in the early 1970's
"The second photo shows Colin Garnett and assistants behind the bar. Oh, happy memories!
We used to play darts in the front room to the right of the entrance (the bar being to the left) and drink copious quantities of Newcastle Brown (I wouldn't touch the stuff now!) in the back room around a large wooden table which all but filled the room.
Colin related the history of the ceiling in the bar area. Apparently, he would clean one of the ceiling boards each year, progressing to the next the following year, however, I never witnessed this event."
"Cheers" - Andy Waye

---