| | | |
| --- | --- | --- |
| | Stoke-on-Trent - photo of the week | |
Tapestry by Sophia Bickerton - age 13 - 1845 - National School, Tunstall
"During the period 1851–70 a notable feature of education in the Potteries was the great increase in the number of National Schools.
Many were built in the small villages or hamlets which developed under the influence of the six towns, such as the infants' school at Line Houses near Tunstall and the school at Sneyd near Burslem.
Many more were established as branch schools of the main National School in each town to serve some small, densely populated area of working-class houses."
The city of Stoke-on-Trent: Schools ', A History of the County of Stafford: Volume 8 (1963)

Tapestry by Sophia Bickerton
Sophia Bickerton her work
aged 13 AD1845
National School, Tunstall
the infants' school at Line Houses near Tunstall was
the national school at the time

Christ Church, High Street, Tunstall - built in 1832
This is the church shown in the tapestry
- it was the only one with a square tower in existence
when the tapestry was made in 1845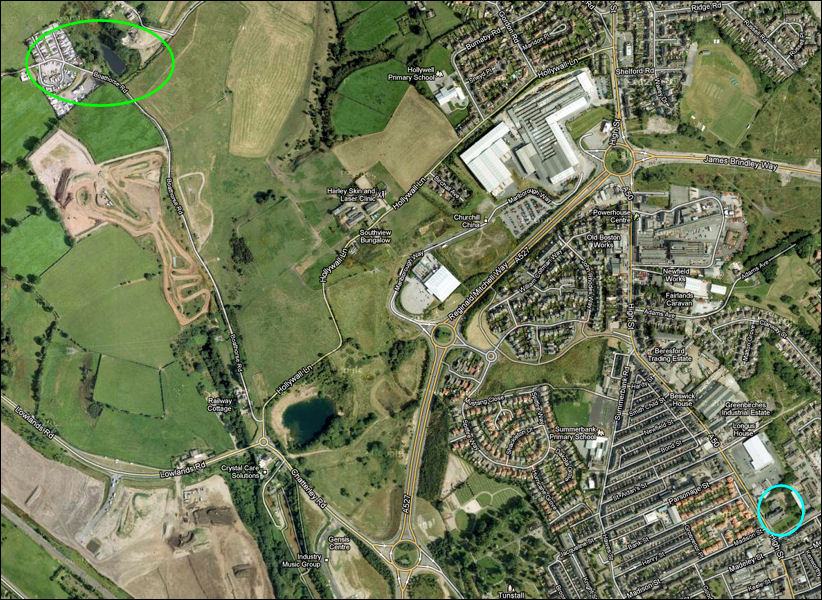 Blue circle - Christ Church (subject of the tapestry)
Green circle - Linehouses (where the first national school was)
Linehouses is close to Goldehill on the outskirts of Tunstall
it is on the hill that the Harecastle Tunnel carrying the Trent & Mersey Canal runs under
now it is the site of the Linehouses Gypsy and Traveller site



---