Back to: Story of Goodwins



Front of the foundry from Ivy House Road.


Article from the Evening Sentinel
Tuesday 26th April 1983:
Three hurt in foundry blast

Three men were taken to hospital today after they were injured in an explosion at a Stoke-on-Trent foundry.
The blast ripped through the moulding shop at R.Goodwin and Sons' Ivy House Foundry, in Hanley.
Corrugated roofing sheets were buckled, sheets of glass shattered and debris was showered on the workers.
The three men hurt suffered minor injuries. A spokesman at the North Staffordshire Royal Infirmary said that 38-year-old works manager Geoffrey Dukes suffered lacerations to his head and hands and Spencer Docksey, aged 60, burns to his head and left shoulder. The name of the third man hasnot yet been released.
All three men were expected to be released after treatment at the hospital.
The blast happened at 9.30 a, when a propane gas cylinder used for drying moulds was knocked over, ignited and then exploded. Men in the workshop dashed out of the shop when the cylinder toppled over but a number were injured by falling debris.
Across the road from the works was a large butane gas store, but a fire brigade spokesman said the explosion was contained within Goodwin's and there was no danger of it spreading.
An official of the Factory Inspectorate was at the factory today investigating the blast. A spokesman for the company said they had no comment to make.


Inside the moulding shop where the gas bottle exploded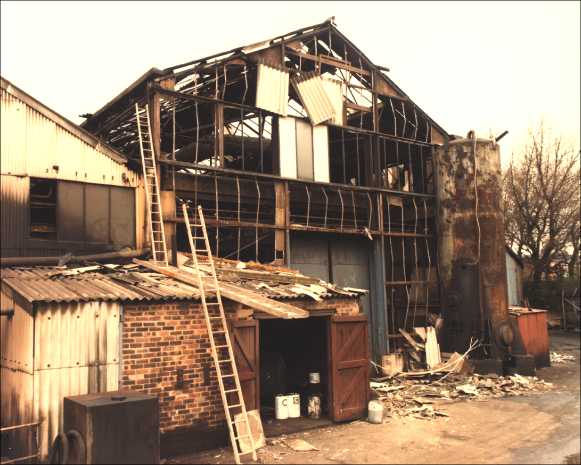 Rear of the factory

Back to: Story of Goodwins


Questions/comments? email: Steve Birks