St. John's Square (Burslem) Stoke-on-Trent

The layout of central Burslem today still has the street plan of a medieval market town. The area of St. John's Square can be seen on a 1720 map. An 1818 trade directory records "St. John's Square, near new Market place."
From the 1818 Trade directory we know that the following professions and trades were carried out in St. John's Square: (Note that many carried out more than one trade) (Note - the Star inn is more properly located in Queen Street, and is so in the 1851 directory)

---

Crate Maker:
Thomas Oakes
Grocers:
Thomas Oakes
Inns & Taverns:
Thomas Adams
Hannah Sheldon
Thomas Hargreaves
George Lowe
Thos. Machin
Bull's Head
Duke William
Mason's Arms
New Inn
Star
Iron Mongers:
Joseph Wade
Surgeons:
Charles Rawlings
The rapid development of the importance of St. Johns Square can be seen from this listing in Whites 1851 Trade directory: (Note that many carried out more than one trade)

---

Agents:
Geo Jackman Rutherford
Bakers and Flour Dealers:
John Ledsham
William Wright
Boot and Shoe Makers:
Charles Gerard
Chemists and Druggists:
Thomas Blackshaw
George Hawthorne
Confectioners:
Joseph Edge
John Ledsham
Eating Houses:
Mary Walker
Fire and Life Offices:
Anchor, G. Hawthorne

William Dixon

Representing Clerical Medical and General.

---

Representing National & Mercantile.
Glass & China Dealers:
William Tomkinson
Grocers and Provisions:
William Dixon
Hill Chas, James
Thomas Kenderdine
John Ledsham
Hairdressers:
William Tomkinson
Hatters:
Lazarus Salisbury
Inns and Taverns:
James Mann
James Lockett
Geo. Jackman Rutherford
John Whittle
Bull's Head
Duke William
Freemasons Arms
New Inn
Linen & Woollen Drapers:
John Cook
Watch & Clock Makers:
George Slater
---

Arnold Bennett in his novels used The Potteries, especially Burslem as a thinly disguised location. He re-named St. John's Square to St. Luke's Square.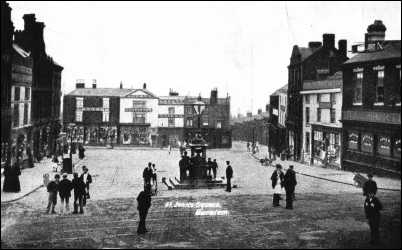 1909 picture of St.John's Square taken from Fountain Place.
The buildings at the bottom are (left to right) Longson's, Lovatt's (Tailors & Outfitters) and The Masons Arms.
The street at bottom right with the terraced houses visible was Hanover Street - this street and the area around it has been cleared and now Woodbank Street replaces it and forms part of the Burslem ring road.
---
Photographs around St. John's Square
(From the turn of both the 20th and 21st Centuries)

Home & Colonial

Duke William Inn

St. John's Square from a 1898 O/S Map
See More of Map

1889 Shop

'Baines' family home

Burslem Photo Index | Burslem 1898 Map
[ Comments / Questions? email: Steven Birks ]