back to Portraits of Potteries People
Biographies of people from the Stoke-on-Trent &
Newcastle-under-Lyme Conurbations
Jesse Shirley
---




next: Jeremiah Yates - Chartist
previous: John Lewis Ricardo - Entrepreneur and Liberal M.P.
---
Jesse Shirley b.1848 d.1927
Flint Bone Merchant, Etruria, Stoke-on-Trent
---
Jesse Shirley was born in November 1848 in Etruria, Stoke-on-Trent. His brther Henry was born 10 years later in June 1858.

The Etruscan Bone and Flint Mill on the banks of the Trent & Mersey Canal had been built by their father the year before Jesse's birth.
Jesse and Henry Shirley were educated at Alfieri's Academy, Birch Street, Northwood, Hanley
this photo taken in the late 1950's - the building has since been demolished
"Another well remembered school was Mr. C. Alfieri's, Northwood Clasical and Commercial School, ..... at the end of Birch Street, Northwood.
In the 1860's this school was well known for the education that was provided. Fees for boarders varied from twenty-five to thirty guineas, according to age. Day pupils, of the age of 12 and over, were admitted at one and a half guineas a quarter; under 12, at one guinea, and day boarders three and a half guineas a quarter.
Mr. Alfieri was a member of the management committee of the Potteries Mechanics Institute which had been established in Pall Mall, Hanley, in 1861.
Northwood, in 1840, was one of the most select residential areas of the district.."
Warrillow's History of Stoke-on-Trent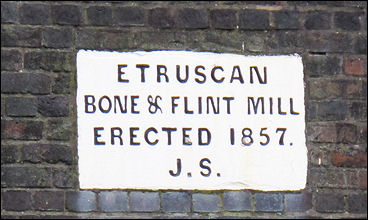 Etruscan Bone & Flint Mill
Erected 1857 J. S.
the bone & flint mill built by the father of Jesse and his brother Henry
by 1880 the two brothers were in business together as Potter's Millers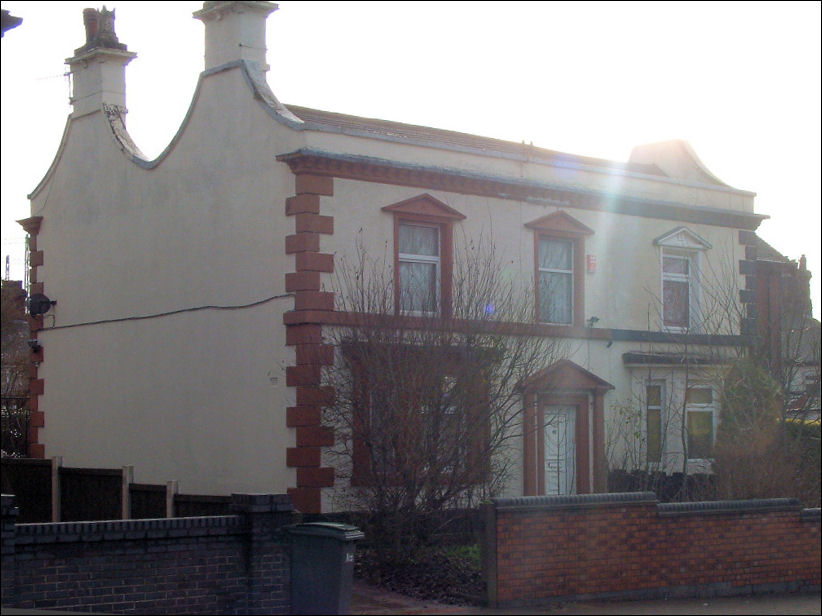 Etruria Cotttage - the home of Jesse Shirley
Jesse Shirley married twice and had at least six children
he lived at Etruscan Villa (Etruria Cotttage) in Lord Street (now Etruria Old Road), Etruria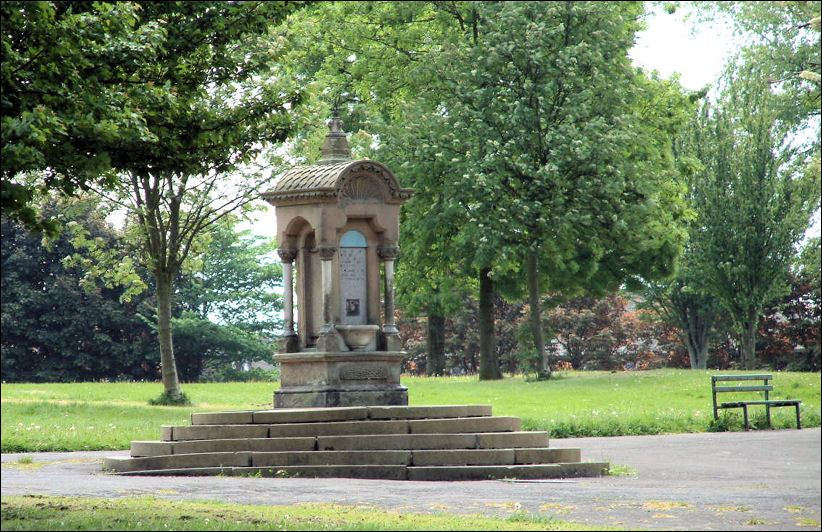 the drinking fountain in Etruria Park - donated by the Shirley brothers
The inscription on the fountain reads:
"This fountain was presented by
the Mayor of Hanley H.B. Shirley Esq. JP
and Alderman Jessie Shirley JP
September 1904"
"Then then Mayor of Hanley, Councillor H. B. Shirley, and his brother, Alderman Jesse Shirley, presented a drinking fountain cut in grey stone. It was first intended that this fountain should be placed in the centre of Howard Place, Shelton.
Made by Mr. Forbes, of Shelton, the funds for the purchase were to be raised by public subscription, but these were not forthcoming.
In due course Mr. Shirley and his brother purchased it, intending to place it in Hanley Park, but it was thought that the grey stone would not be suitable, so to Etruria Park it finally went. The fountain is squarely built, with a pagoda-like top."
"At each corner is a white Sicilian marble pillar, resting on a base of St. Anne's marble, with a white marble water basin. In the rear of the fountain is fixed a thermometer and barometer.

On Mr. Shirley's suggestion, Wedgwood panels - carried out by Mr. J. A. Austin, the firm's modeller - were placed on opposite sides of the fountain. They comprise white and blue jasper on a background of black basalt. The first panel shows two of the seasons, Spring and Summer, depicted by cupids carrying a bird in its nest. Over their heads are musical instruments and flowers and wreaths typical of Summer, together with Flaxman's famous " Dancing Hours."

A large medallion of Josiah Wedgwood is also included, and a portrait of Wedgwood and Bentley.

The famous Portland Vase is represented in the other panel, and the original moulds were used in the making. The whole, together with a panel depicting Autumn and Winter, makes a delightful work...."
Warrillow's History of Etruria
Warrillow's photo of the fountain c.1950
Shelton Iron & Steel Works is seen the background
on the right the spoil tip of the Racecourse Colliery

---
The Methodist Chapel, Lord Street, Etruria
pen drawing by Neville Malkin - October 1974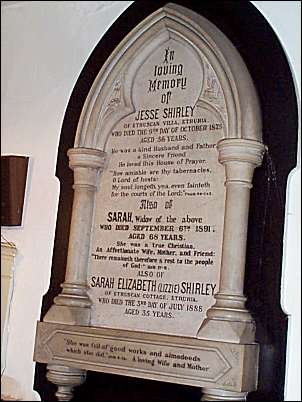 Inside Etruria Methodist Chapel - memorial to Jesse Shirley
(the father of Jesse and Henry)
In Loving Memory of
Jesse Shirley
of Etruscan Villa, Etruria
who died the 9th day of October 1875
age 56 years
He was a kind Husband and Father
a Sincere Friend
He loved loved this House of Prayer
Of Sarah, his widow, who died September 6th, 1891, aged sixty-eight years, it is recorded that she was an "affectionate wife, mother and friend."

---
the Shirley family grave in Hanley cemetery
Jesse Shirley of Etruscan Villa Etruria
of Etruscan Villa, Etruria
Justice of the Peace, Former Mayor
and Freeman of the Borough of Hanley
Born 17th November 1848
at rest 8th August 1927
Jesse Shirley was elected to the Hanley Council in 1880, served as mayor in 1885 and became an alderman in 1892.
As Chairman of the Parks Committee he promoted the scheme for the purchase and laying out of Hanley park, 1892-7 sited on 63 acres of Stoke fields, waste ground.

---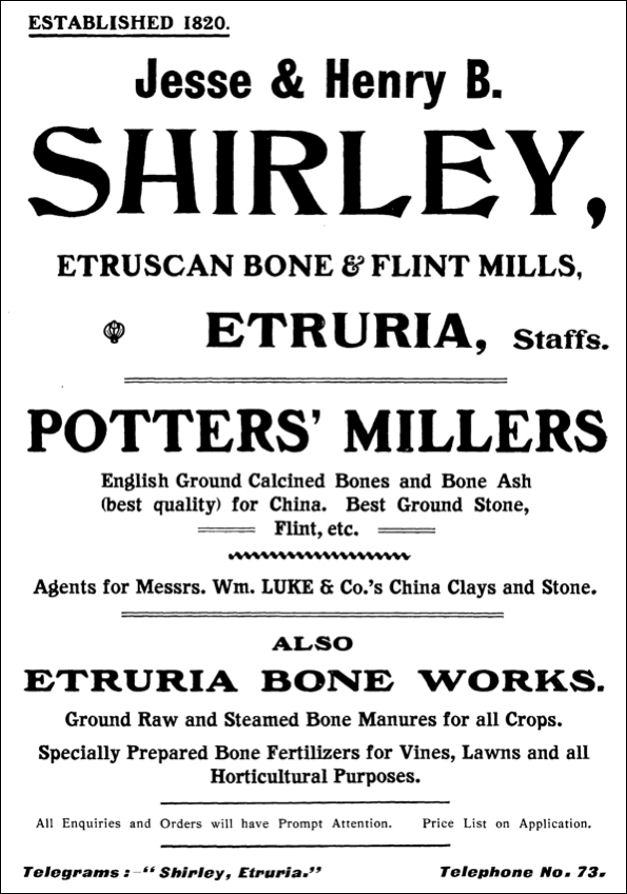 Jesse and Henry Shirley, Etruscan Bone and Flint Mills, Etruria

---




next: Jeremiah Yates - Chartist
previous: John Lewis Ricardo - Entrepreneur and Liberal M.P.
---