Founded in 1759 in Stoke-on-Trent by Josiah Wedgwood. His family remained involved in the company for more than 150 years. Famous ware includes the Queen's Ware and Jasper ceramic ranges.

After he manufactured a cream-coloured tea and coffee service for Queen Charlotte, wife of George III, she allowed him to style himself "Potter to Her Majesty" and to call his new cream ware Queen's Ware.

Josiah also created Black Basalt, a fine black porcelain, which enabled him to produce copies of the newly excavated Etruscan pottery from Italy. His invention of a new stoneware called Jasper has been described as the most important development in the history of ceramics since the Chinese discovery of porcelain nearly 1,000 years earlier. He employed many notable artists including George Stubbs to design bas-reliefs, often imitating classical Greek motifs.

In 1766 he built a new factory in Staffordshire which he called Etruria, as well as a Georgian mansion, Etruria Hall, for his family. The opening of Etruria on 13 June 1769 was celebrated with the throwing of six so-called First Day's Vases.

After Josiah invented the pyrometer, a device for measuring higher degrees of heat in kilns, he was elected to the Royal Society in 1783. His last major ceramic achievement was the Portland Vase, produced in 1789 - a facsimile of a famous Roman cameo glass vase known as the Barberini.

The 19th century saw the introduction of the first coloured earthenware and the manufacture of bone china. Wedgwood provided a bone china dinner service ordered by US President Theodore Roosevelt for the White House.
During the 1930s, the fifth Josiah Wedgwood decided to built a new, modern factory at Barlaston in Stoke-on-Trent. Production started in the 1940s and has continued at the site ever since. Wedgwood merged with the well-known Irish brand Waterford Crystal in the 1980s to create Waterford Wedgwood. In January 2009 Waterford Wedgwood went into administration - it was purchased by KPS Capital in March 2009 and so the famous brand name was saved.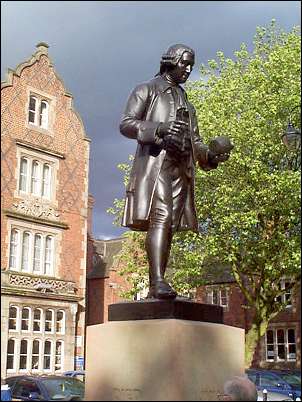 Josiah Wedgwood I, Stoke
Josiah Wedgwood I is depicted wearing contemporary dress of frock coat, buckled shoes, breeches and wig.
He holds a copy of the Portland Vase, a Roman artefact in glass, of which his Burslem Manufactory made 50 reproductions in 1790.

Josiah Wedgwood I (1730-1795) was born in Burslem, now one of the six towns of 'the Potteries' or Stoke-on-Trent, Staffordshire.
After completing an apprenticeship he opened a successful manufactory in Burslem in 1759, and in 1769 another one near Hanley, which he called 'Etruria' in the incorrect belief that Greek vases were Etrusacan in origin. Etruria included a model factory, workers village and mansion.

A relief in Stoke Church by John Flaxman (1755-1826) records that he, 'converted a rude and inconsiderable Manufactory into an elegant Art and An important part of the National Commerce'.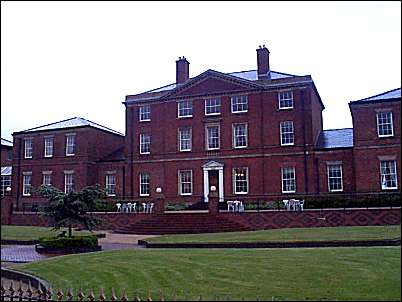 Frontage of Etruria Hall
Etruria Hall was constructed for Josiah Wedgwood I, between 1768 and 1771 to a design produced by Joseph Pickford on rising ground midway between the Etruria factory and the Ridge House.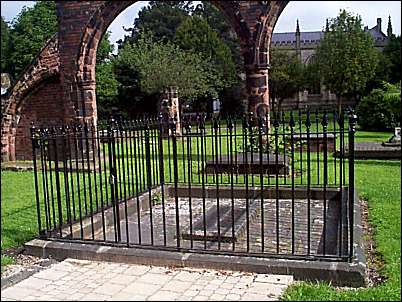 Tomb of Josiah Wedgwood I
The ruin arches of the medieval church and the present
day Stoke Minster Church in the background.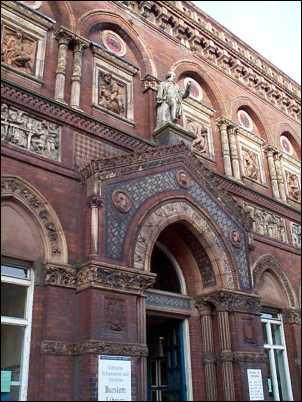 Statue of Josiah Wedgwood over the entrance
to the Wedgwood Institute, Burslem