In 1766 members of the Warburton family were prominent among the list of trustees of the Cobridge school.
They were a Catholic family and originality were tenants of the Biddulph family on part of the Grange estate. They bought a large part of the land sold by the Biddulph family on the east side of the estate. Here in the early 18th century John Warburton built a Potworks for the manufacture of white stoneware with a considerable export trade to Holland.
By the time he died in 1752 he had amassed a considerable property which included an estate in Cheshire for which he paid £1,000 as well as land in Cobridge.
His two sons operated two separate potteries. John Warburton, the eldest, ran a works in Hot Lane until his death at the age of 40 in 1760. The younger son, Joseph Warburton, had a Potworks in Cobridge which he worked until his death in 1769.
---

In 1762, there were about 150 separate manufactories which found constant employment and support for 7,000 workpeople. £5,000 was paid annually to Government in salt-duties.
The Warburtons, the Daniels, and Richard Adams, all of Cobridge, were noted for their enamelled ware. Ralph Daniel was a clever potter, and he acquired his recipes for the mixing of colour from his father's friend Warner Edwards of Shelton.
Richard Adams had a close friend in his brother-in-law Joseph Warburton, his factory at Cobridge being only a stone's throw from the two factories of the Warburtons, and through his mother he was related to the famous Thomas Whieldon, with whom we might expect him to compare notes on potting.
Thomas Whieldon (1719-1795), baptised at Stoke, 6 September, 1719, the younger son of Joseph Whieldon and Alice (Malkin), his wife, of Fenton Low, was the most famous potter of the day. Josiah Wedgwood was his junior partner, and Spode his apprentice.
Richard Adams sent some of his salt-glaze ware to the Warburton's factories to be enamelled, as the Warburton firm acquired great celebrity for their enamel painting on salt-glaze as well as on cream ware. Mrs. Ann Warburton was herself a clever artist and enjoyed teaching others. Josiah Wedgwood is also said to have sent some of his cream ware to the Warburton's factory to be enamelled.
Ten Generations of a Potting Family
---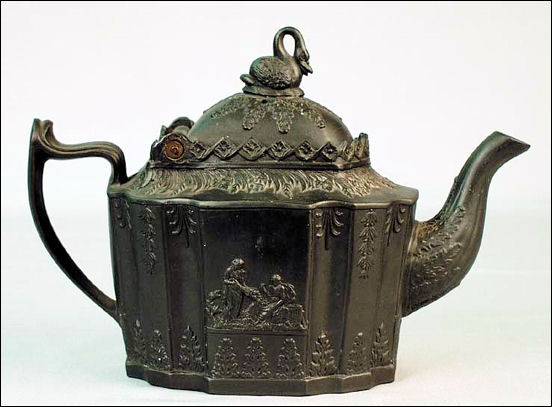 Warburton black basalt ware teapot; with hinged cover and swan knob; decorated with moulded classical figures and leaves; made about 1800
It is not known which of the Warburton family of potters at Cobridge was responsible for this pot. Jacob Warbuton is probably less likely than his sons Peter and Francis, who were in partnership from about 1795. Their partnership was dissolved in 1802, but Peter continued the works until 1812. Another possibility is John Warburton, who was active between about 1802 to 1825.
---

The Warburton family of potters were working at Fenton Low and Cobridge in the eighteenth and early nineteenth centuries.
Joseph Warburton (1694-1752) was one of the most important potters in the early part of the eighteenth century. His factory was in Hot Lane. He was succeeded by his son John (1720-61) who married Ann Daniel (1713-98) the 'Widow' Warburton who decorated pottery for Josiah Wedgwood. Mrs Warburton had her son Thomas (d.1798) as partner and traded as Ann Warburton & Son.
Jacob Warburton, another son, had a factory at Cobridge. He was born 1741 and died 1826, and became a principal in the New Hall concern.
Other members of the Warburton family had factories at Cobridge: Joseph (d. 1827) as a manufacturer of common earthenware; James, maker of garden pots, saggers, chimney pipes and quarries; and John who made earthenware. Peter Warburton made cream-coloured ware at Bleak Hill, Cobridge, and had as partner his younger brother Francis until 1802, when the latter went to France and set up as manufacturer of cream-coloured earthenware at La Charitc-sur-Loire.
Reginald G.Haggar, 'The Warburton Family of Cobridge', Apollo, 1955.
---

Jacob Warburton of Hot, or Holt, Lane – a man highly respected by every class, and who lived until the year 1826 – was born in 1740 and passed his long and useful life as a potter, in which art he rose to considerable eminence - he was one of the founders of the New Hall Works.