Advert of the Week
Photo of the Week
Central Pottery, Market Place, Burslem

Bottle kiln of the Central Pottery behind the New Inn, Market Place, Burslem
[kiln and the works is now demolished]
photo: 1989
© Copyright Chris Allen and licensed for reuse under this Creative Commons Licence


Burslem old Town Hall and the bottle Kiln of the Central Pottery
photo: 1967 - from the Queen's Hall balcony
photo: Ken & Joan Davis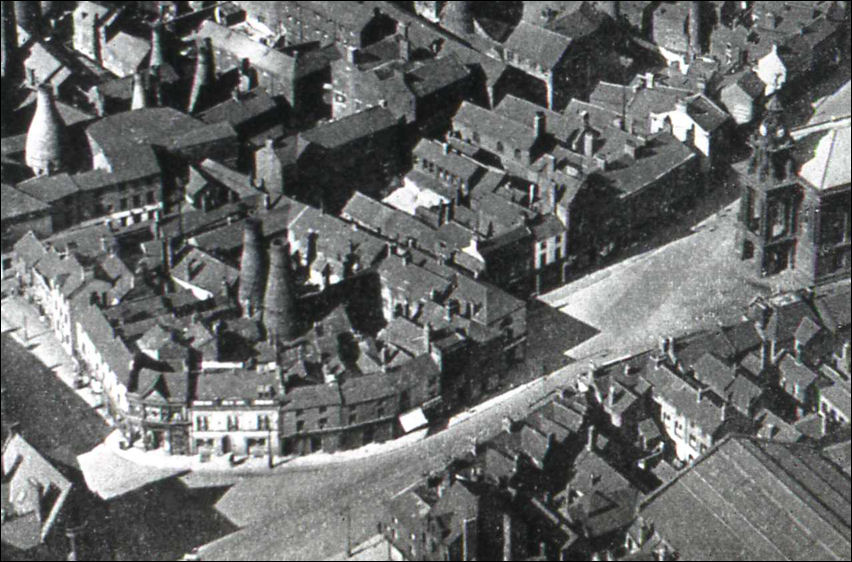 Old aerial view of the Central Works
- to the left is Liverpool Road (now Westport Road)
- to the right is Market Place and the second town hall
photo: Ewart Morris Collection
Central Pottery
"This old established pottery was formerly worked successively by Hopkin & Vernon, Hulme & Booth, Thomas Hulme, and Burgess & Leigh, who were succeeded in 1870 by Richard Alcock, by whom the works were considerably enlarged, rebuilt and remodelled.
At Mr. Alcock's death, in 1881, the works passed into the hands of Wilkinson & Hulme and then, in 1885 to Arthur J. Wilkinson.
Earthenware for the home markets was formerly made, but the operations were afterwards confined to white graniteware for the United States. In addition to this. Mr. Wilkinson introduced with considerable success gold lustres on the graniteware. The mark was the royal arms surmounted by the words ROYAL PATENT IRONSTONE and beneath, in three lines, ARTHUR J. WILKINSON. LATE R. ALCOCK, BURSLEM, ENGLAND.
In about 1896, Messrs. A. J. Wilkinson took the Royal Staffordshire Pottery, Burslem ......."
Jewitt's Ceramic Art of Great Britain 1800-1900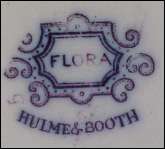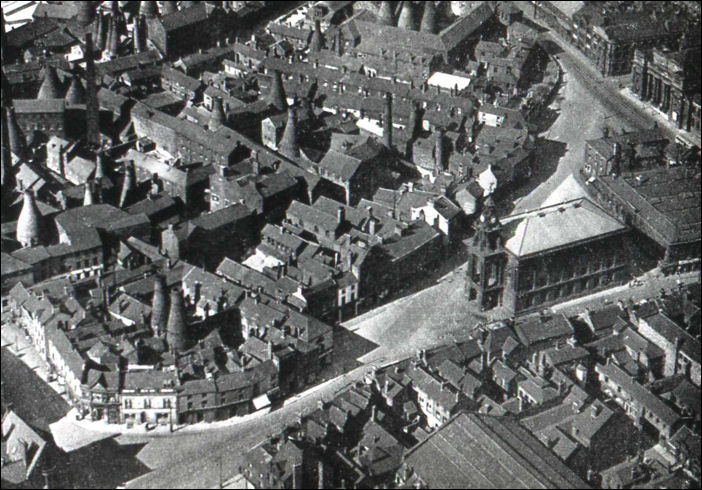 The New Inn which is in front of the Central Works can be seen as the white building in the bottom left of this picture.
This public house is believed to have been constructed before 1832. It stands in the Market Place in Burslem town centre. It is a two storey building, three rooms wide by two rooms deep.


2009 view of Burslem Market Place
many of the buildings in the old photo can still be identified.
photo: MS Live Earth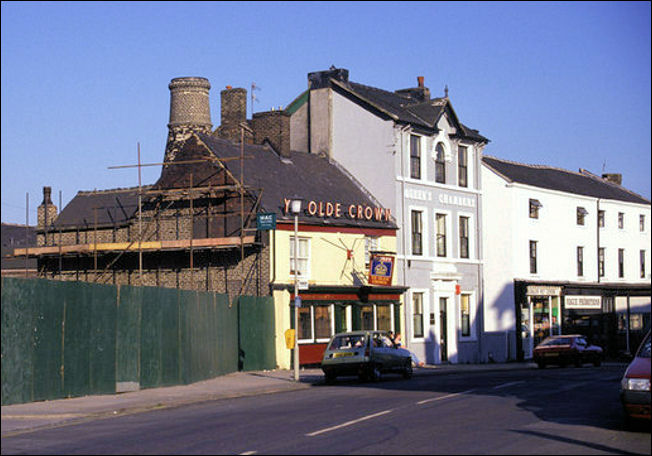 Bottle kiln of the Central Pottery from Westport Road

photo: 1989
© Copyright Chris Allen and licensed for reuse under this Creative Commons Licence