Advert of the Week
Photo of the Week
Public Art - significant potworks in the Hanley area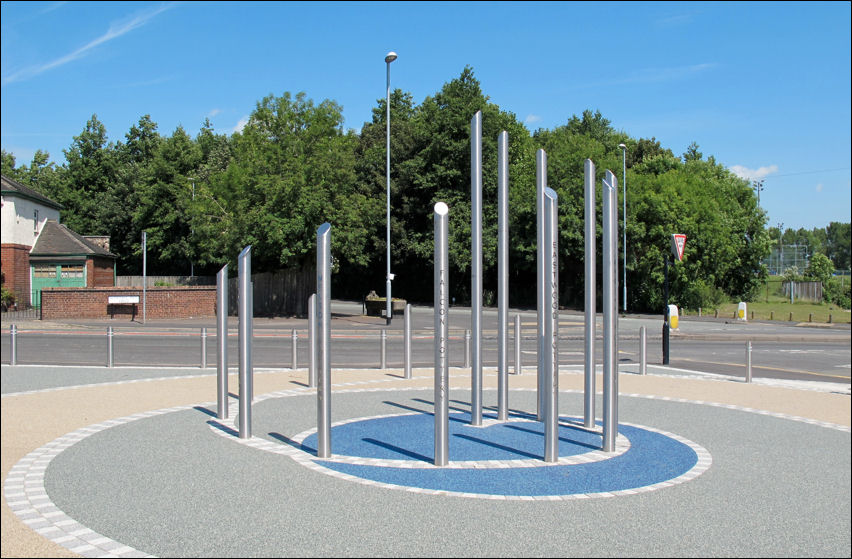 Posts on the corner of Ivy House Road - listing significant potworks in the Hanley area
installed June 2010
In the background the trees hide Northwood Sports Stadium
the road is the junction between Bucknall New Road and Keelings Road

behind the posts is the old horse trough at the top of Limekiln Bank

significant potworks in the Hanley area
Potworks name

Original Owner

Est.

1

Eagle Pottery

James & George Meakin

1859

2

Nelson Pottery

Elijah Cotton

1885

Works still standing - but about to be demolished

3

Eastwood Pottery

Charles Meakin

1883

Works still operated as pottery factory - as Bridgewater Pottery, Lichfield Street

4

Imperial Pottery

Johnson Bros

1898

5

Hanley Pottery

Johnson Bros

1898

6

Trent Pottery

Johnson Bros

1896

Mainly sanitary ware.

7

Hope Street Works

Thomas Dudson

1809

Works still standing - listed building - Dudson Centre on Hope Street

8

Old Hall Works

Job Meigh

1770

The Meigh family were famous potters. Job Meigh (1750-1817) was instrumental with the Ridgway Brothers in forming the Hanley Methodist New Connexion Church and the Bethesda Chapel in Hanley.

Job Meigh II built Ash Hall off Ash Bank Road, Werrington (still standing today)

9

Stafford Street Works

Reuben Johnson

1817

Later (1878) became famous as Powell, Bishop & Stonier. Works is where Debenhams and part of the Potteries Shopping Centre is now.

10

Falcon Pottery

J.H. Weatherby

1892

Works still standing - listed building - Old Town Road

11

Bell Bank Works

Job & George Ridgeway

1782

Now the site of the City Museum in Hanley
Job & George - with Job Meigh formed the Bethesda Methodist Chapel in Albion Street, Hanley.
Job's son, John, became the first mayor of Hanley County Borough. The camel from the Ridgway crest was used in the Hanley Arms and was later incorporated in the City of Stoke-on-Trent Arms.

12

Joiner's Square Works

Wentworth William Buller

1860

Works still standing - listed building - part of housing complex by Caldon Canal & Lichfield Street.

Bullers also had a works in Milton - they were famous for producing electrical insulators.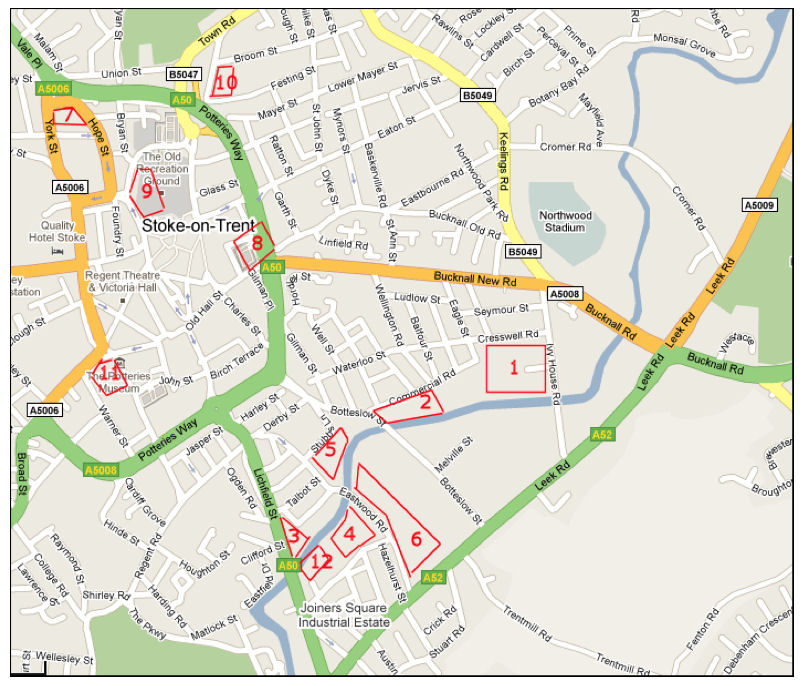 location of the Hanley Potworks







Eagle Pottery, Hanley Pottery, Nelson Pottery, Falcon Pottery
Eastwood Pottery, Imperial Pottery





Old Hall Works, Bell Bank Works, Hope Street Works
Joiners Square Works, Stafford Street Workss