Advert of the Week
Photo of the Week
Albert Street Works, Burslem
---
There was another pottery in the same street called the Albert Street Pottery
- click for details of the Albert Street Pottery -
---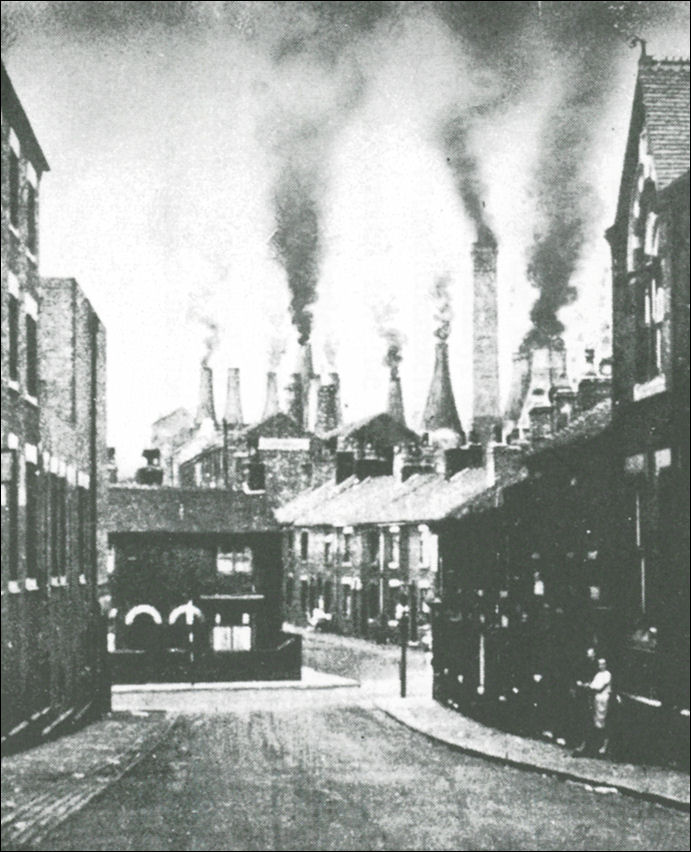 Pitt Street (East), Burslem.
A street once overshadowed by a pall of black smoke.
The father of Arnold Bennett was born in Pitt Street in 1843.
the two story building on the right of the picture was part of Parkers Brewery,
it still stands today (2010) - it can be seen at the bottom of this page.
the street nearest the camera is Pitt Street East, the one crossing left to right is Nile Street,
the street in the middleground with the potworks was Albert Street (renamed Hobson Street in the early 1950's)
photo: Warrillow Collection


The Albert Street Works were established in 1854 and operated by a number of potters up until the 1960's
Albert Street Works
Established by John Hawthorne in 1854 and continued by him until 1869, when they were taken by Wiltshaw, Wood & Co., and from 1877 carried on by William Wood & Co.
They were among the earliest in this branch of trade. The goods made were door-plates, lock-furniture, etc. in white, black, gilt and painted; drawer, shutter and other knobs in oak, white black, etc.; bedstead vases; caster bowls; umbrella, walking-stick, sewing-machine, closet and other handles; ink-stands, bottles and wells; highly-decorated jam-pots and biscuit-jars for the table; match-pots; tea-pot and urn stands of various degrees of decoration, painted, gilt and enamelled; and every description of china used by brassfounders, tin-plate workers, japanners, etc. The mark used was W W & Co. This firm continued to about 1932.
Arthur William Parrott and his brother Charles Henry Parrott then operated the Albert Street Pottery,

The pottery was amalgamated with Burgess and Leigh at the beginning of World War Two.

Charles retired then and moved to Ilfracombe. Arthur continued in the business. Arthur Parrott died around 1965; Charles Parrott died 1959.

1898 map showing Pitt Street East, Nile Street and Albert Street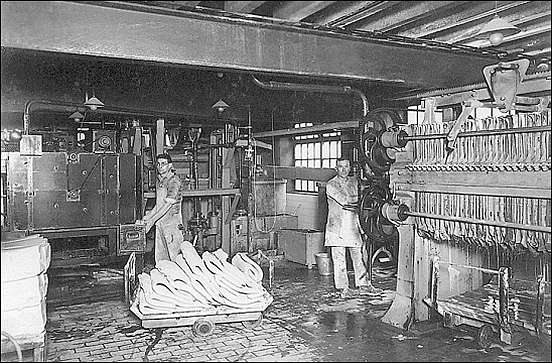 clay making at the Albert Street Works
from a 1936 Parrot & Co. brochure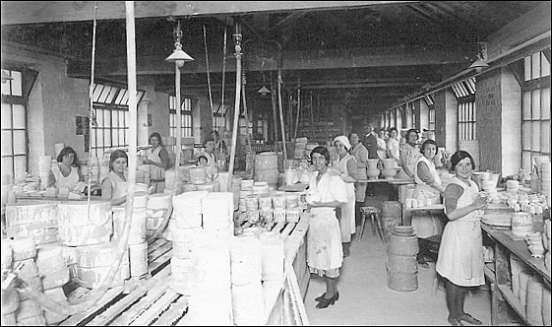 slip casting shop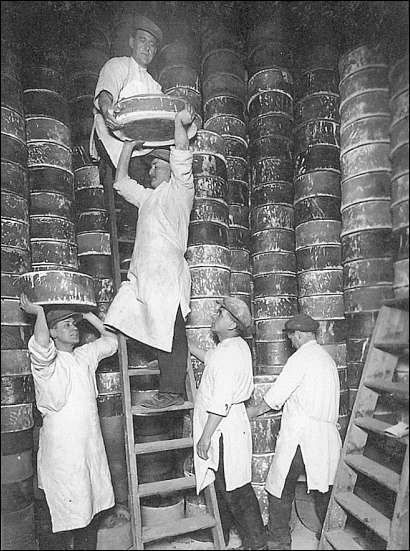 placing the saggars, containing the ware, into the kiln for firing
---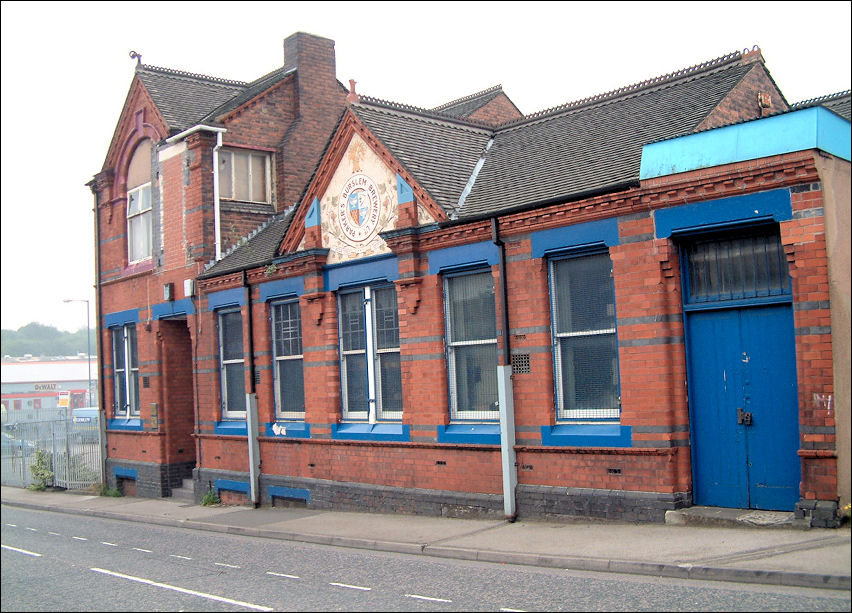 Previous Parkers Brewery in Pitt Street East
- photos July 2008 -
the two story part of the Parkers building can be seen in the Warrillow photo at the top of this page.