| | | |
| --- | --- | --- |
| | Stoke-on-Trent - Potworks of the week | |
Johnson Bros (Hanley) Ltd, Charles Street Works, Hanley
---
Johnson Bros. was founded in 1883 by two brothers Alfred and Frederick Johnson.

In 1883 Alfred and Frederick Johnson began production at a defunct pottery known as the Charles Street Works they had purchased at a bankruptcy sale in Hanley, Stoke-on-Trent.

At first they specialised in the manufacture of durable earthenware which they called "White Granite". The success of this venture led to rapid expansion. In 1888, Henry Johnson joined them, followed ten years later by a fourth brother Robert Johnson.

The Charles Street Pottery was their first works they purchased it from J Pankhurst who was bankrupt.

This was the only works that they had that was previously in business - the other four works were purpose built for them.

During the 1930s the original factory in Charles Street closed and new technology was introduced with the development of modern systems of firing using electricity rather than coal. The remaining four pottery works continued in production and by the mid 1940's they were probably the largest firm of earthenware manufacturers in the world.

In 1968 Johnson Brothers joined the Wedgwood Group.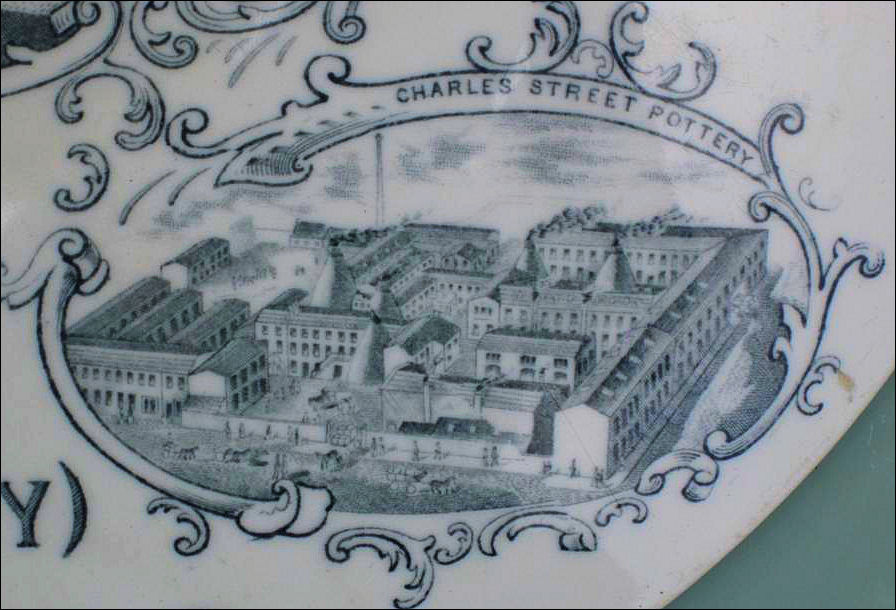 Johnson Bros (Hanley) Ltd, Charles Street Pottery, Hanley
Charles Street Works, Hanley
"This manufactory, which was carried on by J W Pankhurst (& Co), is one of the oldest in Hanley. In the 1880's [? this should be 1780's], it was owned and worked by Charles Mellor. Mr Mellor made Egyptian black ware for the Dutch markets, as did his successors, Toft & Keeling, who also produced other varieties of earthenware.
It was next carried on by Toft & May in the 1825 to 1833 period, and then by Robert May, who was succeeded by William Ridgway, who changed the manufacturer to that of white granite goods for the American markets and was succeeded by J W Pankhurst & Co. in about 1850. They continued (at Old Hall Street) until 1883. The mark used by the form was the royal arms and name, printed in black on the ware."
Jewitt's "Ceramic Art of Great Britain, 1800-1900"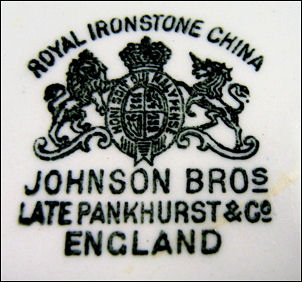 Johnson Bros
Late Pankhurst & Co
England
- early Johnson Bros backstamp from the Charles Street Works -
---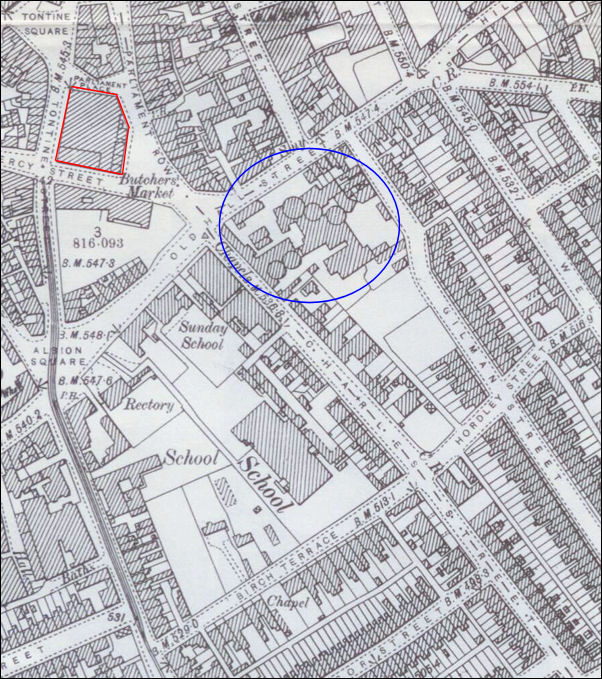 Charles Street Works on a 1898 map
- as a locator a butchers market is shown in red -

the same area on Google maps c.2010
- the building which was a butchers market is still standing -
the loaction of the Charles Street Pottery on the edge of Hanley town centre is now a shopping arcade and a WRVS centre.
---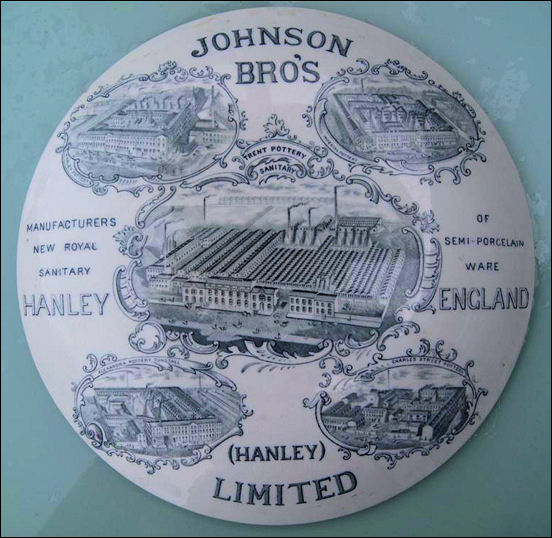 base of a Johnson Bros plate produced in 1897 commemorating
the Diamond Jubilee of the reign of Queen Victoria
the base illustrates the five Johnson Bros. pottery works...
Trent Pottery
Hanley Pottery
Imperial Pottery
Charles Street Pottery
Alexandra Pottery, Tunstall
plate photos: Dave Arrowsmith
stokebottles.com

related pages
---
Hanley in detail - In the late seventeenth century, Hanley consisted of two small hamlets known as Hanley Upper Green (or just Upper Green) and Hanley Lower Green (or just Lower Green). Upper Green at the junction of Town Road and Keelings Road and Lower Green where Market Square is today.
---
also see..