| | | |
| --- | --- | --- |
| | Stoke-on-Trent - Potworks of the week | |
Havelock Works, Slippery Street, off Broad Street, Hanley
"At these works in Broad Street, Mrs. J. Massey, formerly of Mayer Street, made earthenware jugs,
teapots and general majolica in about 1882." Jewitt's Ceramic Art of Great Britian 1800-1900
note: the directories give the name as Mary Massey not J. Massey.
---
Trade directories record Mrs. Mary Massey at Mayer Street Works in 1879 & 1880 and then at Broad Street (Havelock Works) in 1882.

c.1891 George Hall & Thomas Hulme were earthenware manufacturers at Havelock Works, Broad Street, Hanley.

It appears that the works were at one time called the Kensington Pottery - in a 1907 directory A. Bullock & Co. operated as earthenware manufacturers at the Kensington Pottery, Slippery Street.

The 1924 OS map identifies this factory as the Havelock Works - it is shown as such until at least 1950.
---
Havelock Works on Slippery Street off Broad Street
Hanley potters - to the left is Clough Street, to the right is Broad Street
photo: July 1933
reproduced under licence - copyright © English Heritage/NMR Aerofilms Collection
the Havelock Works in this 1933 photo
Durham Street and Cambridge Street on the opposite side of Broad Street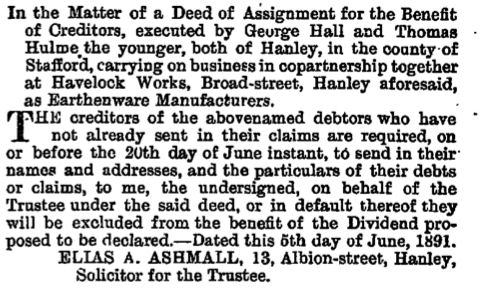 Deed of Assignement by
George Hall & Thomas Hulme earthenware manufacturers
at Havelock Works, Broad Street, Hanley